"Wok with Me" Brunch at The Dusit Thani Abu Dhabi
Brunch Reviews
| In
Unspecified
on November 24th, 2016
200-300 AED
%>
Unspecified
%>
Mr Brunch and I love taking trips to the capital, we call them "Brunch-cations." This particular hotel, the Dusit Thani in Abu Dhaboi has been on our to-do-list for the longest time due to our well known predilection for anything Thai. The Friday brunch is held in Urban Kitchen, usually an international all day dining restaurant but on friday's, it turns into the aptly named 'Wok with Me' Asian Brunch...we could not wait!
THE FOOD
As the restaurant specializes in international cuisine throughout the week it did not stem too far from this in its brunch inclusions with Arabic, Indian, Italian, and a mouth watering roast station all featuring. The roast chicken, duck, lamb and beef and caught my eye straight away with the carver taking requests as to the particular cuts we wanted as opposed to just giving us the next available slice. This was good for me as I enjoy the crispier, often discarded ends to my beef, and Mr Brunch prefers his chicken thighs to his breast all day.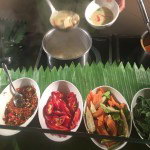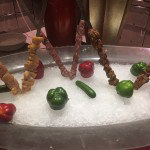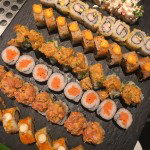 We tried to focus on the specialty stations - including the French raclette with an Asian twist, tandoori, seafood bar, wok noodles, and coconut flavored crepes. The Thai curry station in particular which is presented on an authentic street food cart has "thai spicy" curries cooked to order, and this certainly packed a punch. Mr Brunch particularly enjoyed the deep fried chicken wrapped in pandan leaves, the prawns in tamarind sauce and the mussels which were served in a beautifully aromatic tomato and basil sauce, straight form the wok!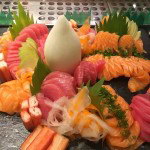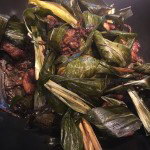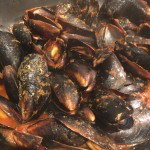 Also included in the brunch was a large standalone display of cold cuts including a tasty beef carpaccio, an artistic sushi display and an eclectic array of fresh salads. One of the things that we weren't overly keen on was a small eggs Benedict dish that was served to our table at the beginning of the brunch, usually this would be the perfect start to a Friday brunch for us but unfortunately the dish was cold, the egg was under cooked and the bread that it was presented on was rock solid. The desserts were presented as daintily as the rest of the stations, with yummy date puddings, crème brulee', the ever popular chocolate lava cake and a tasty coconut raspberry cake to round it all off.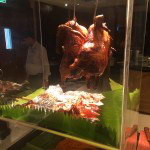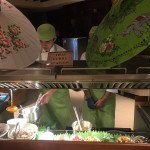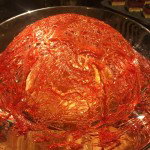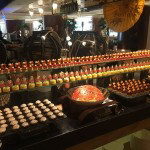 THE DRINKS
The drinks included in were unlimited hops, grapes and selected cocktails (Mojito) and house pour spirits. We started off with a Chardonnay before switching to a much more refreshing Sauvignon Blanc.
THE OTHER STUFF
From the warm Thai welcome (Sawadee-kaa), the friendly hostesses and the abundance of food, the brunch is a very passable adaptation of a thai street food market. I would say however, that there is something slightly lacking in terms of atmosphere, even with the restaurant jam packed to the rafters. A large number of guests are strictly here to eat, which is fine. However, with a bit of live music, a DJ or some form of entertainment this brunch could be more of an occasion, rather than merely a food stop. Barring the mishap with the eggs benedict and a couple of luke warm dishes which suffered the perennial buffet problem of "time sat on the side," the fresh to order dishes and the outstanding service still had us leaving the brunch more than satisfied. Plus, with their offer of 50% off our brunch packages our wallets were also left smiling. Normal price: AED 290 net per person Special price (50% discount): AED 145 net per person Time: 12:30 to 16:00hrs. For bookings, please call: +971 2 698 8137 or email reservation.table@dusit.com