Toy Brunch at China Grill, The Westin
Brunch Reviews
| In
Unspecified
on February 9th, 2016
Writing good reviews demands brutal honesty, so we would be lying if we told you that we were not just a little bit (OK… very) excited and eagerly anticipating the launch of "Toy Brunch" at China Grill. Billed as the brunch for adults who like to play, the concept of "decadence and fun in the ultimate TOY party atmosphere" had us intrigued from the very start and needless to say we had exceedingly high hopes, which simultaneously had us feeling slightly apprehensive that it would not or could not live up to those lofty expectations. (Spoiler Alert…it definitely did not disappoint)
Food
China Grill offers 14 mouthwatering courses of Asian inspired world cuisine that are delivered to each table as generous platters for sharing. You begin your gastronomic adventure with the Yokouso which are moreish and heavily spiced Edamame beans, followed by their imaginative nod to the past in the form of the Dim sum trolley, featuring exquisite King Scallop & Lobster Siew Mai, Chicken Char Siu Bao, Jade 5 Vegetable Pot Stickers in a red chili sauce & Steamed Duck Jiaozi with shrimps, long beans and shiitake mushrooms.
Next up was the Sushi & Futomaki platter, showcasing some luxuriously adventurous individual ingredients such as Yellowtail, King Crab, Tobaiko, Shitake, Maitake, Enoki and Black truffle. It also featured clever combinations of King Crab with Avocado, Masago, Caviar and Gold Leaf. The Tender Wagyu Beef rolled in Crispy Rice with Cornichons and Grilled Scallions had intense flavours and the Spicy Seared Salmon Roulade with Cucumber, Tuna and Edamame was cool and tangy at the same time.
Moving expeditiously on, came 3 small yet equally delectable plates of Salt & Pepper Soft Shell Crab, Chicken & Lycee Skewers & BBQ Pulled Lamb. We were then able to clear our palettes with two very light but flavour packed salads of Confucius Chicken served with a Sesame Lime Vinaigrette, and Crackling Calamari with a Lime Miso dressing. After another short recess (for which our stomachs were eternally grateful) came the arrival of the heavy weights of the competition. Large plates of Szechuan Wagyu Striploin complimented by sweet soy, spicy shallots, cilantro and potatoes threads, and a Barbequed Wild Salmon with a simply divine Cheese and Mustard sauce, Radicchio & Baby Bok Choi.
Almost at the point of signaling for the white flag, windswept by the quality and sheer indulgence of what our senses of sight, smell and taste had just experienced, we were happily caught off guard by the sudden appearance of some Mini Beijung duck pancakes from the 'Live duck station' served pre-rolled with Hoisin sauce, Scallions and Cucumber.
For the finale of this food symphony, we were served a selection of brightly colored Mini Cakes, mounted in true "Toy" fashion on sticks, protruding like tree branches from a giant Lego block, a really nice touch to end a sumptuous yet playful dining experience.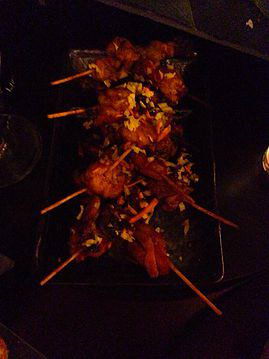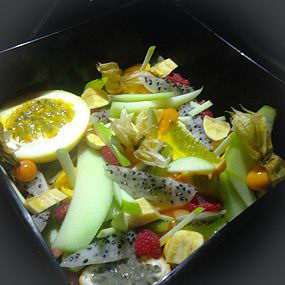 Drinks
Sandwiched somewhere between a regular brunch bar service and a VIP table in an exclusive nightclub, each table is allocated a waiter and an ice bucket the size of the Titanic, containing what Mrs Brunch describes as "the biggest bottle of wine she has ever seen." Now usually when confronted with bottles of this size, it is usually for pure self-aggrandizement, however, the quality of the Rose contained within matched the superlative glamour of the bottle and fit with the theme to feel playful rather than obscene. The wine was joined in its oversized icy bath by an equally elegant and similarly colossal bottle of Ketle One Vodka. We also noticed tables across from us had also opted for the "ultimate playground" option which includes an additional Jeroboam of Champagne which comes in its own toy car.
Though this amount of booze would satisfy any normal appetites, our inquisitive and insatiable nature also lead us to discover that any other spirits and cocktails were also able to be ordered from the bar, on top of your bottle service at your table. So ofcourse, purely for research purposes, we asked the barman to whip us up an especially sour, surprise concoction to test his skills of mixology. Again, we can say with aplomb that from his confident suggestions, to his flair with the shakers, we could see that he obviously know what he was doing.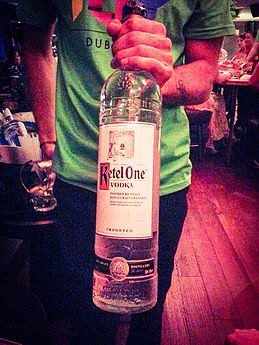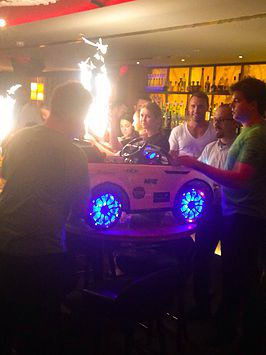 Atmosphere
Arriving at China Grill is like arriving at a James Bond villain's secret lair. Going up in the lift builds anticipation as you are crammed into this small, dark yet elegant space until the moment the doors open to reveal the subtle, sleek and dark nightclub. Juxtaposed against the serenity of the décor, is the booming cacophony of sound which engulfs the room as you are instantly warped into a party atmosphere. This in itself produces a pleasant confusion of your senses as at this point, it could certainly be 12.30am when the night is in full swing, and not 12.30pm in the afternoon when across the city, every other venue is still wiping the sleep from their eyes.
It does however, take you a while to register everything that is going on and gain you bearings. The atmosphere is fantastically overwhelming, and even though we are regularly spoiled by feats of outstanding magnitude in Dubai (Tigers in cars, the worlds tallest building…that sort of thing), it really does blow you away.
The restaurant has seating both upstairs and downstairs. As we looked over the glass balcony, we took a moment to appreciate the beautiful view of the white Chinese lanterns dangling from the ceiling, emitting a bluey-purple light which shone over the restaurant below and focused our attentions to the centre piece of the stage. At regular intervals, the DJ and the stage took turns to dazzle us with intermittent performances from risqué Pole Dancers, a dancing Kung Fu Panda, a Mime, an Illuminated Ballerina and a Mexican Tequila Shot Guy, all interacting with the guests, injecting an element of carefree fun and adding to the overall TOY party mood.
Overall
Toy provides the perfect balance between decadence and playfulness. The theme is present throughout the entire brunch, yet pulled off in just the right quantities to stay on the side of quirky and clever, rather than crossing over into the realms of tacky bravado. A hard feat to pull off when you take into consideration that we have described a giant Kung Fu Panda, Champagne served in a children's pink convertible car, a DJ booming out party tunes from the moment you enter the room, and a free pouring Tequila Gaucho. However, the dichotomous balance of these party elements working alongside such a high level of sophistication in the culinary degustation, and the lavish yet quirky aesthetics of the decor in our books is the perfect mix. Fait Accompli.
Packages: Big Boys Toys (Bottle Service) - 450 AED per person Ultimate Playground (Champagne) - 550 AED per person Every Friday from 12.30-3.30pm To reserve your table call 04 511 7333.