Tong Thai's "Discover Thai-ness" - Monday Evening brunch @ JW Marriott Marquis
Brunch Reviews
| In
Unspecified
on August 10th, 2016
200-300 AED
%>
Unspecified
%>
Thailand is a country close to both of our hearts, and on each of our many trips to the "land of smiles" we have found ourselves totally absorbed inside the country's rich cultural heritage. The artwork, murals, and cultural values which make up the Thai way of life are what we call "Thai-ness." This extends way past what I have mentioned above, and includes the customs, traditions, beliefs and unquestionably the food which makes the Thais popular both as a people and a destination.
This culinary heritage or "Thainess" is captured in an evening brunch full of flavour and authenticity, with a genuine "Sawasdee Kaaaaa" upon entry, the long hallway through to the main restaurant is littered with colourful umbrellas, statuettes and a stall of young coconut which we would be returning to later on.
THE FOOD
The impressive main dining room is awash with red lanterns and lots of bustling tables, giving the room a sultry yet classy feel to it, as though you were in one of the upmarket eateries in the Sukhumvit area of Bangkok. No sooner had we acclimatized to our surroundings and had the rundown from our waitress, we were back off down the long alleyways to the appetizer stations we passed on the way in. The journey was cleverly interjected with bowls of rice crackers and prawn crackers with various chilli dips to satisfy our hunger pangs before heading to the 3 distinct "rooms" along the hallway.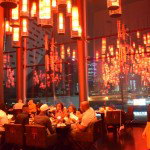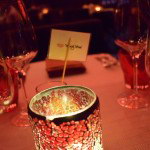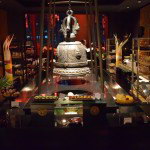 The first was the "soup room" where Chef served either a choice of Guay Tiew (Noodle Soup), Tom Kha Gai (Coconut Chicken Soup) or Tom Yum Soup (Hot &amp Spicy soup with either Prawns or Chicken) to order, which we duly ordered along with a healthy sprinkling of chili flakes.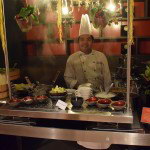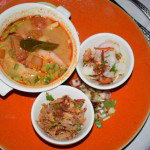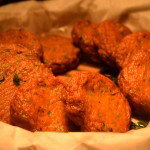 The next had a selection of dumpings, fritters and rolls, of which our top picks were the "Sa Ku Talay (Tapioca Dumplings with Seafood), the Thod Mon Pla (Deep Fried Fish Cakes) and the tender Gai Hor Bai Tuey (Marinated Chicken in Pandan Leaf).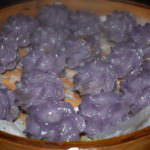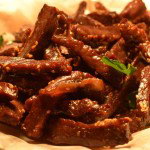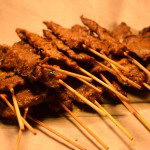 Finally, the salad room featured mini finger bowls packed with contrasting flavours. Our picks were the Nam Tok Gai Yang (Grilled Chicken Salad), the Yum Ma Muang (Green Mango Salad with Grilled Prawns) and the Yum Som O Gai (Thai Pomelo Salad with Chicken) which was fresh, zesty and could have been muddled in a mortar and pestle right in front of us on the streets of Banglamphu, such was its majesty.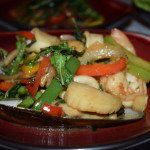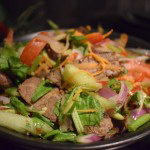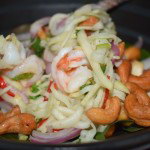 We could have continued on the appetisers for the entire evening, although time was running short as we had arrived late and so we decided to move onto the main courses, which came in a novel Thai origami folded menu. It showcased 10 mains and 6 side dishes along with the instructions from our waitress that we were to choose 3 mains and 2 side dishes to share between the table. After careful consideration we chose the Talay Phad Ka-Prao (Prawns, Scallops, Calamari, Long Beans , Garlic, Chilli, Soya and Hot Basil), the Ped Phad Chaa (Crispy Duck, Onion, Green Peppercorn and Thai Herb Sauce) and the Nua Phad Prik Gang (Stir Fried Wagyu Beef, Eggplant, Long Beans Coconut Shoots &amp Young Peppercorn), accompanied by Phad Phak Choy (Stir fried Bok Choy, Garlic &amp Mushroom Sauce) and Lon Tao Jiew (Minced Prawns, Onions, Yellow Beans and Coconut dip served with fresh veg) which was divine wrapped inside of a lettuce leaf!!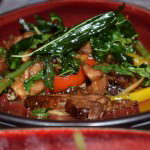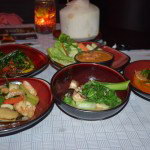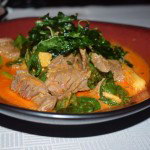 If desserts are your thing, a large selection of Thai inspired mini treats awaits around a giant ceremonial bell. Our picks were the Mango Sticky Rice, The Lemongrass Pot de Creme and the Chocolate Chilli &amp Salted Caramel Crème which came served in an Alice in Wonderland style tea cup &amp had the most luxurious texture that simply melted in the mouth.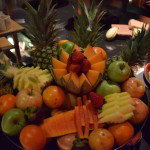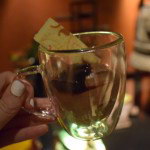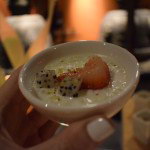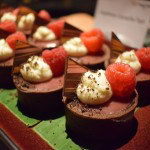 THE DRINK
We have included the full range of beverages available below, however the clear stars of the show are the specialty cocktails, and in particular the infused Spicy Apple Martini with its fresh lemon juice and whole red chilli served on the side, and the Tom Yum Bangkok which was a tom yum infused vodka, lychee juice, fresh lemon juice, sugar syrup and finished with a kaffir lime leaf and a slice of chilli for that extra bit of "Thai-ness."
Grapes
Red: Antares Cabernet Sauvignon, Chile
White: Argento Sauvignon Blanc, Argentina
Beers
Singha, Chang or Budweiser
Specialty Cocktails
Thaijito, Tom Yum Bnagkok, San Zab Margarita and an Apple Martini
Soft Drinks
Pepsi (+ diet), 7UP (+ diet), Ginger Ale and Whole Coconuts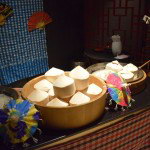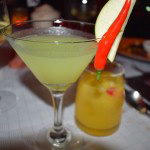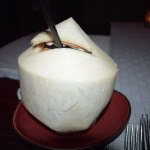 OVERALL
With real Thai chefs cooking regional delicacies from their homeland, unparalleled and efficient Thai service and a menu that encompasses classic street food dishes and unique stir fries and curries which will leave you wanting more. From the ornate ceramics and aromatic blast you are hit with as you wander down the passageway to the serenity of the red light which prevails as you enter the main restaurant, it was difficult to find fault in any part of the evening.
As a testament to its quality, Tong Thai was awarded below with:
Best Thai Restaurant - Food &amp Travel Arabia 2016
Highly Commended Thai Restaurant - TimeOut Dubai 2016
Best Thai Restaurant - TimeOut Dubai 2015
Best Thai Restaurant - TimeOut Dubai 2014
We have to say we wholeheartedly agree….a hidden gem and our new Monday night favourite!
Every Monday from 6pm to 10pm
AED 205 per person including soft beverages
AED 295 per person with house beverages.
Children aged 6-12 are half price.
To Book call +971 4 414 3000 or
click here to book with EAT APP
&nbsp
Save