Ting Irie - "It's a Brunch Ting!" - Souk Al Manzil
Brunch Reviews
| In
Unspecified
on May 4th, 2017
300-400 AED
%>
Unspecified
%>
Ting Irie, literally translated from Jamaican patois means "everything's good, " and was the trailblazer in Dubai's long wait for a Jamaican restaurant. Launched just over a year ago, with a couple of others following hot on it's tracks…we thought it was only fair that out of them all, a sense of duty lead us to try the recently launched brunch at Ting Irie first. With one half of Mr &amp Mrs Brunch having Caribbean heritage, the anticipation for "proper" Jamaican food was at it's peak, and our expectations were set at their very highest level.
&nbsp
THE FOOD
&nbsp
The brunch concept is simple. Delicious "Sharing Tings" or platters served family style, which for the type of food we were about to eat felt synonymous with the home meals they reminded us of. More personal than a serve yourself buffet, the menu itself was separated into three generous platters of appetizers, mains, and desserts.
&nbsp
The appetizers, presented on a wooden chopping board allowed easy access for us to dive straight into a twist on a brunch classic, the "Eggs Benny on Jamaican Patties." followed by the melt in your mouth "Oxtail Sandwiches." The board was accompanied by "Crispy Plantain Chips," a more starchy member of the banana family that was just the right level of saltiness to whet our appetites. A sound start.
Also on the platter were two contrasting salads the innocent looking "Rasta Green Salad" with its punchy, zesty dressing and the comparatively mellow Watermelon Salad that balanced well as a palette cleanser to close off the first part of the meal.
&nbsp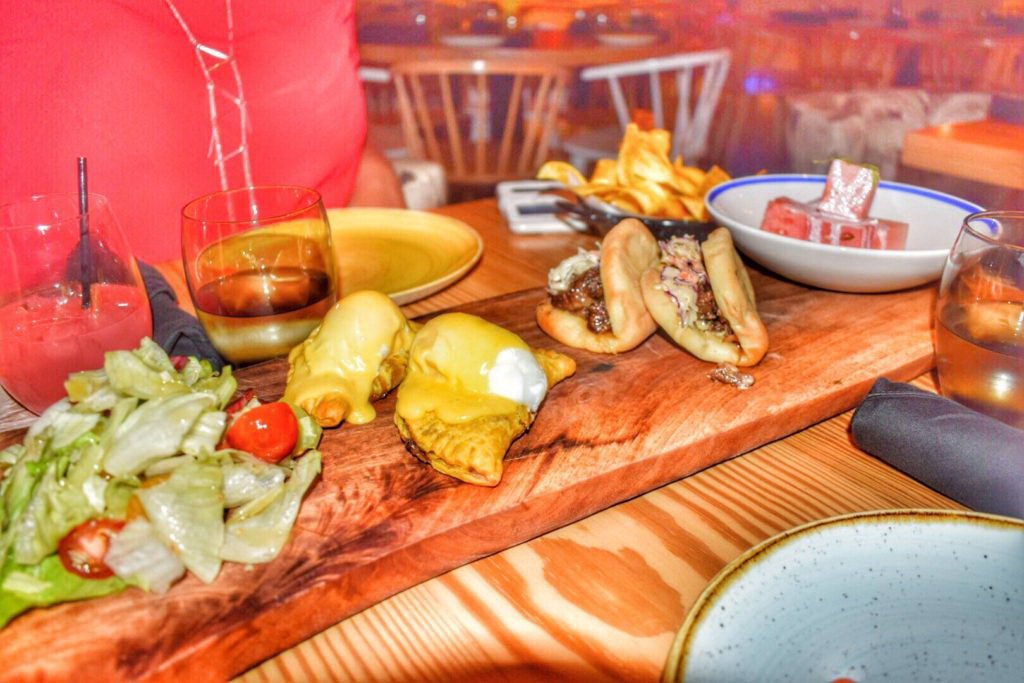 &nbsp
One criticism that has always fallen the way of "typical" Caribbean cooking, (certainly in our home growing up) was that it just wasn't sexy. It was stodge, staples of carbs and stewed meats, Curry Goat, Rice &amp Peas, Provisions, Daal, etc…and to be honest we would not have minded any of that for our main course. But then along came the sharing platter, and for anyone with doubts that Caribbean cooking could retain it's soul and flavours, yet present itself in a modern, inviting way without being pretentious…here it was in all its glory.
&nbsp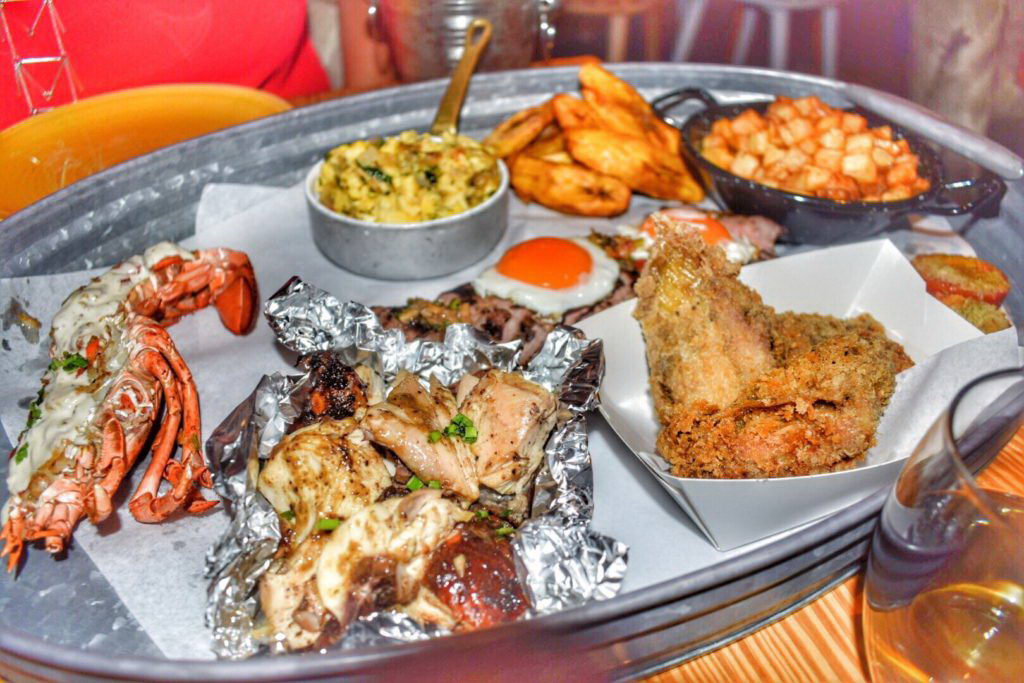 &nbsp
The tantalising aroma of "Beach Shack Lobster" exploded out of its tin foil encasement (en pappilotte), the "Spitfiyah Jerk Chicken" was infinitely better than the time we had tasted it on a previous visit (Thank goodness!) and had a real depth of taste, flavour and latent heat. The "OG fried chicken", "White Cheese Stuffed Tomatoes," "Jerk Potato Hash", "Johnny Cakes" and "Sweet Plantain" were all small enough dishes not to scare the belly into submission. All delicious in their own right but worked even better as a sampling tray. We should though, save the BEST two dishes for last. The limelight stealers, and the dishes you will return for above all others…The "Ackee &amp Saltfish" and the "Jerk Striploin Steak &amp Eggs." Knowing that Ackee is neigh on impossible to find out here, not only were we shocked at it's inclusion, but the execution of it's preparation was "just as your mother made it"…so much so that we gave the chef a jovial yet heartfelt standing ovation!
&nbsp
Not forgetting the days other show stopper, The Jerk steak…a combination which we must admit we have never thought of trying…we all know about Jerk Chicken, Lamb, Fish etc, but the humble steak was so sacrosanct that we never felt it necessary to mess with it. This steak, however was so well cooked and seasoned, we would argue that many of the big steakhouses in Dubai should come down and take a few notes on how to intensify flavour with each successive bite.
&nbsp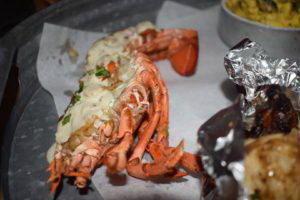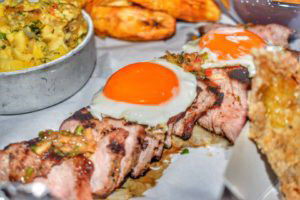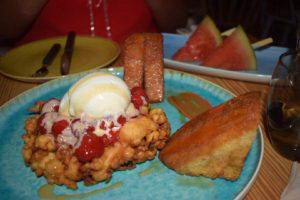 &nbsp
Finally, having seemingly cleared every platter in front of us, we lurched into a sharing platter of "Sweet Tings." Somehow we found room for the "Carnival Funnel Cake", "Rum-sicles" which were watermelons infused with rum and "Cookie Butter French Toast" which was by far our favourite of the desserts.
&nbsp
THE DRINKS
&nbsp
The drinks were very simple. On arrival, you are encouraged to partake in some traditional Rum punch, which was fruity but definately carried a real Caribbean kick (to our delight). We were then given a Sorrell Mimosa, which is a sweet syrup that is derived from a herb and drank either on its own, or on this occasion , with bubbles! We enjoyed, although the sweetness meant that we could only manage the one before we felt they became sickly. Regular house spirts, house grapes and hops (Red Stripe) were also included but we found ourselves going back for the special and moreish rum punch time and again, and the staff were only too happy to oblige.
&nbsp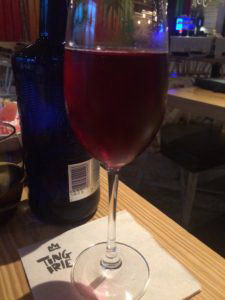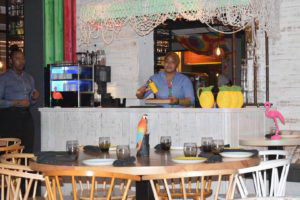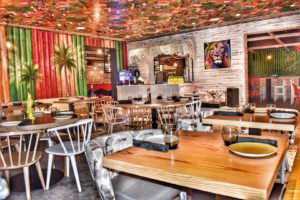 &nbsp
THE OTHER STUFF
&nbsp
Ting Irie is a fresh, modern take on Caribbean cuisine and food for the soul with all of the familiarity of home cooking we know and love from the kitchen's of our mothers and grandmothers. This brunch had nearly everything we could have asked for in the vibrant décor, the mood set by the booming reggae-dancehall and the ever-friendly and importantly authentic Jamaican wait-staff. The one thing that was missing to complete the perfect circle were the crowds, who must not yet have received the memo (this one!). Even though sparse on our visit, it did not dampen ours, nor it seemed any one else's mood, and so we can only imagine what it must be like when Brunch is fully packed. We shall definitely have to come back and find out. "Yeh Man!"
&nbsp
Every Friday 1.00pm - 4.00pm
&nbsp
Call 04 557 5601 or email info@tingirie.com
&nbsp
AED 395 - Including Cocktails, House Spirits
&nbsp