The Grand Bazaar Friday Brunch at Ruya, Grosvenor House
Brunch Reviews
| In
Unspecified
on March 19th, 2018
300-400 AED
%>
Unspecified
%>
Ruya
, meaning "dream in Turkish," prides itself on its modern interpretation of Turkey's cosmopolitan heritage. On our visit to the new and improved Grand Bazaar Friday brunch we expected nothing but the best from culinary maverick Colin Claugue and his team. An exploration of the senses across the diverse heritage of Anatolia. With our expectations at the very highest setting, we were both nervous yet excited, knowing that if this kitchen team get it right (a la Zuma, Jean Georges, Q'bara and the Burj al Arab pre-opening) then they get it be soooo right!
THE FOOD
We were very happy to see that the brunch was served table d'hôte, as from our previous visits we had struggled to narrow our selection down to just a couple of dishes so this was an instant weight off our minds. We loved the fact that the tasting menu allows you to sample a variety of dishes which you may not usually order from an a la' carte menu, and revel in the waiters pronunciations and knowledgeable explanations of each dish as it arrived. After the traditional olives, roasted breads and eggplant puree, we particularly enjoyed The borek (filo wrapped feta cheese), the Simit (coated baby squid with avocado haydari) and the levrek. The latter, a delightfully gentle sea bass sashimi that was complemented by the more powerful flavours of mustard and apple.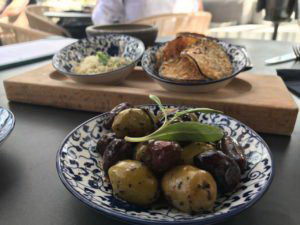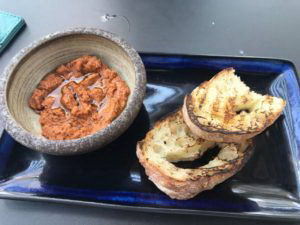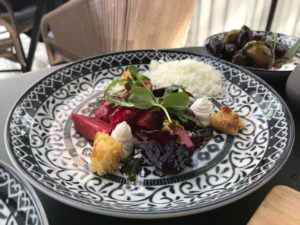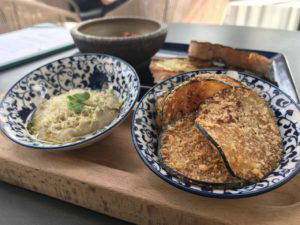 Sampling the taster menu while being very conscious not to get to full is a task in itself, and thankfully for main courses you are finally asked to make a selection of one dish, though not before you are able to resist (and you won't be able to) the 2 cheese pide with a slow cooked egg from the black sea. The most humble combination of oven-fresh bread served atop a rustic wooden chopping board and oozing with molten gooey cheese.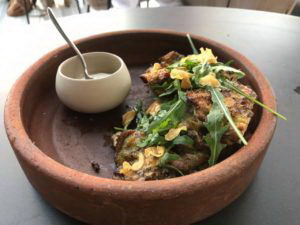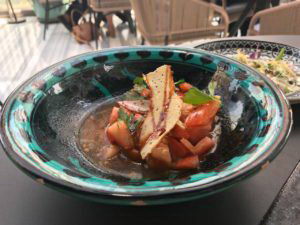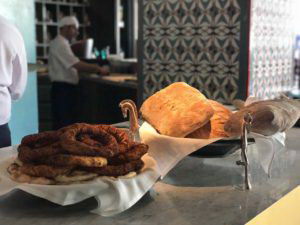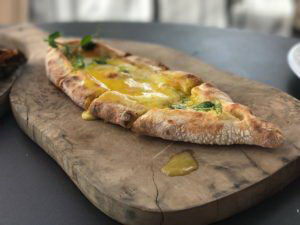 The 5 choices of main included a barley risotto with pulled lamb and a whole grilled sea bream with a spice herb rub for 2 people, which was in keeping with the sharing style of the brunch. There was also marinated baby chicken in a rice wrapped pilau, grain fed rib eye in a very interesting Turkish coffee and isot rub with crispy zataar potatoes. And finally, a Guvec - which is a traditional clay pot of baby vegetables in a tomato and red pepper sauce very similar to a ratatouille. It didn't sound like much, however the slow cooked olives, tomatoes, mushrooms, onions, herbs, and spices pack an uniquely robust flavour.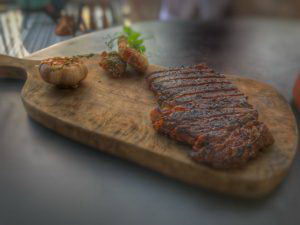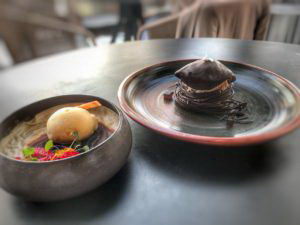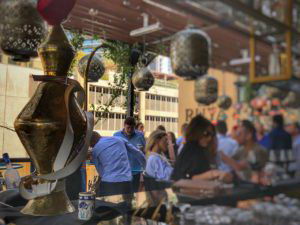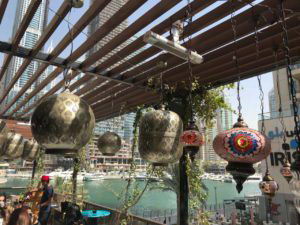 If you still have space after this tasty Anatolian adventure, then there is an option of three desserts. The Stamboul, which is White chocolate &amp yogurt cream, (we could not get enough of this!) The Fırın sütlac, a traditional rice pudding with raspberries and the Cikolata ve türk kahvesi, (forgive the pronunciation) a dark chocolate kibbeh with Turkish coffee cream and salted caramel that was a firm favourite among many of the diners around us.
THE DRINKS
The beverage selection included cocktails (bloody mary's and margarita's) and your regular house beverages to order from our waiters. Service was steady through the first few hours although we did have to play the "catch a waiter's eye" game a few times while they adjusted to our drinking pattern.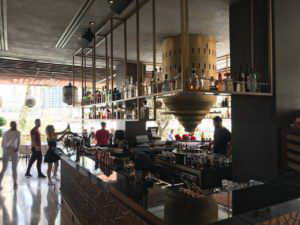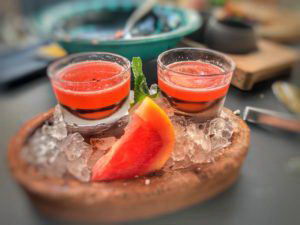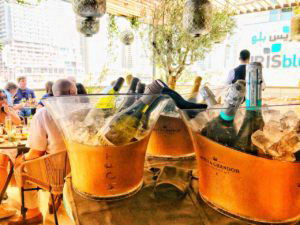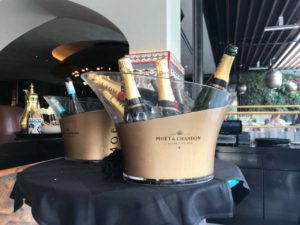 THE OTHER STUFF
We loved the Turkish notes running throughout the entire restaurant, from the hanging lanterns on the terrace to the dark wood on the interior and even the crockery. What starts off as a boutique, lazy affair manages to retain it's intimacy while becoming much livelier as the day progresses and people begin to leave their seats to enjoy the live DJ set. We would sum this up as an authentic, contemporary, sensual way to enjoy Antolian cuisine in a relaxed setting that transforms as the afternoon progresses.
To our delight, we discovered a 25 AED after brunch happy hour, allowing us to continue to enjoy the stunning views out on the terrace with a much heighten atmosphere than when we had arrived. This place certainly gets lively!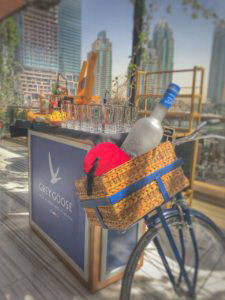 Every Friday 12-4pm
AED299 Soft drink package
AED399 House spirits, beer, wine &amp sparkling wine package
AED499 Champagne package
To book direct with
Eat App, click here
, call 04 3999 123 or email
reservations@ruyadubai.com