The Garden Grille Family Brunch @ Hilton Garden Inn - Mall of the Emirates
Brunch Reviews
| In
Unspecified
on December 18th, 2016
200-300 AED
%>
Unspecified
%>
Continuing on our journey of discovering family-orientated brunches (it must be something to do with the holiday season!) We once again roped in our friends with "kids who brunch" to help us make sense of another family-centric offering brunch from a slightly different perspective. As a family of four who enjoy taking their kids to casual, non-pretentious and sometimes "no frills" restaurants, the brunch at the Hilton Garden Inn (MOE) seemed to instantly fit the bill, in the very least that we had not actually heard of the hotel before.
THE FOOD
The brunch encompassed a wide variety of food options, from anti-pasti, a cheese and bread table, potted mains, a live pasta station and a BBQ to our guests personal favorite: the waffle station. The Anti-pasti and pre-made salads we had to begin our meal lacked the variety and "fixins" we are used to making our own delicious concoctions, however the cheese and bread table had an incredible selection, including a fresh honey-comb that was a hit amongst diners.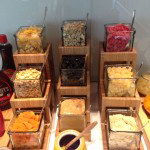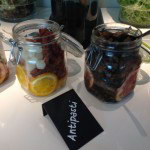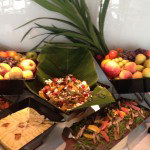 For entrees, there was a range of international cuisine served in bright red pots - a novel way to showcase the food, although we find that these do tend to lose their heat later on in the day if the food is not constantly refreshed. A grill" artist" was on site grilling up a smorgasbord of meat and seafood to tantalize your taste buds. The dessert table was well-stocked with a variety of sweet treats and the tiramisu, being the overall "winner" in our family vote was simply delicious. Jaws around our table fell to the floor when the youngest little girl in our group returned from the dessert area with a cotton candy "fluff" bigger than her own head, which she subsequently devoured in less than 90 seconds. Our favorite surprise at the brunch was the waffle station, with your choice of condiments such as fruits, syrups, nuts, toppings and self-serve ice cream. The waffle mix was pre-measured and set out in small cups which could be easily poured onto the waffle iron. 3 minutes later and you had a hot, fresh waffle to top and devour.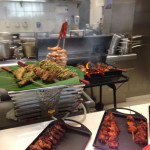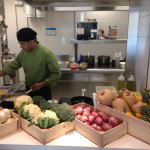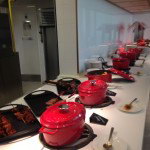 Children had their own food from which to choose that included macaroni and cheese, cheeseburger sliders, chicken nuggets, and fish sticks. While not a lot of variety in the specified "children's brunch area", there was certainly enough for our picky little eaters. They went back and forth between the "adult" brunch and the "children's area" with ease and the staff were ever helpful and on hand in case of any mishaps.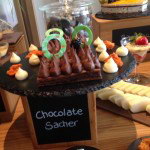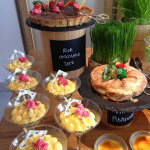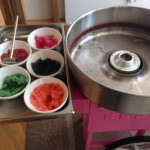 THE DRINK
Drinks were flowing at the bar, and we were pleasantly surprised to see that there were four different cocktails available for self-service. House hops and grape were also available for self-service, along with beverages of the sparkling variety for those that chose. The kind gentleman at the bar was willing to make you whatever drink you wanted with the wide array of bottles behind him at the ready. The kids enjoyed freshly squeezed juices and our server went out of her way to to make the kids their drink of choice...chocolate milk. Coffees and teas were also available with us all enjoying a lovely cappuccino to close our meal.
THE OTHER STUFF
The welcome we received from the ever-smiley hostess, the way that the staff floated around all afternoon, and the overwhelmingly quaint, yet friendly vibe we felt upon entry was be fitting of the quaint setting. In the background, a live singer impressed us with her tone as well as track selection and the childrens' play area was within short walking distance down the hall, however our own children (ages 7 and 8) were a bit too old for this area which was designed more for toddlers and children upto the age of 5. The greatest highlight of this brunch is how incredibly child-friendly it is. The staff were observed holding babies and toddlers, interacting with families and engaging with them at their level. Sometimes, children are viewed as a nuisance at brunches, but not here. Children are welcomed with open arms and are very well taken care of by the team. Because the brunch is so small and intimate, you have the opportunity to meet the head chef. Gautam Sethi who made a point of coming out to meet various groups and soliciting feedback on our experience. The brunch at The Garden Grille is a great one to try if your family is looking for a simple yet relaxed dining experience.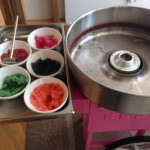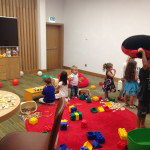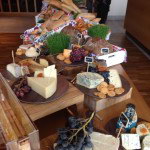 Every Friday 12.30 - 4pm AED 99 - Kids AED 249 - Non Alcoholic Package AED 299 - Alcoholic Packages AED 349 - Sparkling Brunch For reservations please call +971 4 307 0707