The Eloquent Elephant Friday Crunch Brunch, The Taj Hotel
Brunch Reviews
| In
Business Bay
on June 26th, 2018

4 Overall
200-300 AED
%>
International
%>
We must admit, we did have to google the Eloquent Elephant before our visit, both in terms of what to expect and in fact where to go… Set under the imposing shadow of the Burj Khalifa, at the base of the Executive Towers in Business Bay and somewhere just off to the left and around the corner is nestled what can truly be called a hidden little gem!
THE FOOD
We entered the venue through the back entrance through the main reception of the Taj Hotel (unintentionally) and were immediately immersed into the story of traditional British gastropub which had clearly been given a contemporary facelift that was in stark contrast to the bright regal façade of the hotel lobby we had just recently walked through. With dark wooden panels, light fittings inspired by glass vessels used in wine making, vintage style decorations made from repurposed wooden drinks crates, classic Hendricks Gin black boards and a feature wall depicting historically comical portraits of distinguished looking gentleman with elephant heads.
With no buffet in sight, we took our seats at a small table with comfy green leather chairs near to the clouded glass windows and had the manager come over and introduce the concept to us, whilst delivering some pink and purple prawn crackers which were cleverly shaped into an elephants head. He jovially remarked that because it was relatively quiet in the restaurant, he would be acting as Manager, Barman, Waiter and everything else in between. He wasn't lying.
The menu is helpfully divided into sections and we sampled a few dishes from each, starting with the eggs Florentine with truffle hollandaise, the grilled chicken with mixed leaves and a honey dressing, and finally, some of the finest scrambled eggs we have ever tasted (sorry mum!). They were creamy, rich, seasoned to perfection and served with smoked salmon, avocado and farmhouse Bread. The starters were all substantially portioned and presented wonderfully with golden truffle hollandaise oozing serenely from the top of the poached eggs and the thin crispy waves of the farmhouse bread stacked with impeccable dexterity. The bar had been set, and we were excited to see what was next on our "gourmet gastropub" experience.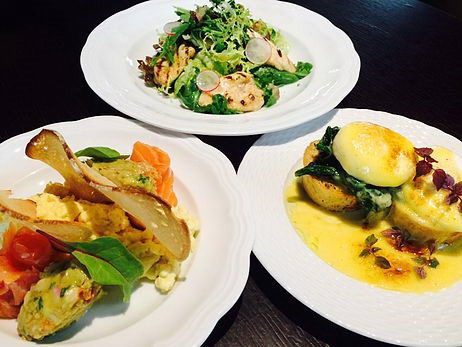 Teased by the good-humour of the pubs menu, we nearly ordered the Elephant Curry, which in brackets exclaims that it does not contain actual Elephant! The menu contains a selection of staple pub grub items such as beer battered fish &amp chips with mushy peas, a roast and a fish choice of the day, a homemade pie, gnocchi with mushroom, spinach and truffle oil and a homemade pie &amp mash. Eventually, Mrs Brunch chose the Eloquent wagyu burger with secret eloquent cheese which was a little cold in the centre, even though she had asked for it to be cooked medium rare. I fared a lot better with my main of Beef Cheek which was so tender I could eat it with my spoon. This was served with a sweet potato puree and delicately placed parsnips.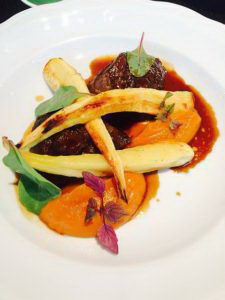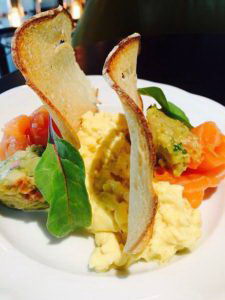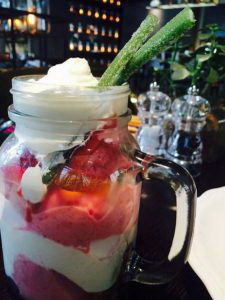 For dessert, or something sweet as it is called on the menu, the choices were either a sticky toffee pudding, cheese &amp crackers, an apple tart tatin with custard ice cream, and finally a lemon meringue pie. We eventually decided on the cheese board and the novel additional option to create your own sundae with a choice of ice cream flavours and toppings such as pick n mix, popcorn, chocolate or toffee sauce and a berry compote, served neatly in a quirky jam jar.
&nbsp
THE DRINK
The Brunch comes with 3 beverage options, "I'm soft" (their words, not mine) including a selection of soft drinks and mocktails. "I'm on the House" which included premium house spirits (Russian Standard, Bacardi, Bombay Sapphire, JD etc), draught Heineken or selected bottled beers, wine (Cuvee Sauvignon Blanc or Cab Sauvignon) and a list of cocktails ranging from classics such as the Mojito, Cosmo and the Eloquent Pimms, to the not so classic Coke Float. We also had to try our hand at the intriguingly named "homemade alcopops" and immediately harked back to fond memories of a misspent youth sneaking around parks sneaking sips of "Hooch" and "Babycham." The first of the duo was designed to replicate the look and flavour of an orange Bacardi Breezer, and the second was reminiscent of a Smirnoff Ice, with both being served in enormous glass bottles which would easily quench the thirst of 2 adults even if shared. (We didn't share)
In true upscale Gastro-pub fashion, the Eloquent Elephant also offers a healthy selection of Craft Beers, Fantinel Prosecco, Zuccardi a Malbec and Riff Pinot Grigio on their final package, aptly named "I'm pretty crafty."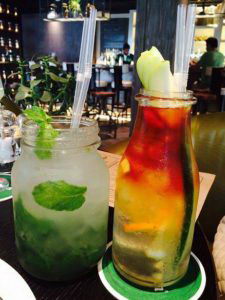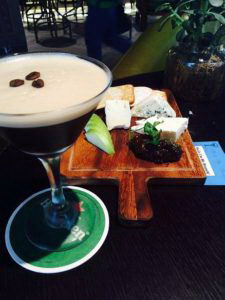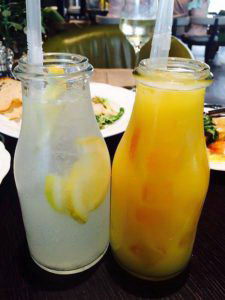 THE OTHER STUFF
Dubbed as Throwback Friday, The Eloquent Elephant is the latest in a line of brunches to follow a "feel good" 80's and 90's theme that is currently sweeping the city, and we are certainly not complaining. The music of that era brings with it certain air of playfulness, which is perfect for letting your hair down and having the occasional sing a long if you so choose. Songs like Journey's "Don't Stop Believing" (you know…that one from Glee), The Pet Shop Boys "West End Girls" and Lionel Richie's "All night Long" are all classics which we, and the rest of the mostly 35 and over "crowd" were gleefully tapping our heels to throughout the leisurely 4 hours. At one point, comedy face masks of the British Royal family appeared from somewhere and the table across from us sportingly posed for pictures so it seems there is also a fancy dress cupboard of sorts which is eager to rear its ugly head at some stage.
Now our use of the word "crowd" is rather tongue in cheek as on our particular visit we were one of only 4 tables enjoying the brunch package, with the other patrons looking as though they were residents who had popped down to the shop for a pint of milk and stopped off for a quick pint on the way back home.(which is exactly what we would do if I lived in Bay Avenue!) Surprisingly though, as Brunch was coming to a close, the venue sprang to life with large groups and families seeming to materialize for what it seems is a very popular post brunch happy hour. Perhaps they are just late risers in this part of town? Or perhaps once word spreads of Chef Nigel's craft in the kitchen, or Saldrin's masterful mixology behind the bar, this little known neighborhood pub will be as busy for brunch as it was for the happy hour.
Posh Grub, Great Grog, Eloquent Service…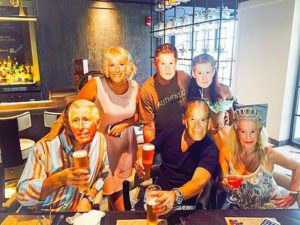 FRIDAYS FROM 12.30PM - 4PM
An Artisan "All you can endure" menu of nibbles and liberations served with love from the Eloquent Elephant Team...
PACKAGES:
AED 199 "Im a Softie" - Soft Beverages
AED 249 "Im on the house" - House Spirits
AED 350 "Lets get fizzy" - House Beverages + Prosecco
AED 499 "Oh so crafty" - Craft Hops &amp Veuve Clicqot
Every Friday from 12.30pm to 4.00pm To book call 04 438 3100 or email
eloquentelephant.dubai@tajhotels.com
20% OFF "Lets Get Fizzy Package" with Lets Brunch