The Axe Brunch, Axe House, Armada Blue Bay Hotel (JLT)
Brunch Reviews
| In
Unspecified
on July 17th, 2018

3.5 Overall
200-300 AED
%>
Unspecified
%>
"Party hard. Drink good. Eat tasty"
is the motto used to describe the A
xe brunch at Axe House, and while it may be grammatically flawed (intentionally), it did manage to perfectly sum up our afternoon of Friday hijinks at what has already become one of JLT'S hippest new spots.
THE FOOD
The menu is divided into sharing platters that have a focus on the artisanal market offerings often found around London's buzziest foodie areas. Think of the stalls at the famous Borough Market or at The Notting Hill Carnival, The infamous curry houses of Brick Lane and the chic eateries on the cobbles of Portobello Road. All are represented in some way, shape or form across the wide-ranging menu of small dishes.
The Market sharing platter of starters include crispy chicken tender bao buns, boneless chicken wings with a toasted lime and coconut yoghurt, fritto misto &amp vegetable tempura, and an Indian inspired paneer sizzler and sevi puri (chick peas with yoghurt &amp sweet tamarind chutney).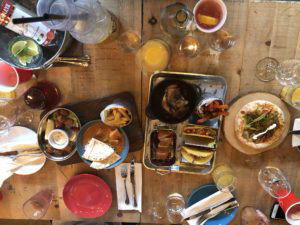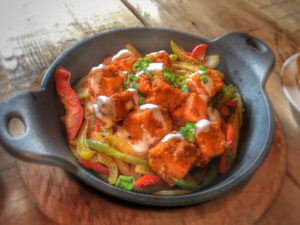 For mains, there are a choice of two platters: the first includes butter chicken with basmati rice &amp raita, a Tex Mex veggie pizza, scampi bits, and classic sea salt and black pepper axe chips along with mushy peas &amp tartare sauce. The second includes an 80's classic, the chicken kiev, seafood tacos, pulled beef brisket with horseradish mash and ale gravy (dish of the day) all served with delicious sweet potato fries.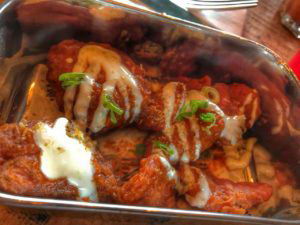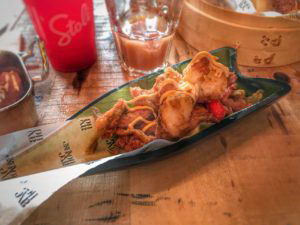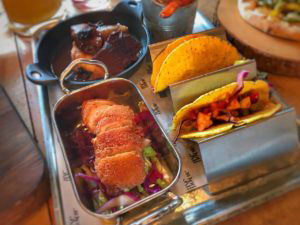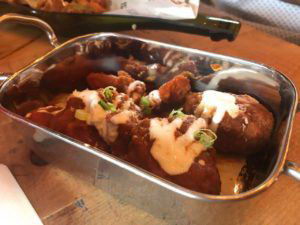 Desserts are a choice of 1 dish from a list including a roast rhubarb, oatmeal &amp thyme crumble, a delightfully British Eton Mess featuring banana, passion fruit, mango and pineapple. "Your mums trifle" (a bold claim) served with raspberry jelly and Chantilly cream, custard and sherry, a "Beerimisu" featuring Peroni, custard cream and coffee ice cream, and finally an ice cream sundae filled with bits of chocolate brownie, nuts, raspberry sauce and a chocolate glaze. Luckily, there were enough of us around the table to order one of each and try a little bit of everything, with the odd combination of beer and coffee disappearing the quickest.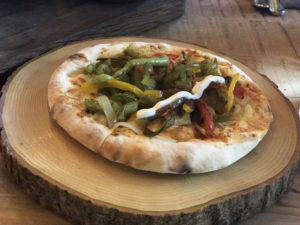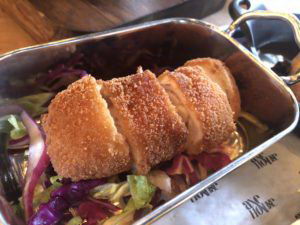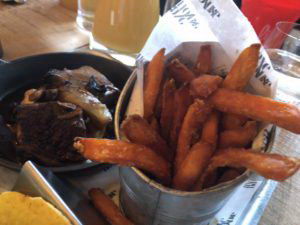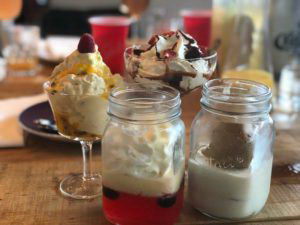 THE DRINKS
Any Brunch is onto a winner with us when they start the day with a bottle of vodka on your table. At first, we though that this was a gimmick, a decoration filled with water, but soon we knew they meant business when our waiter asked what mixers we would like, or whether we would like to exchange our vodka for gin, whisky or rum? An ingenious way to ensure that each table is "well-oiled" from the very beginning and also alleviates the pressure on the bar staff that is often felt at the outset of many brunches. Bravo.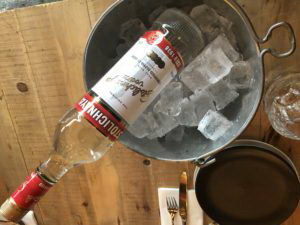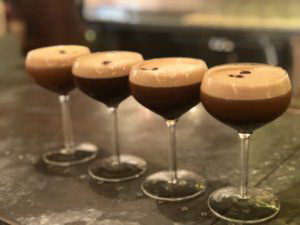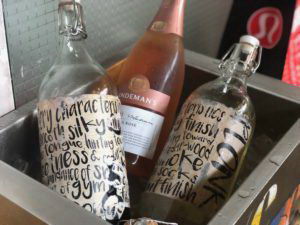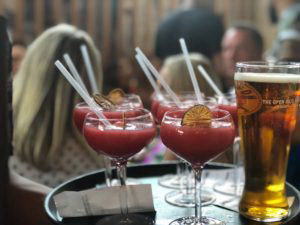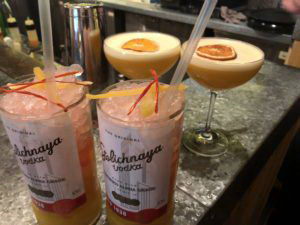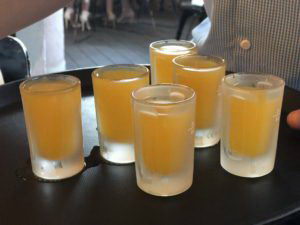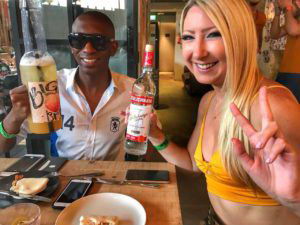 Aside from the bottles on the table and regular spirits (including Jim Beam), tinned beers (Bud), Stoli Lemonades, Bloody Mary's and various brunch specials including shots and "big boy beers" make their way to the tables throughout the day to add to the selection of red, white, rose and rose sparkling "plonk" (Lindemans's). Drinks are placed strategically around the venue with wait staff moving between tables swiftly and regularly, keeping the buzz and pace of the brunch at 100 mph.
OVERALL
Axe House oozes that edgy, playful vibe synonymous with areas such as Hoxton, Dalston and Shoreditch in the recently renovated parts of east London, whilst maintaining an element of "spit n sawdust" and historical grit with it's wooden tables, black and white papered walls, red party cups and non-matching crockery.
The eclectic bar staff are confident and kooky, dressed in their leather aprons that closely resemble the previous inhabitants Cocktail Kitchen. Judging by the way that they swagger around the bar both during and after the brunch they certainly know their way around the bar and are a real plus of the venue.
"The Den," which includes an air hockey table and a pool table is a dimly lit backroom area that makes for lots of friendly challenges and partying post brunch, and their "anti-Despacito" music policy provided ably by DJ DECO on the day ensures there is nothing commercial or cheesy about the Axe Brunch. In fact, the tunes were downright funky, and no sooner had the tables been cleared than guests were up dancing and moving between the bar and den area.
There is also an evening version of their Friday brunch so we will definitely be back to check that out!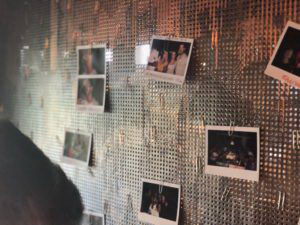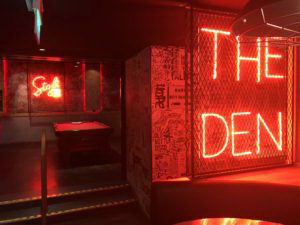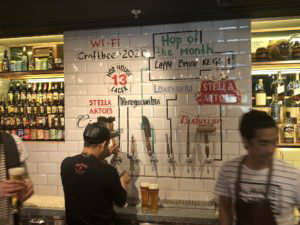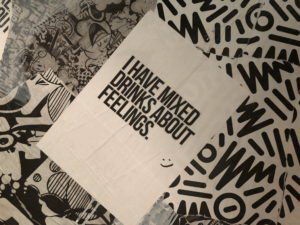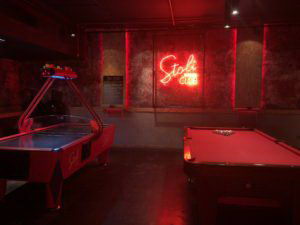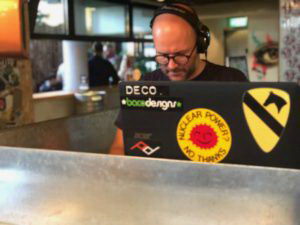 Axe House, Armada Blue Bay Hotel, Cluster P, JLT, Dubai
Packages:
Every Friday 1pm - 4pm (The Axe Brunch) and 8pm -11pm (The Dirty Stop Out Brunch)
AED 195 - Soft Drinks
AED 295 - House Beverages
AED 350 - Bubbles.
reservations@axehouse.com
or call
+971 4 399 9577