The ART of Brunch @ Fountain Restaurant Movenpick Bur Dubai
Brunch Reviews
| In
Unspecified
on January 17th, 2017
300-400 AED
%>
Unspecified
%>
The ART of Brunch @ Fountain Restaurant MOVENPICK BUR DUBAI First impressions as we entered the hotel were that brunch is a bit of an afterthought. It all takes place at the Fountain Restaurant, set around a sweeping grand staircase in the Main Hotel Lobby as if there were no more room at the inn. Strangely enough though, it works, especially with the additional seasonal element created by the impressively decorated Christmas tree and decorations adding a warm seasonal element to what might normally be quite a sterile, functional lobby.
THE FOOD
The food at the Fountain well prepared and fresh, featuring a number of live cooking stations and the option to go a la carte alongside this. From classic dishes and European favourites, to specialties from Asia and Arabia, our favourite being the Mascopan and Sarson Fish Tikka.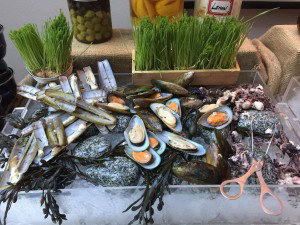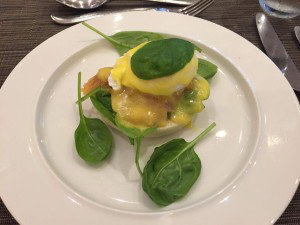 A well-provisioned sushi and sashimi bar, mixed grills, teppanyaki and a range of cold seafood with a slight Asian twist. Most dishes were well spiced to keep them interesting , and the fact that you could order either fresh fish and chips, a grilled seafood platter or eggs benedict from the inviting a la carte kitchen was a real plus. The dessert display was aesthetically and symmetrically stocked, with every mini dish, cupcake, mousse, brulee and even the mince pies being stacked in groups of 12…We thought it had something to do with the 12 days of Christmas, but maybe that was just wishful thinking or our over-active imaginations. Needless to say they were perfectly scoff-able and beautifully arranged.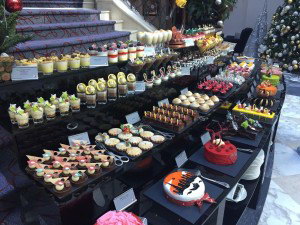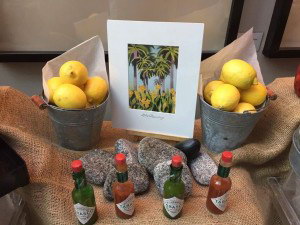 For the little ones, there is a separate "Kids Paradise", a place where kids can eat, drink and play video games, enjoy face painting and use the ever popular bouncy castle under the supervision of hotel staff while adults relax enjoy their time alone.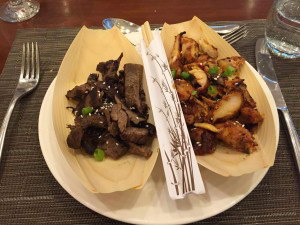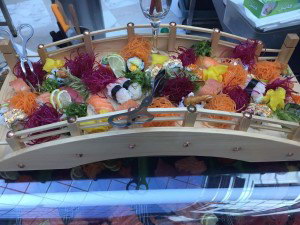 THE DRINKS
The house beverage package includes one of the widest arrays of grapes we have seen at a "non-premium" brunch of this kind. (By premium we are referring to the 500 AED+ Champagne types). To offer 3 tyoes of Red and 4 types of White is simply unheard of! They also offer 2 kinds of Hops (Carlsberg & Budweiser) as well as the standard range of top shelf spirits.
Reds:
Two Oceas Cabernet Merlot, SA Masia Merlot, SPA Stanley Claret, AUS
Whites:
Cuvee Sabourin Sauvignon Blanc, FRA Two Oceans Sauvignon Blanc, SA Masia J Sauvignon Blanc, SPA Satanley Claret, AUS
THE OTHER STUFF
Brunch at the Fountain is a fairly affair - a mixed bag of small groups, families and friends make up the brunching cohort and due to its location in the lobby, will never be up there with the loudest or rowdiest in town. It is all very relaxed and doesn't push a hard line dress code, you would feel equally at home in a suit as in a pair of shorts In one corner of the main brunch area a projector had been set up playing non-stop Charlie Chaplin films so those with old fashioned film and comedy sensitivities were well catered for whilst background music came from a grand piano located on the landing of the grand staircase. Brunch itself represents good value for money - AED 219 for soft drinks package, AED 319 for all inclusive house beverages and attentive staff always on hand to keep the glass topped up - finishing time seemed to be as relaxed as the atmosphere as we carried on until 430pm and no one seemed in a hurry to show us the door. If you're looking for a reasonably priced brunch without the ostentation that follows in some Dubai hotels, value for money, fresh food and looking to spend some quality time with family and friends it could be for you
Every Friday 12.00pm - 4.00pm
AED 219 per head with unlimited soft drinks, AED 319 inclusive of an endless flow of exclusive house beverages Call 04 3104320 to book Kids Activities and entertainment including bouncy castle, Free wifi, Live entertainment