Sofra Bld Family Brunch - Shangri-La Hotel, Qaryat Al Beri, Abu Dhabi
Brunch Reviews
| In
Unspecified
on July 13th, 2017
300-400 AED
%>
Unspecified
%>
We always err on the side of caution when walking into a brunch with "award-winning" credentials. We have been victims of believing the hype on previous occasions and so have set unrealistic and sometimes unfair expectations on the restaurant which they nearly always fail to deliver on. We hoped that the Family Brunch at Sofra Bld would not fall victim to the same fate.
THE FOOD
Our first stroll around the expansive kitchen/buffet area revealed a sumptuous buffet of mouth-watering delicacies. Sofra Bld aims to mirror the original souk experience of the Middle East with an eclectic blend of world cuisines, including original Emirati, Iranian, Moroccan, Indian and Asian dishes that allow guests to discover the spices, aromas and tastes of the region. It would also appear that no stone has been left unturned in terms of ingredients, and that no cooking method has been left untested. There are Oysters, Cheeses, Foie Gras, Scallops, a live Chinese wok station where you can choose your noodles and preparation (I chose a spicy vermicelli noodle soup), and the Shang Palace's signature Peking Duck pancakes and Vietnamese Spring Rolls filled with Smoked Salmon, an interesting alternative to the usual shrimp version we are used to but tasty nonetheless.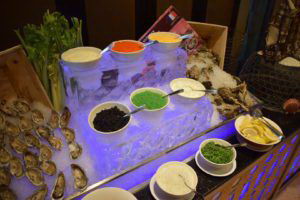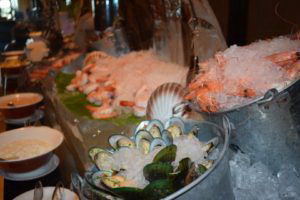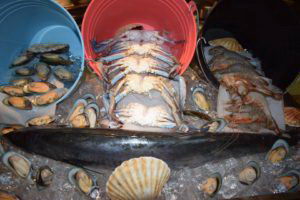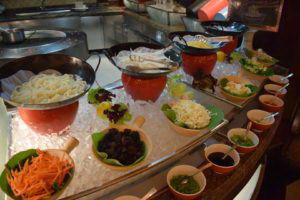 There is a live seafood market where buckets of fresh Crab, Tiger Prawns, Calamari and Mussels are presided over by a large ice sculptured fish and an awaiting chef. There were also ready cooked versions of Crab, Lobster and Prawns at an adjacent counter and perhaps serving us right for not waiting for the freshly cooked catch, were left a little underwhelmed by what we did grab from under the heating lamps as all were mournfully undercooked.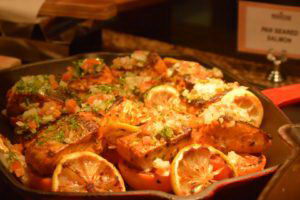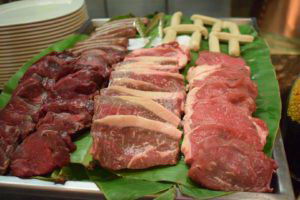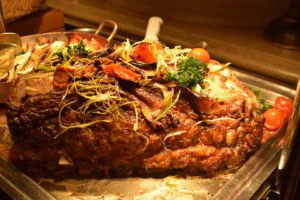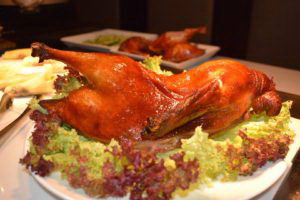 Not put off by our fishy encounter, other highlights for us were the Chicken Wings, Beef Brisket, Roasted Beef and Leg of Lamb, the assortment of Caviars and Cod Roe, the live Pancakes with millions of toppings, and the triple chocolate fountains to suit every taste, with milk, white and dark chocolate. You also have table number tickets which you can hand in to the live cooking chefs and have your dishes delivered to your table, although for us, there is nothing quite as indulgent or satisfying as watching your food being cooked in front of you. This is especially gratifying when you can see your Steaks (Tenderloin, Striploin or Ribeye) cooked to order on the grill to your left, whilst waiting for your Scallops, Salmon, Foie gras, Chicken or Beef to be cooked on the Teppanyaki grill just 3 feet to your right…gluttony at it's finest.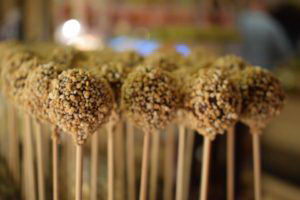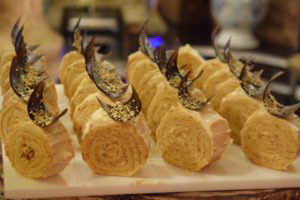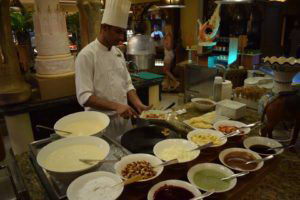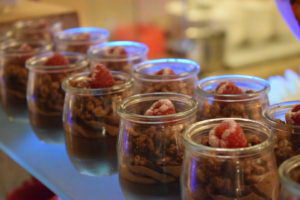 THE DRINK
A handy mocktail station, a fully stocked bar topped with Chivas Regal, Jim Beam, Drambuie, Pernod, Jameson, Ricard and multiple selections of Gin, a self-service frozen Margarita machine serving either traditional or strawberry versions, and a champagne package which meant that we avoided all of the above and were served Tattinger to our table all afternoon. How very decorous of us!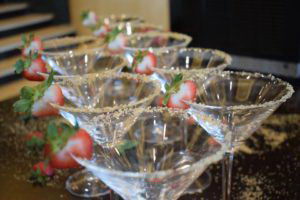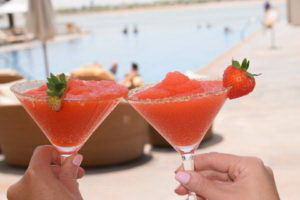 THE OTHER STUFF
We visited during the summer, although we are told that during winter months, the brunch features a range of activities for families, including interactive face painting (which we saw but did not partake in), a bouncy castle and a separate TV area. In terms of the other entertainment, a live jazz duo kept things bubbling along nicely with a selection of crowd pleasing classics and requests. The large pillars in front of them did mean that a number of tables (including ours) could not actually see where the sound was coming from, and attempts from the duo to garner further interaction from the crowd suffered as a result. For choice and overall quality of offering, there are few in the capital that can match the offering at Sofra Bld…just make sure you get your seafood cooked to order, and leave room for dessert!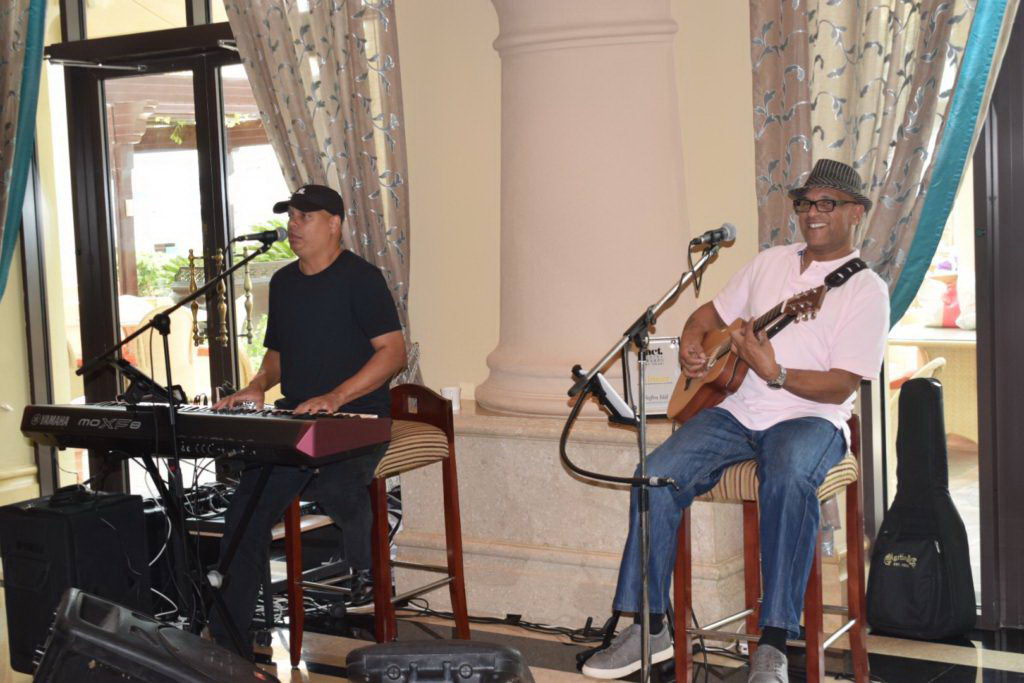 Every Friday and Saturday 12.30pm - 4.00pm
• With non-alcoholic package - AED 285+++ per person • With alcoholic package - AED 365+++ per person • With Champagne package - AED 495+++ per person • Inclusive of complimentary beach and pool access To Book call +971 2 509 8555, or email restaurantreservations.slad@shangri-la.com