Skyland Dubai, Brunch in The Sky
Brunch Reviews
| In
Dubai Marina
on November 4th, 2019

3 Overall
200-300 AED
%>
International
%>
&nbsp
Skyland Bar and Lounge Dubai Marina's newest rooftop venue located within the five-star hotel Stella Di Mare.
Guests of this rooftop bar can relax with the panoramic view of the city before them. The menu is composed of snacks, starters and appetizers inspired by cuisines the world over.
The theme of the Evening Brunch was the Garden of Eden, with apples decorating the floor and toy snakes as decorations, with waiters dressed as angels and demons.
Located on the 31st floor, Skyland provides amazing views of the Marina below, with a low, lounge sofas providing a really relaxed ambiance, but made it difficult to eat as we had to keep leaning forward so as not to spill food on ourselves. The venue itself was dimly lit, making it quite difficult to see the beauty of the venue, especially when the sun started to set.
THE FOOD
In terms of food, there are 3 stations: a live sushi rolling counter, sweet table and cheese section - A good selection to choose from and was well set up and maintained, even spotting a rogue fly an dealing with it immediately.
All of the other food was made for sharing, with starters of Crunchy Cobb salad, Salmon Tartar, Truffle Watermelon with Tomato and Spicy Feta, Cajun spiced Grilled Shrimp, and our two favourites, the Starfruit &amp Ginger shooter and the Rolled Chicken and Garlic wrap.
Main dishes include Baked Ratatouille, Sweet Potato Wedges with BBQ sauce, Breaded Teriyaki Chicken Tenders, Beef Fajitas, Red Thai Curry Beef sliders, Chicken Tortellini with Tomato and Parmesan -which although presented beautifully, was a tough task to eat due to the majority being cold apart from the sweet potato wedges. We had to ask them to bring out another platter as we wanted to give it a try, and while the second attempt was not as cold as the first, it still wasn't piping hot as it should be…a real shame.
Desserts faired a lot better than the main dishes had done, and the selection of Mini Red Velvet Cake, Mini Walnut Pie, Mini Cheesecake's, Cinnamon pastry cigars filled with delicious Vanilla cream and topped with crushed pistachios were a welcome sweet end to proceedings, without being too glutinous or stuffy.
THE DRINKS
Drinks kept flowing throughout the evening, and staff were attentive to our needs at all times. Our favorite of the night was the 'old fashioned' served on the rocks with a twist of orange rind, and the the Demon Julep, which is made from Bacardi Blanco, raspberry, rose, basil and lemonade. All of your regular cocktails and soft beverages are available to order from the bar.
THE OTHER STUFF
Staff were friendly and attentive however the lack of an early crowd gave the atmosphere was quite eerie until more guests started arriving later into the evening around 9pm. The entertainment is definitely geared towards a more mature audience, with a DJ playing pop music, followed by a very engaging saxophonist and a one-man band singing Spanish music.
Our feedback would be for them to utilize a section with tables and higher seating so it is easier for people to eat their food, as well as having a section that is less dimly lit as it was so difficult to see what was going on, especially when picking food at the cheese and sweet stations.
With a few minor tweaks such as a wider variety of musical genres, ensuring that the sharing platters reach guests piping hot, and making better use of lighting to showcase the venue's USP. (The stunning, 3-sided views over the city and Marina). The Brunch in the Sky has a real opportunity to stake a claim in a Friday Evening Marina brunch market where there are currently only very few competitors.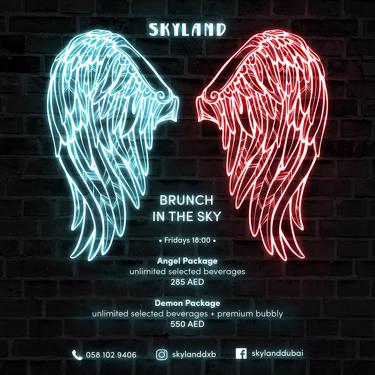 Every Friday 6pm – 10pm
Angel Package - AED 285 – Unlimited beverages
Devil Package – AED 550 – Unlimited beverages + Premium Bubbly
Tel: 058 102 9406
info.dubai@stelladimare.com