Saturday Social Brunch @ Marina Social, Intercontinental Dubai Marina
Brunch Reviews
| In
Unspecified
on April 25th, 2016
300-400 AED
%>
Unspecified
%>
Whenever the name Gordon Ramsey is mentioned, the pomp and ceremony surrounding his theatrics, his showmanship and quite often his crudeness often overshadow the raison d'etre of any restaurant of note. Ramsey's skills as a chef and restauranteur in themselves are often overlooked for this fact, but what can never be called into question is his business acumen. His record shows a line of successful (and some not so successful) restaurants, which in themselves have spawned their own line of star chefs who have leapt out from the role of protégé to lead some of the most renowned restaurants currently on the planet. The list includes Marcus Wareing, Angela Hartnett and specifically Jason Atherton, who along with his Michelin-stars brings a celebration of deformalized dining within a relaxed, social atmosphere to Dubai, ably managed on a day to day basis by Chef Patron Tristan Farmer. Farmer, who is another Ramsey Holdings graduate has since stepped into the spotlight and is ready to flex his sizeable culinary chops across Dubai's fledgling but fascinating culinary scene.
&nbsp
The Food
The menu, we are told changes regularly to fit in with seasonal produce but does conform to the same "Social" brand identity as those located in London, Hong Kong and Shangai in that they have a distinctly Mediterranean feel, and come with a completely vegetarian alternative menu that features 3 or 4 options for each course rather than the sole perfunctory "veggie option." A feature which is so often an afterthought across many an a la carte menu! As we scanned the sizeable list of options we were instructed to choose one dish from each course, or just say "FEED ME" and the chef will do the rest.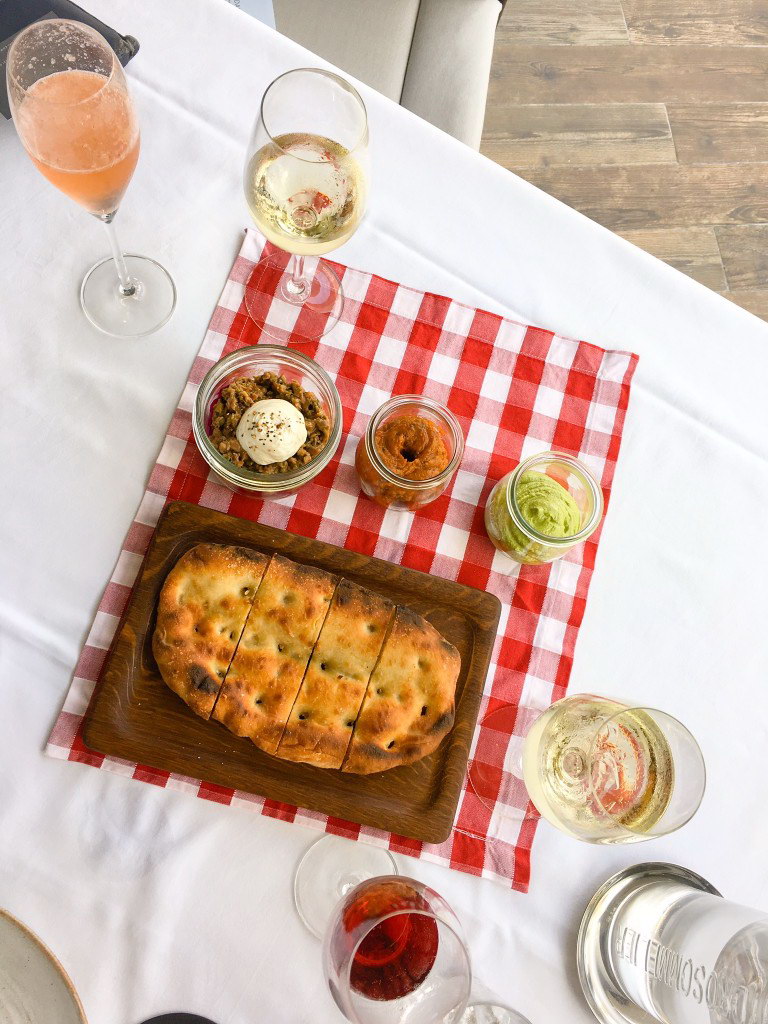 The choices on the day for starters were between a hand chopped beef tartare with pickled red cabbage &amp balsamic dressing, smoked sea trout with celeriac and apple remoulade, a caponata (Sicilian eggplant stew) with pistachio and feta, a salad of snow peas, Persian feta, mint &amp radish and finally another salad, this time featuring spinach with a garlic aioli, pine nuts &amp crispy veal bacon. We decided on the Beef Tartare which had a lovely sharpness and bite from the red cabbage and the Caponata, which we must admit were chosing a little blindly as we were not sure of what to expect from the dish, but was a pleasing accompaniment to the warm rustic garlic flatbread which was served family style on a typical red and white picnic blanket.
&nbsp
For our mains, we could not make up our minds and so were led by our helpful waiter who selected one dish and a pizza to share between us. The dishes were accompanied by sweet crushy peas, seasoned to perfection with just a touch of olive oil, mint and chopped shallots, broccoli and thrice cooked chips on the side. The options we had struggled to make a definitive decision on included a shepherds pie, a mac, beef cheek 'n' cheese, a rigatoni dish with basil, pine nuts, pesto &amp parmesan and finally pappardelle pasta with brown crab, rocket &amp amalfi lemon ricotta.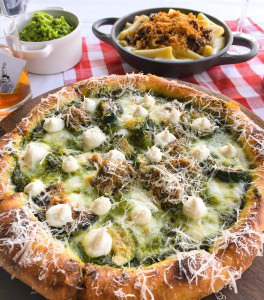 the pizza options included veal pepperoni, mozzarella, marjoram &amp pecorino, a pulled lamb pizza with basil pesto, char-grilled courgettes and buffalo ricotta, a third option of reblochon cheese with thinly sliced wagyu cecina, caramelised onions, rocket and finally a comparatively modest tomato, basil &amp mozzarella option. We were served the popular pulled lamb and were impressed in both its presentation or flavor. with juicy cheese and basil pesto coupled with tender lamb, large dollops of ricotta and a perfect golden brown crust.
&nbsp
With desserts, again we ordered individually but judging by the size of the portions, would have been perfectly satisfied to share either one of them between the two of us. We went for the Apple Crumble and Custard served in a large ceramic dish and the Dark Chocolate Sundae with Chocolate Brownie and frozen White Chocolate served in a more elegant but equally sizeable sundae glass. Both were homely, sweet, gratifying and with a scoop of Vanilla Ice Cream accompanying each, were the perfect end to the meal.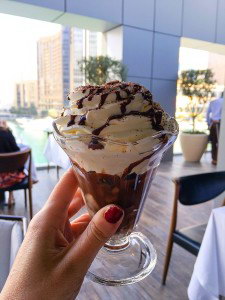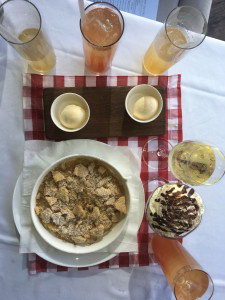 &nbsp
The Drinks
&nbsp
The beverage selections include a Trolley from which you could choose a "Bloody Marvellous (Mary)" "Grown Up Ice Teas," and a selection of "Fizzy Rascals" (Bellin, Rossini or Kir Royale.) The Tea's were first to spark our intrigue as we discovered that you could tailor your own mix of English breakfast tea with a choice of spices and syrups. On the advice of our bartender/trolley wielder Arjun, I selected one with Lavendar, Thyme &amp Tequila, whilst Mrs B chose a Spiced Tea syrup infused with Cinnamon, Cardamom and Star Anise.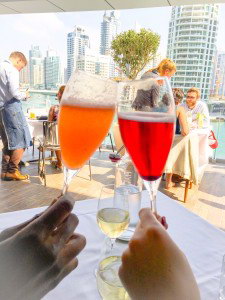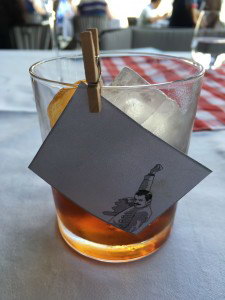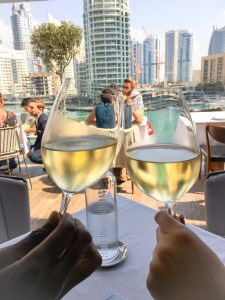 Judging by the size and selection behind the bar in the adjacent Social Room, we knew that we would be in for a treat with the cocktails. The selection included some interestingly named concoctions which we were glad came with a list of included ingredients. One even came to our table garnished with it's very own Freddie Mercury! The "Up in your Grill" (Tequila, grilled watermelon juice, Campari, Benedictine, passion fruit), the "Last of the Mojito's" (pineapple infused Havanna, green chartreuse, noilly prat, mint &amp sugar cane) and finally a "Drama Queen" (monkey shoulder, cacao nibs, vermouth &amp pedro ximinez sherry) were all well made, and had a definate KICK to them!
Our bartender was playful yet efficient and even "accidentally" forgot that it was last orders in order to furnish us with more tequila shots at 4.30pm. Golden service with a cheeky smile. With all of the fun we had been having with the Trolley, we had almost neglected to mention the wide variety of Beers (Becks or Grolsch), Wines (Sauvignon Blanc, Maisa Spain &amp Nero d'Avola Italy) and top shelf spirits on offer, including Absolut, Tanqueray, Johnnie Walker and Havana Club.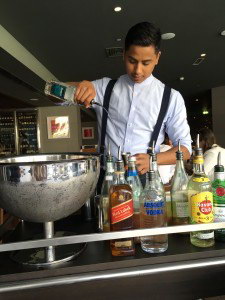 The Other Stuff
&nbsp
The theme running throughout the Social Room, the Share and Social Friday Brunch and the Saturday Social Brunch, is…you guessed it…to be social. Social with the chefs with the specially designed open kitchen, social with the bartenders as they travel around with the beverage trolley, and social with your guests with the dishes are perfectly designed for sharing. With the quality and consistency of the food coming out of the kitchen, it was no surprise to discover that it had won "Best New Restaurant at the Good Food Awards" last year and the level of detail that goes into the preparation of each cocktail matches, if not surpasses that of the food.
The overall feeling you are left with at the end of the afternoon is that of overwhelming contentment. The stunning, sprawling views of the water and the Marina from the terrace, the relaxed ambience fashioned by the smartly dressed crowd and the funky soundtrack all add up to a very pleasurable afternoon at one of Dubai's newest, but most promising eateries.
&nbsp
Every Saturday - Saturday Social Brunch
Packages:
Soft Social (soft beverages) AED 215
House Social (house beverages) AED 395
Bubbly Social (House beverages &amp bubbles)
To Book: 04 446 6664 or email reservations@marinasocialdubai.com
Book Now with Eat App
&nbsp
Also Available on Fridays: - Share &amp Social Brunch
Packages:
Soft Social (soft beverages) AED 315
House Social (house beverages) AED 495
Bubbly Social (House beverages &amp bubbles) AED 595