Ruth's Chris Steakhouse, The Meat Lovers Friday Brunch
Brunch Reviews
| In
Unspecified
on November 13th, 2017
200-300 AED
%>
Unspecified
%>
Calling all meat lovers. Ruth's Chris steakhouse now offers a brunch to showcase a number of unlimited, tender, sizzling dishes with a quintessential flair from it's roots in New Orleans.
THE FOOD
The menu is large and varied, separated into sections which allow for lazy grazing through the early courses as you make your way up to the undoubted stars and the brunch's namesake. We were surprised to see that, other than a thinly sliced carpaccio of beef tenderloin, the starters were entirely meat free. From Fine de Claire (No.4) Oysters, to Calamari, Spicy Shrimp, spicy Ahi Tuna and Mac &amp Cheese.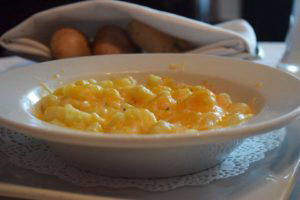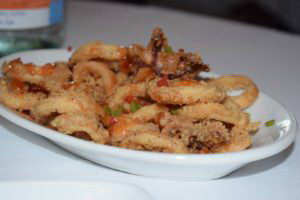 Those seeking lighter alternatives can also opt for the restaurant's salad selection comprising of either Fresh Mozarella &amp Kumato Tomato, a Caesar Salad and a Steakhouse Salad which, despite it's teasing name was also lacking in any meat.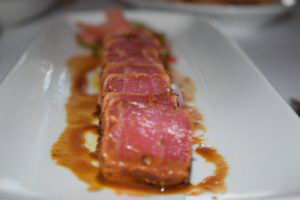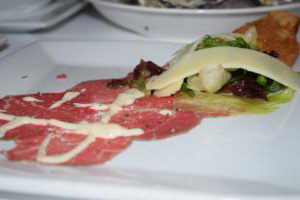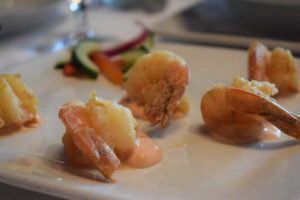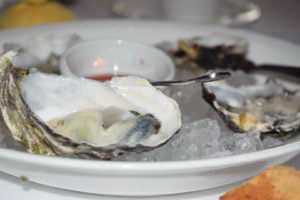 Finally, we were ready to get our sizzle on with some legendary mid-western meaty specialties, broiled at 1800 degrees (F) and served in sizzling butter. Steering clear of the Braised Short Rib, Stuffed Chicken Breast and BBQ Shrimp, and avoiding a near miss with a mis-guided order of Pan Roasted Salmon, we chose the 8oz New York Strip, with its full bodied texture, The Lamb Chops and the 6oz USDA Filet accompanied by Garlic Mash, Creamed Spinach, Cremini Mushroom and French Fries.
Other than a hankering for our favourite cut of Ribeye, the slightly firmer strip was perfectly seared and the right shade of pink on the inside. Our only regret was filling up on starters and not moving directly to the meat, allowing the Short Rib to remain frustratingly elusive. Next time we will plan more strategically. This is the meat lovers brunch after all.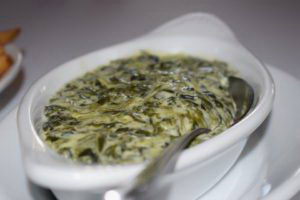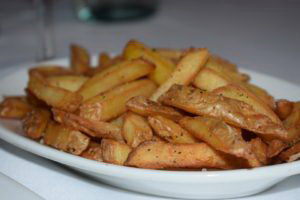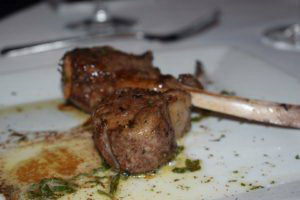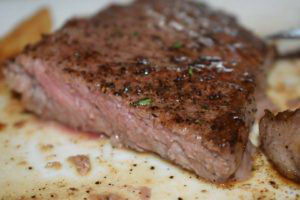 The menu also boasts decadent and delectable desserts which proved a fitting sweet treat to a sit-down feast of mammoth savoury proportions. Choosing the Cheesecake and the Vanilla Ice Cream to accompany our Espresso Martini's seemed an indulgent yet semi-restrained way to end our gluttony. The other options were a devilish Crème Brûlée or a Chocolate "Sin Cake" with an espresso ganache.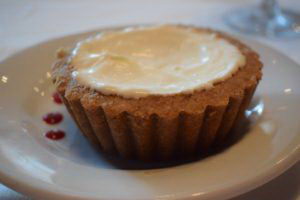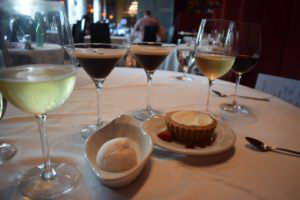 THE DRINK
As with the selection of food, the beverages available are wide ranging and free flowing.
The 4 Mocktails are the Lady Selen, Passion Colada, Merry Berry and the Virgin Mary. The 5 Cocktails on offer are the ever-popular Aperol Spritz, The Royal St Gin &amp Tonic, The Italian Job, The Raspberry Cosmo, and our favourite Espresso Martini.
Wines are from the Nederburg (South Africa) family and feature a Suvignon Blanc or Shiraz, plus house spirits and Veuve Clicqot Champagne for those on the top package.
OVERALL
One thing about a restaurant so elegant in its outward appearance is that you expect the service to be impeccable silver service at all times. A slight disappointment then, that our waiter did not go through the wine tasting ritual with us when switching between reds and whites. (Yes it's pedantic, but it is one of life's decadent pleasures and something we would expect during a dinner service, so why not at brunch.)
A mobile musical trio of a drummer, guitarist and a saxophonist wander the restaurant playing to particular tables for birthdays, special occasions, and just because…the pink panther theme was a particular hit with our table.
Ruth's Chris has come a long way from its humble roots in New Orleans over 50 years ago, but this modern incarnation maintains that crowd pulling ambiance and the draw of sizzling steak that has made it a household name today. The meat lovers brunch is a classy affair, with a mature, knowledgeable crowd dressed to match the shear white linen contrasting against the dark wooden floor. It took our eyes a while to adjust to the dimly lit interior compared with the beaming light of the Dubai Marina, although we were shaded from it directly in our curved booth at the back of the restaurant. Temporarily defeated and momentarily sated, we made vows to return next time to sample more meats and less fillers.
"Laissez les bon temps rouler" - Let the good times roll.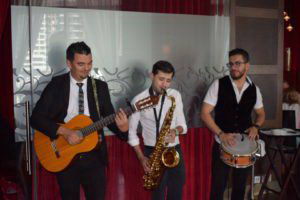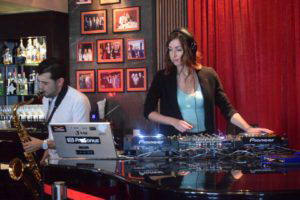 Brunch Packages:
The Orleans: AED 300 - Unlimited A La Carte Dining and a Selection of Non-Alcoholic Beverages &amp Mocktails
The Happy Jack: AED 460 - Unlimited a La Carte Dining and a Selection of Beverages &amp Cocktails
The Ruth: AED 495 - Unlimited A La Carte Dining and a Selection of Beverages, Cocktails &amp Free Flowing Veuve Clicquot Champagne
To Book directly with Eat App, Click Here