RIVA Beach Club Brunch
Brunch Reviews
| In
Palm Jumeirah
on May 20th, 2019

4 Overall
300-400 AED
%>
American
%>
Unsure of what to expect from this brunch with it being fairly new to the scene, we arrived early to have a wander around and take in what RIVA had to offer, seeing as access is usually restricted to members or day pass purchasers. We were greeted by a lovely waitress who showed us around, and found a number of tables on offer, some in the sun and some in the shade, with staff very willing to move the umbrellas if you need. As we were early, we took advantage of having a pre-brunch drink at the pool bar that offers a variety of drinks at 20 AED between 11am and 12:30pm. Sipping on our pre-brunch libations, we were able to enjoy the beautiful views overlooking the Arabian Gulf and of both the Burj Al Arab and Burj Khalifa standing tall in the distance.
We were a little disappointed to find out that brunch does not include pool or beach access at RIVA. However, they do offer a special rate of 80 AED per person on top of the brunch price if like us you want to take full advantage of the sun rays to keep the tan topped up. They also informed us that during Ramadan they do have a special offer to include pool and beach access with the normal brunch price, but think this should be included as standard.
THE FOOD
We were informed that the brunch is normally set up outdoors, but as it was a particularly hot day, they had to set up indoors to save it from perishing in the heat.
For starters, there is a selection of cheese bowls, focaccia's, dips, salads, cold cuts, arancini and buffalo chicken wings. They also offer pizza margherita as a starter (although we aren't aware of anyone who has a pizza as a starter). That being said, we ordered one pizza to share and we were impressed with its presentation when it was brought to the table on a wooden board, giving it a rustic feel and was perfect to get rid of those early hunger pangs.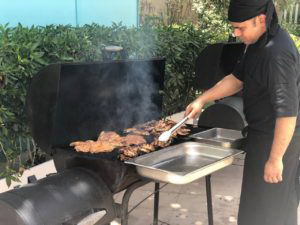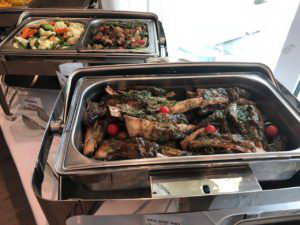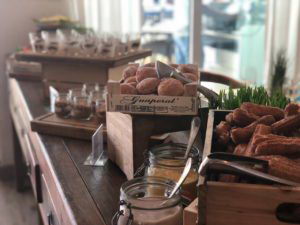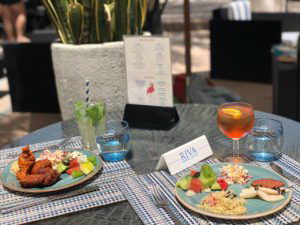 For the main courses, there was a limited selection of BBQ beef ribs, peri-peri chicken, grilled prawns and lasagne complimented by grilled corn on the cob, roasted potatoes and steamed vegetables. Although the meat and prawns are cooked on the outdoor BBQ, they are served in dishes inside the venue and not straight from the BBQ. As a lover of these dishes we dived in, however, as they were not straight from the grill, they were not the freshest y the time we had reached them. The curse of the buffet strikes again.
We have to say one our favourite parts of any brunch is the dessert section, so we always make sure we have plenty of room left to taste the delights on offer and today was no different. Heading back inside, we headed straight to the dessert table that offered churros, tiramisu, pretzel, meringue, melon, strawberry panna cotta and mini doughnuts. All of the desserts were nicely presented in individual portions and the mini doughnuts and tiramisu were particularly moreish. Feeling satisfied, we decided to move to the comfy sofas in arm's length of the pool bar to catch a few more rays.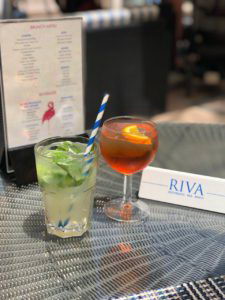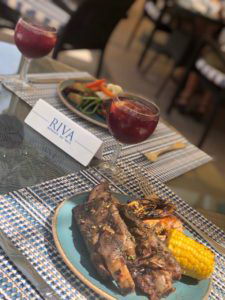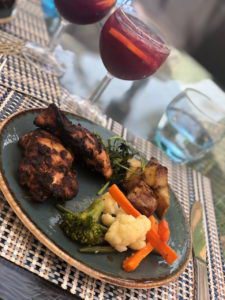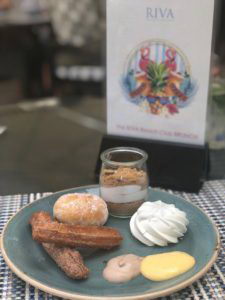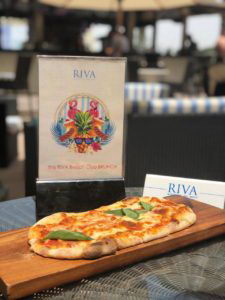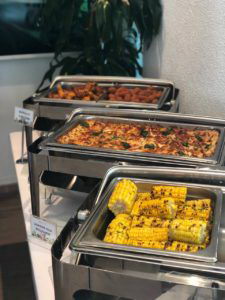 THE DRINKS
A key element of any brunch is the selection of beverages on offer and we didn't feel disappointed with that. There was a good selection on offer from house beverages to sangria, which matched with the Balearic Islands vibes of RIVA. Being sat in the sun, we started with a Mojito and everyone's favourite that we cant quite get our head around, Aperol Spritz. Both pleasant, but if you are looking for a high-end cocktail brunch this is perhaps not the place. Of course this did not stop us trying a few of the other cocktails on offer. The drinks served were all ice cold and the cocktails were garnished. However, there is only one type of beer offered at the brunch and while on the menu it states Carlsberg, we were served Heineken, which we actually prefer.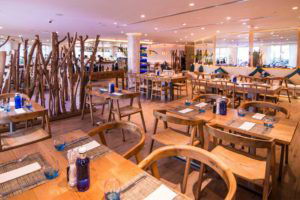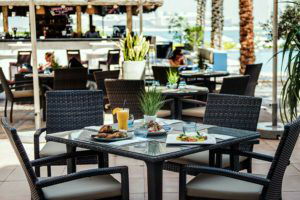 OVERALL
With the DJ playing chilled tropical house music in the background and iconic views over Dubai, this brunch has a very relaxed, anything goes vibe. You can feel equally comfortable in your swimwear or a pair of smart shorts and a shirt. However, sometimes it seemed a little too relaxed as we felt they were a little too slow at clearing tables and for ordering drinks.
If you are vegetarian, the options are very limited and there was no vegetarian main course advertised.
It is also a family friendly venue as there were a number of families present as well as beach goers who had obviously needed to break up a day in the sun with a bite to eat and drink. The downside is that beach and pool access is not included, so if you're looking to cool off in the pool or wanting to feel the sand between your toes you have to add 80 AED on top of the price of the brunch.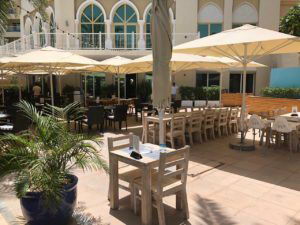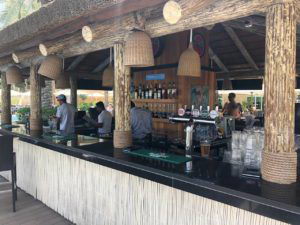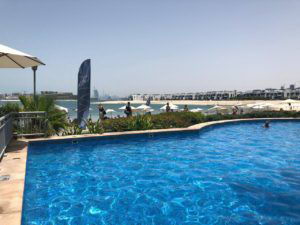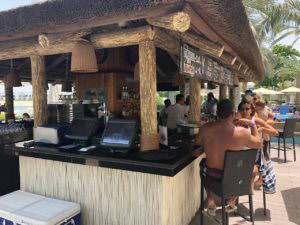 Every Friday from 12.30pm - 4.00pm
395 AED with alcohol
185 AED non-alcohol
95 AED for kids between 5-12