Rare Brunch, Porterhouse, Sofitel the Palm
Brunch Reviews
| In
Unspecified
on February 24th, 2016
We recently took our relatives to visit the Sofitel on the Palm, which has joined a "rare" group of outlets in the city, offering more bang for your buck in terms of including pool and beach access as part of the brunch package. So...armed with our binikis and beach shorts, we headed onto the palm to get our MEAT on at Porterhouse restaurant, which is one of 14 F&B outlets and takes its name from one of the most prized cuts of meat in existence. Aiming to "steak" its claim as not only as the "King of the T-Bone Steaks, " but also as a King of the Brunches, the Rare Brunch was billed as far from the ordinary buffet. Think of a family style lunch experience where your meal is served to your table as if in the comfort of our own home..You just have to imagine your home with the same part-tropical, part-palatial allure of this marina facing palm resort and you are half way there.
The Food
As we sat down to our table on the picturesque terrace, we looked down ominously at a menu-come-place mat which featured no less than 30 different items, only to be quickly comforted by the waiter who could clearly sense our trepidation at having to make any form of choice and that everything we saw in front of us would be coming to our table, so that all we need worry about was sitting back, relaxing and enjoying the afternoon. First out of the blocks were a selection of Vegetable Crudités, Chips & Dips, Garlic & Herb Bread and an assortment of 3 Mustards (Dijon, Tarragon & Pepper) which would play a significant role throughout duration of the meal. This was closely followed up by 3 freshly prepared salads to share in the form of a traditional Caesar, a Belgian Endive with green & red apples, fresh mushroom and Balsamic Sundried Tomato and a dry-smoked Spanish Beef Loin served with shredded Gouda and Rocket leaves. All of the above were fresh, light, easy on the palette and most importantly…non-filling! To end the course on a high note is one thing, but to end on a chorus of glorious harmonies is something we never expected so early on into our meal. The Australian Black Angus Beef Tartar and the Chicken Liver Parfait served in a jar were the undoubted starlets of the show thus far and delivered just such a highpoint with flavours so complex and earthy that they continued to swirl around in your mouth long after you had finished chewing.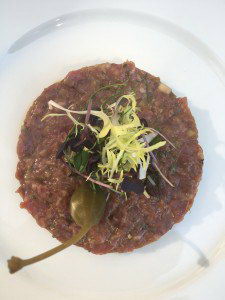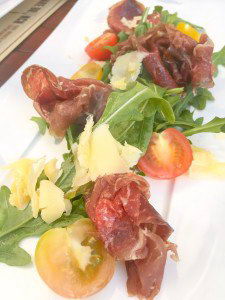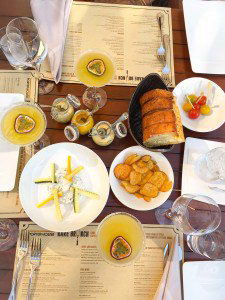 If they could do this with their raw steak, we were in fits of anticipation to see what heights the cooked meats could take us to. Unfortunately for us, we had a mini course of hot starters to contend with before Mains would be coming our way. Not that the next course of Lahmacun, which is a kind of Minced Lamb Flatbread, Beef Sausages in Puff Pastry and Prunes wrapped in Bacon were particularly bad (The Lahmacun in particular was actually very tasty). The problem for us was that after the truly epic highs of the Tartar and the Parfait, the 3 dishes seemed like simple finger food in comparison, and an unnecessary hurdle we had to jump over to get to the main items which were staring tantalizing up at us on the menu from beneath our plates.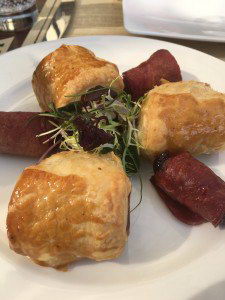 Slightly harsh critique over for now, and we finally got to the main event, and a beautifully presented congregation of items fresh off the Grill and Rotisserie and served conveniently inside of a giant wok, complete with fresh sprigs of Rosemary and Garlic to garnish. So far the presentation and the aroma's were hitting all of the right notes. All that was needed now was to taste. Included in our mixed grill of goodness were succulent pieces of Char-Grilled 250-day grain fed Prime Tenderloin (USDA), Chargrilled free range Striploin (New Zealand), Crispy Char-grilled and handily de-boned Chicken Thighs, Melt in your mouth slow cooked Australian Lamb leg and Frankfurt Beef Sausages. Never ones to miss out on our 5 a day, the feast is ably accompanied by grilled Corn on the Cobb and a Selection of Sides and Sauces including Roast Baby Potatoes, Truffle Potato Croquettes, Stuffed Cheesy Jalapeños and your customary Peppercorn, Mushroom and BBQ sauce to go along with the triple mustards from earlier on. When asked by the chef if we wanted a repeat order of the mouthwatering meat, the answer was a resounding and earth shattering YES from the entire table! And we have to say that if doggy bags were an acceptable accessory at brunches, they would have been made use of today for sure.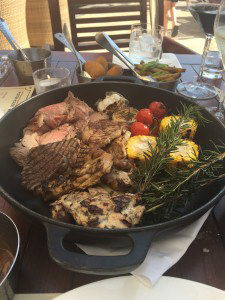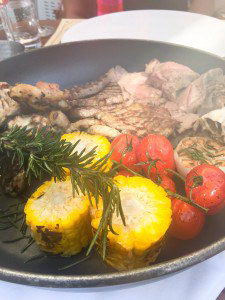 Once our tummies could physically take no more of the meat marathon, a lovely touch was to be handed a scented flannel to refresh ourselves before embarking on the short walk inside to the dessert table we had passed on the way into the restaurant. Here we found an assortment of homemade Rhubarb, Apple, Pear and Pumpkin Pies, a selection of Lemon, Cherry, Hazelnut and Chocolate Tarts and a colourful group of make your own bowls filled with assorted berries, cream and sugar. There were even a couple of gluten free options of Strawberry Balsamic Panna Cotta and a Vanilla Panna Cotta which is something we have not seen or tried before. With the heaviness of the meat still fresh in our bellies, the light option of the berries and cream was a welcome option to provide the obligatory sweet ending to our meal without the heaviness of a pie, delicious as they all looked. A small nod to the chefs who have also produced a dedicated Kids menu, including Potato Croquettes with Fries, Chicken Nuggets, Spring Rolls and a few pasta dishes…although if I was a child…I would certainly be stumping for what the adults get to eat every time!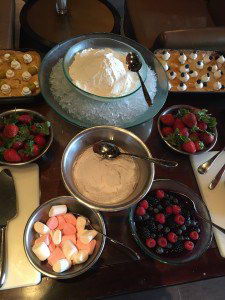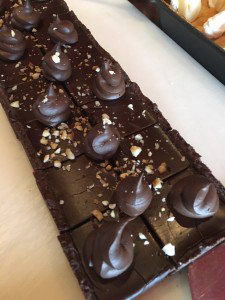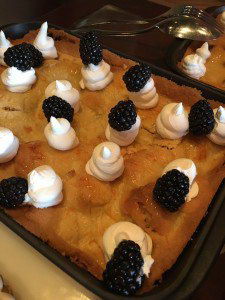 The Drink
From the moment we walked past the beverage trolley and were brought our welcome drink named "The Vanilla Sky," we could tell that the cocktails here would be made with real "love" by real mixologists, in true Manhattan cocktail lounge style. The aforementioned beverage trolley with all of its mixers, muddles, infusers and homemade syrups was the laboratory in which you could make 3 variations of the classic Bramble. The classic featuring fresh blackberries, watermelon and basil, or a refreshing raspberry and mint twist. If sweetness isn't your thing, the altogether more devilish Bloody Mary is also available with 3 twists. The Traditional Homestyle, a pickled version which adds Arabic pickles and a few drops of pickle juice and the BBQ twist which adds a base of BBQ sauce and a garnish of Beef Bacon…delicious if not slightly filling.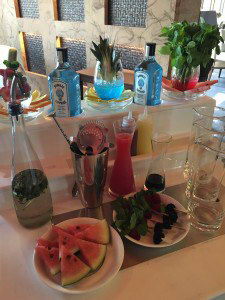 Finishing off the so far impressive lineup of pre prohibition signature cocktails, both in panache and performance (they certainly have a kick!) were the Ward 8 (Rye Whisky, Lemon, Orange Juice, Grenadine), the Cloudy (Dark Rum, Caramel Syrup, Cinnamon infused Vanilla syrup, Pineapple juice) and the Porterhouse Mule (Vodka, Lime, Ginger Syrup, Ginger Ale). For those seeking simpler fare, there are also a selection of top shelf Beers (Stella/Kronenbourg 1664), Wines (Cuvee Sabourin Sauvignon Blanc/Cabernet Sauvignon) and a full cabinet of Spirits on offer including Stolichnaya Vodka and Bombay Sapphire Gin to tickle your whistle. Again it was good to see a lack of restrictions and an inviting attitude of the waiters for our group to try new things…almost so that they could show off their capabilities and hospitality. One such occasion of many that spring to mind was when we switched from white to red wine to accompany our main courses on recommendation of the manageress. She had the bottle of white in her hand and so asked if she could first refresh our glasses with that, while we waited for her to go and open the red and let it breathe…a small touch, but in an era where frugality and consumption are micro-measured in an often false depiction of excess, a truly warm and genuine gesture of generosity made us feel right at home.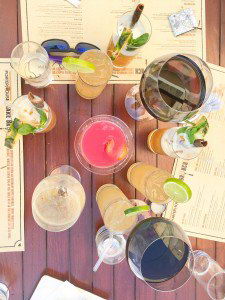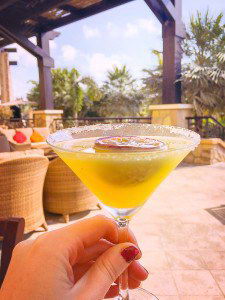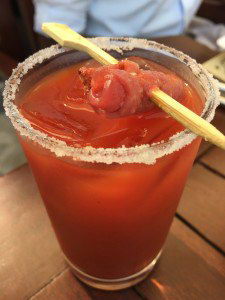 The Other Stuff
The pool and beach access (which at weekends usually costs 250 AED alone ) is a very obvious yet very valuable addition to the Brunch offering at the Sofitel. The same deal is also available at their Saturday Seafood incarnation of Brunch but that is another story for another day. One of the less obvious but equally as important a feature of the pool and the general surroundings, is the way that you are made to feel in those surroundings by the entire team. In particular, mood-setter-in-chief DJ Safet, a Serbian native who for true music lovers is a self-confessed traditionalist, a Muso if you will…choosing go against the grain of technology to ply his craft strictly in the form of vinyl, with classics from
Earth, Wind & Wire
,
Stevie Wonder
and
Randy Crawford's
immortal
"Street Life"
setting the tone for an afternoon of chilled out Soul, Rare Groove and Funk to lift the spirits of any occasion you may be celebrating. Our main gripe on the day was that the lush greenery of our surroundings seemed to attract an abundance of flies who seemed just as eager to join in our family style meal as us, although the staff did bring us over Citronella candles to help combat these unwanted dinner guests. The RARE brunch is WELL-DONE from start to finish. The little touches make a big difference and whether coming for a whole family day out making use of the excellent facilities, or simply for a meal, they seem to have hit just the right temperature!
Every Friday from 12:30pm
AED350 - including soft drinks, pool & beach access
AED 495 - including house beverages, signature cocktails, pool & beach access
Click Here for an example of one of DJ Safet' s Mixes.