Qwerty "BRNCH" Needs "U" - Media One Hotel
Brunch Reviews
| In
Unspecified
on August 3rd, 2017
200-300 AED
%>
Unspecified
%>
Qwerty's new Friday BRNCH looks a lot like brunch, but as you can see it's shorter in length than the usual 3 or 4 hour friday feast… The clever play on words and omission of a letter in the spelling means that they need 'U' From 1-3pm in the recently renovated and reinvigorated lobby bar of the Media One Hotel. We went to see if the truncated version of brunch still packed a full punch.
THE FOOD
The brunch "munch" at Qwerty consists of endless grazers and a selection of 3 main munches, which at first we thought was a little limiting until we discovered that these options change on a weekly basis., and if there is something in particular on the menu you really crave (such as the famous Cheese on Toast) they will make it for you. This is followed by a dessert trolley which is an actual supermarket shopping trolley! (If you have time.) A starter platter of Prawn Tempura and Vegetable Maki was followed by a wooden chopping board filled with an assortment of warm goodies. These included mini Beef Burgers, delectable steamed Duck Gyoza, Chicken Chimichangas, Sesame Prawn Skewers, mini Lamb Koftas, Individual Quiches filled with Mushroom, Spinach & Cheddar, and a Qwerty Garden Salad on the side. Our table were more than happy to munch continually on the bite sized morsels and ordered another 2 helpings of the Duck Gyoza and mini Burgers.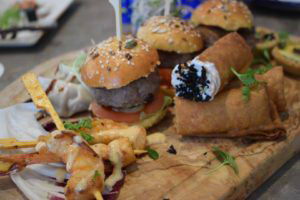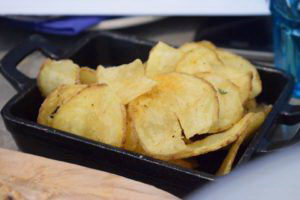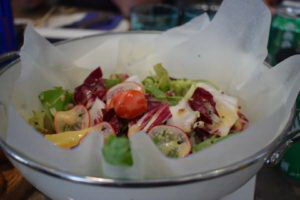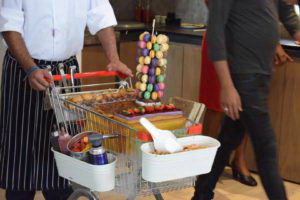 One thing that does strike you about such a short brunch is that we did feel a tad rushed and although they are entitled "Grazers," that is the not what we were able to do as our waitress came to take our main course orders when we didn't quite feel ready to place them with so many other things going on (which we will come onto later). Nonetheless, for those in our group who were ready, we ordered the Fish & Chips which had an exceptionally well-seasoned batter, the street food classic of Chicken Singapore Noodles and finally the Ricotta & Spinach Cannelloni.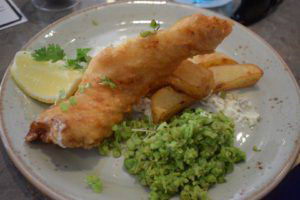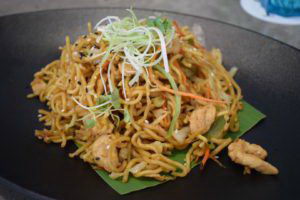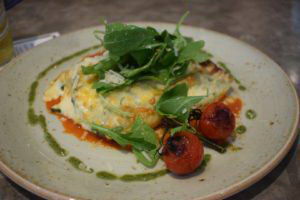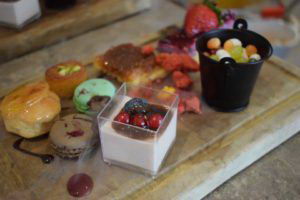 Back to the dessert trolley we mentioned earlier and a bit of theatre to finish the meal as the chef artistically plates a selection including Macaroons, a pot of Jelly Bellies, Eclairs, Shortcakes and Panna Cotta decorated with swirls of Chocolate Sauce, Raspberry Coulis and finally a waft of dry ice to complete the piece.
THE DRINKS
The brunch "Quench" menu includes 3 types of hops (Amstel, Budweiser or Sol), Red (Shiraz Cabernet), White (Chenin Blanc) or Rose (Cuvee Blush) Wine. Vodka (Absolut), Rum (Bacardi), Whiskey (Famous Grouse) and Gin (Bombay Sapphire) complete the line up which can be ordered at your table. You then have the option to 'Top Up' with an additional unlimited hour from 3-4pm for an extra AED 99. For us (and everyone else it seemed) 3pm is when the real consumption usually starts so that was a no brainer.
THE OTHER STUFF
There is certainly a LOT going on a qwerty. You are asked whether you would like to opt in to a Qwerty Whatsapp broadcast group to receive silent text challenges throughout the brunch to win additional prizes including weekend stays or instant rounds of shots. One such challenge was to construct a famous landmark out of play dough, which to our surprise EVERY table joined in on. There are also table top games dotted on each table such as Jenga and Connect 4, as well as vintage Atari games and board games with Jono from Dubai 92 continually rounding the tables and keeping scores in check. The shortened time and the other distractions including the whats app games and the arcade/board games don't necessarily create the most relaxed eating and drinking experience if you are after a lazy Friday Brunch, however we appreciate and applaud the effort that has gone into creating a fairly unique experience. Time flies when you're having fun.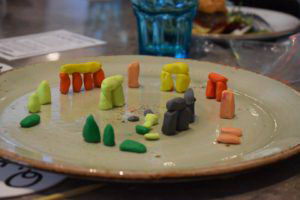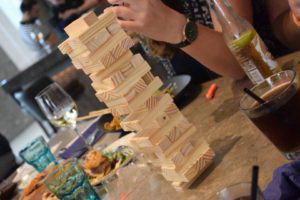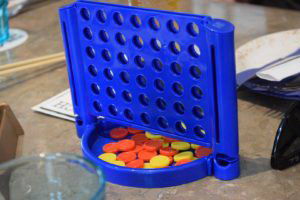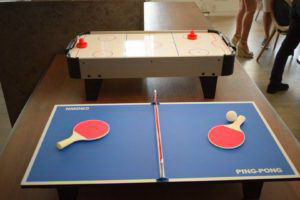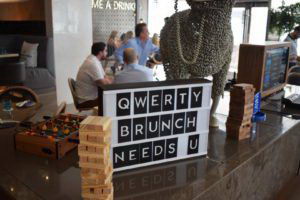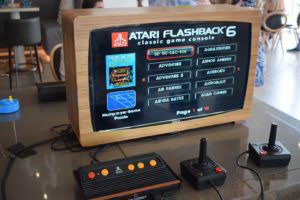 Every Friday from 1-3 pm
AED 199 BRNCH from 1-3 pm AED 99 TOP UP from 3-4 pm Followed by 2-for-1 SQUIFFY HOUR from 4-7pm To Book: Whatsapp +971 55 124 9673, Email
bite@mediaonehotel.com
or Call 04 427 1000