"Party all Weekend" Brunch by Kanpai, Souk al Bahar
Brunch Reviews
| In
Unspecified
on February 9th, 2016
We were fortunate enough to be invited to the launch of the new Kanpai Friday Brunch and what a treat we had in store.
Kanpai is a Japanese restaurant / bar located Downtown on the 1st floor of the famous Souk al Baha, with such beautiful surroundings our expectations were high and Kanpai did not fail to deliver.
Kanpai, meaning 'Cheers' or 'To Toast', is appropriately named with the brunch offering free flowing beverages and an intimate atmosphere in which it would be fitting to celebrate any special occasion. We didn't have a special occasion as such, aside from it being Friday. So we took every opportunity to toast at various points throughout the day and celebrate the launch of this brunch as only Mr &amp Mrs Brunch can.
The Food
We were greeted upon arrival by Bernard, the Maitre D who lead us to our table, our waitress then introduced herself and explained the concept. The menu was vast and offered 5 courses of various authentic Japanese delicacies, which you could either select from your favourites, or as we did….have them all!
Now before we begin, some formalities… in Japanese culinary culture, to express gratitude to the host, a guest will say "ita-daki-masu" before eating, and "gochi-so-sama" after finishing a meal these are basic manners even at home that include thanks not only to the people, but also to nature, for providing the meal.
So, "Ita-daki-masu"....and we began with the Soups &amp Salads section and the traditional Miso soup, which neither of us are usually big fans of as we usually find them to be quite bland on their own. We were however, pleasantly surprised by the slightly sharp taste and the Green Salad with Sesame dressing which accompanied it was the perfect little accompaniment…a good start!
The Japanese are known for their petit and precise portions so we were not expecting to be bowled over by an imperious mountain of food. It was because of this presumption that we were slighty taken aback by the arrival of the 2nd course of 'Small Dishes,' which were actually quite substantial and only just fit onto our table. This is the only complaint you will hear however as they were all presented immaculately and the smell was divine. A real showcase of what Kanpai had to offer in terms of its signature dishes.
It would be impossible to choose a favourite dish as they all had their own unique appeal, but if pushed for a joint answer, we would have to say the Takoyaki scored top marks. Our waitress informed us that it was indeed 'Octopus Balls,' but thankfully not in the literal sense, but a fritter made with Tempura, Bonita Flakes, seaweed and cooked octopus meat rolled into a ball. The Wasabi prawns were also one of our favourites as they combine two of our favourite ingredients… deep fried and crispy tempura prawns with a delicate wasabi sauce drizzled over the top. We would have been satisfied eating these all day, but we knew that we had 3 more courses to get through. Other dishes to gain an honourable mention were the Chicken Gyoza with Chilli Soy Vinegar Sauce, the Beef Tataki with Truffle Soy Sauce, and the Deep Fried Soft Shell Crab with Singapore Chilli Sauce.
Now onto the 3rd course, the chef's selection of Sushi along with "Nigri and Sushimi" that included Tuna, Salmon and Yellowtail as well as California and other sushi rolls, all presented elegantly on black ceremonial slate with perfectly placed microgreens and finely sharply sliced raw fish.
For the 4th course (and we couldnt believe that we were only just about to selct our main at this point) we had a choice of dishes which would be prepared Teppan style on the hot plate located at one end of the restaurant. The choices included Teppan Beef, Salmon, Chicken, or Tofu Steak and we selected the Salmon and Chicken respectively, which were both served with Vegetables and your choice of rice or noodles.
We could tell that the salmon was super fresh as the knife glided through it like butter, and the crispy exterior was seasoned to perfection. The Chicken too was very tasty, aromatic and light, which was a relief to both of us at this stage as those deliciously deceptive mini morsels of the previous courses had finally managed to creep up on us.
At this point we could have, and would have been happy to end the meal right there…however, in Japan showing respect for the food and the chefs means finishing your meal…and so with true Samurai spirit we soldiered bravely on.
The desserts included a selection of assorted Mochi ice creams (Green Tea, Strawberry, Chocolate) &amp Macaroons, Yuzu Cheesecake with citrus Mascarpone &amp Golden Leaves, Mango Ice Cream and finally some assorted Fruits with Golden Powder. We chose the Mochi Ice Creams with Macaroons and the Yuzu Cheesecake, simply becasuse we were intruigued by the words Mochi and Yuzu, but both have so much more going for them than just funky sounding names. The cheesecake, in particular was light and creamy, with the citrus mascarpone acting as a lovely and refreshing touch at the end. We certainly didn't feel too guilty polishing that off. It is customary after all.
"Gochi-so-sama."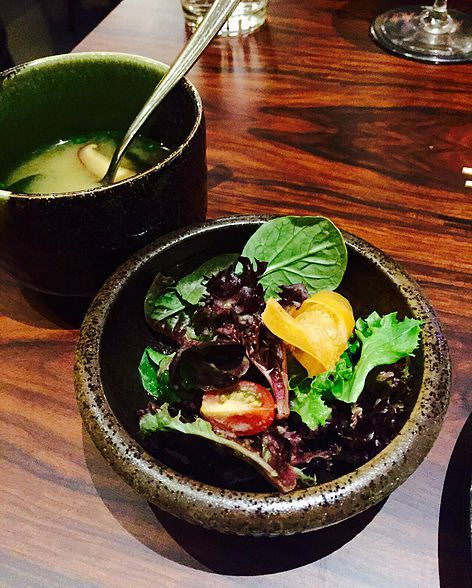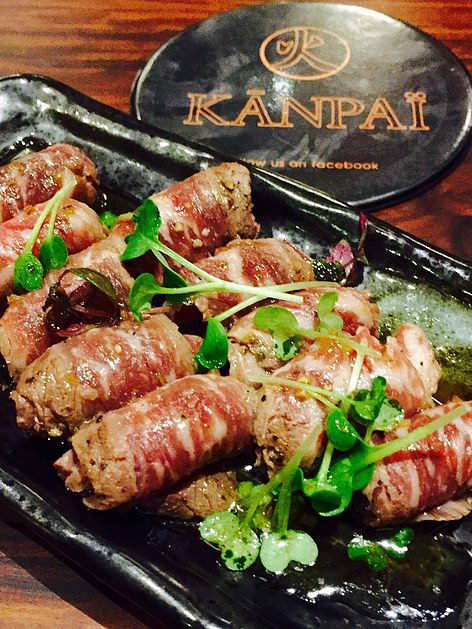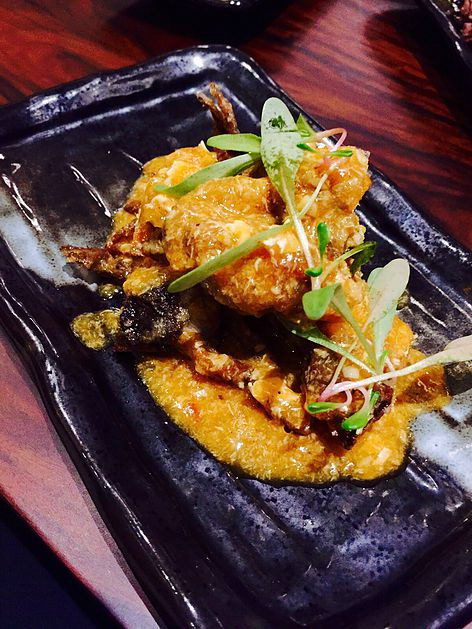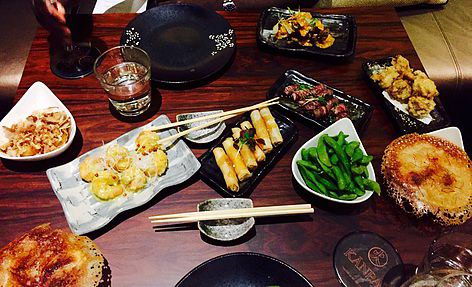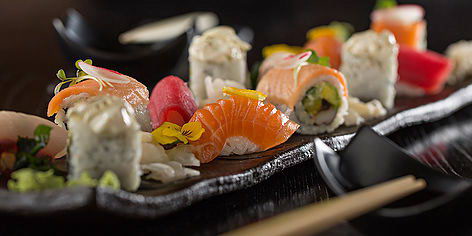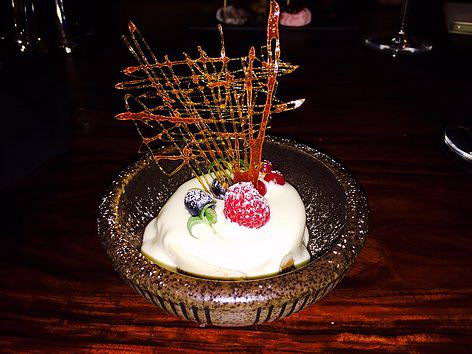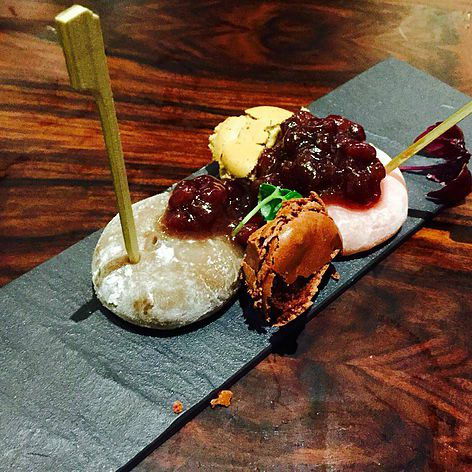 Drinks
Inbetween each course, we were afforded ample time to finish the plates and enjoy the free flow of beverages, which ofcourse came with our customary clink and declaration of "Kanpai!"
The staff were very attentive and always ensured we were well looked after on that front.
The Alcoholic package has a wide array of premium spirits and a small selection of wines. We both started with a crisp glass of Hardy's Sauvignon Blanc, which in keeping with the overall level of attention to detail was served in ice chilled wine glasses. Somewhere in between courses 3 and 4, I made the seamless transition to Jack Daniels and towards the end of the brunch, we were presented with what Kanpai called their party pass. For a 100 dirhams, you receive a booklet which consists of 5 vouchers that can be used for beverages in the bar area area after brunch and , if unused on that particular day, is valid for a month.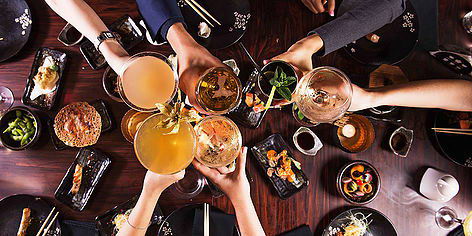 Atmosphere
Our first impressions on arrival were that there had been a large amount of thought that had gone into the slick, high spec finish to the restaurant which was decorated with "Fusui" which is the Japanese equivalent of Feng Shui.
Embellished with Japanese warrior sculptures, dark wood features, a ceremonial Teppan Grill and other quintessentially far eastern spiritual and aesthetic adornments which lull you into a sense of melancholy.
The brunch is called "Party all Weekend" and although the ambience was great, with the DJ spinning some chilled out house beats, with it being the opening weekend and still very quiet, it was not the full on party we had envisioned. It was hard to tell what the vibe would be like with the place in full swing. Perhaps we shall return in 3 or 4 weeks and let you know.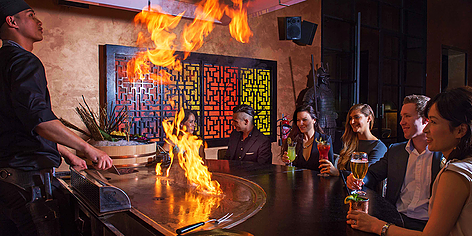 Overall
In summary, if you are looking for a spiritual and gastronomic voyage of the senses set amid glamourous modern settings, with a respectful nod to the traditions and cultures of the far east, then Kanpai ticks all of those boxes and more. As for the "Party all Weekend" tag, we will have to leave it with you guys to judge after a few weeks when it is properly up and running. The food and service alone warrant a visit so we hope that in the fullness of time, the atmosphere can match up.
#KanpaiDubai
Fridays from 1pm - 4pm (After party starts at 4pm)
AED 249 (With Soft Drinks)
AED 349 (With Unlimited House Beverages)
+971 4 441 9262 or reservation@kanpai.ae or click to book with EAT app