Novikov Brunch, Sheraton Grand Hotel
Brunch Reviews
| In
Unspecified
on April 12th, 2017
400-500 AED
%>
Unspecified
%>
If we had never set foot inside Novikov, we would have continued with the popular misconception that it was a Restaurant of an Eastern European predilection. Russian, Slavic, Balkan…certainly not Pan-Asian. From Mayfair to Sheikh Zayed Road, Novikov Dubai is the second restaurant outside London for restaurant guru Arkady Novikov (who is definitely Russian) and boasts an eclectic menu showcasing a fresh seafood market and fresh, International produce, inspired by Head Chef, Shane Macneill. Now that we got our head around the concept, the venue itself is a stunning space, both grandiose and lavish. A real feast for the eyes, it simply oozes class.
THE FOOD
A Fish lovers paradise, Novikov provides sushi, sashimi and all the Japanese fish classics from the deliciously succulent black cod to beautifully prepared spicy prawn dimsum baskets. After tucking into various sushi for starters we sampled the non-fish elements to get a flavour of what else is on offer. Beef and Chicken skewers, duck pancakes and beef tacos meant there was plenty of small nibbles to feast upon if you've hadenough of the fish selection. Desert ticked all the usual boxes with fruit and chocolate fountain, a variety of cakes and even freshly prepared waffles. We have included the menu below to give you a complete flavour: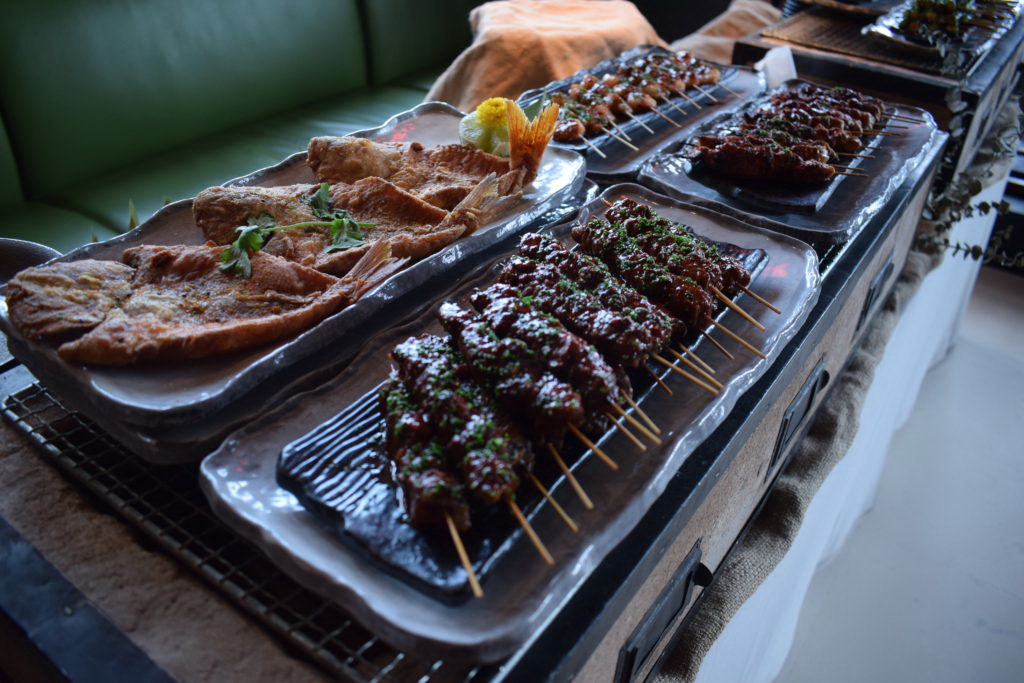 THE MENU:
SOUPS -- choice of White miso or tom yung APPETIZERS & EGGS - choice of Peking duck, salmon, beef or vegetable SALADS - Seaweed, green salad, cucumber tataki, tomato & tofu STEAMED BUNS - 3 PIECES - Spicy chicken and coriander, vegetable FUKU WRAPS - Prawn tempura, Hoisin duck and miso baby chicken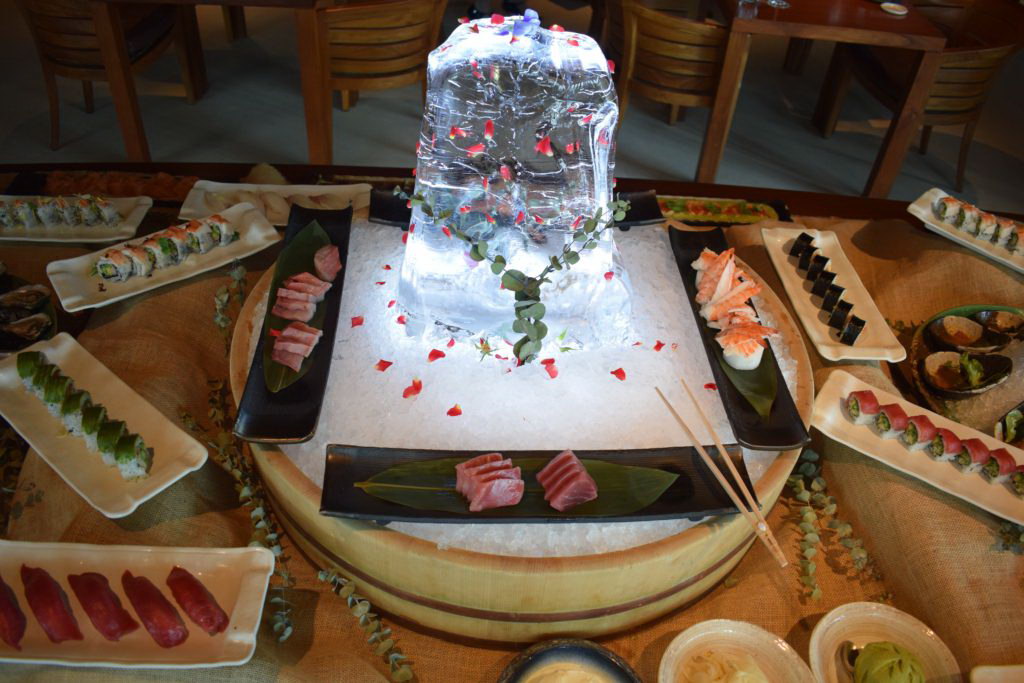 Breakfast sandwich, poached eggs and kimchi, poached eggs & asparagus. MAIN - ONE PER PERSON AND ONE SIDE: steak & eggs, donburi rice teriyaki, whole boneless sea bass, black cod, Scottish salmon, baby chicken, prawn tempura, breaded prawns, breaded chicken, steamed sea bass, wok duck, shiitake mushroom rice. SIDES INCLUDE: Baby bok choy soy & ginger, choi sum with chilli ginger garlic, wok vegetables, Chinese noodles, fried rice HOT & COLD LIVE STATIONS: mixed yakitori, temaki selection, sashimi selection, grilled market vegetables, dim sum, nigiri selection. DESSERT COUNTER: French toast, pancakes, selection of homemade cakes, waffles & doughnuts.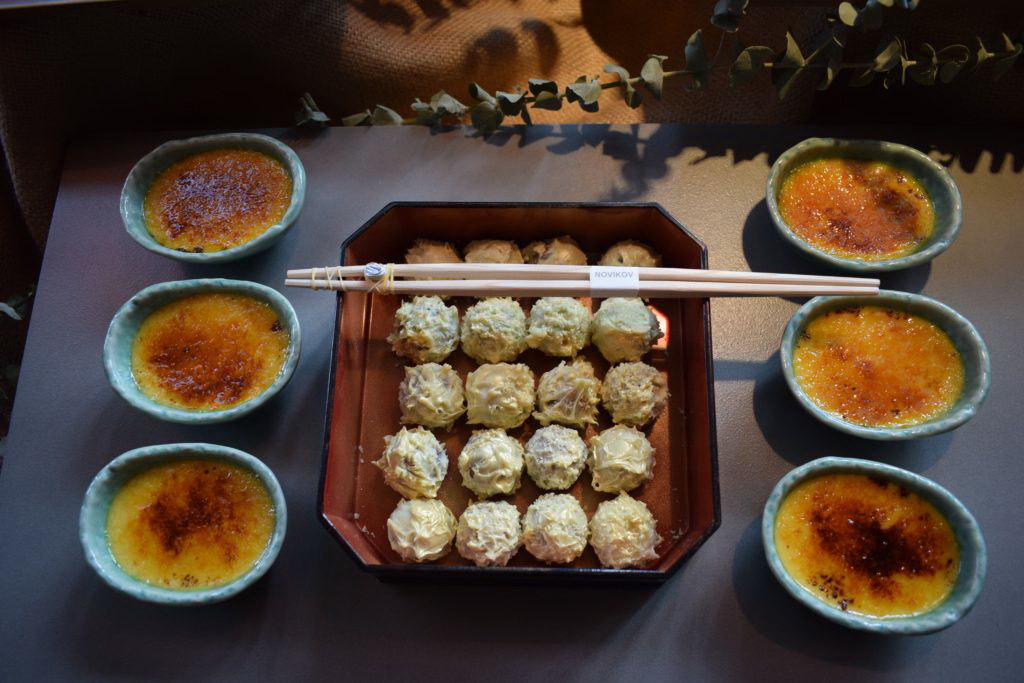 THE DRINK
The selection impressed more than we thought it would. The house beverages package included the house cocktails, one of which may well be the best and freshest Mai Tai we had ever tried. The bar man is a real mixologist and knows how to prepare a cocktail so if you are a cocktail lover, you are in luck. The food, the ambience and the lavishness of the venue point towards a glass of bubbles! This is a 'champagne & caviar' type brunch and well...champagne does flow on the top package.
THE OTHER STUFF
The décor and lavish venue set the tone and a real impressive note for this laid back brunch was the entertainment. The band , a duo on guitar and keyboard provide the soundtrack for a relaxing vibe as they ran through easy listening classics and nailed every one of them. You know they are good when EVERYONE stops to applaud after EVERY song. This is a traditional lazy Friday brunch that you can enjoy with the whole family. It is all about the food, the atmosphere and the bubbles.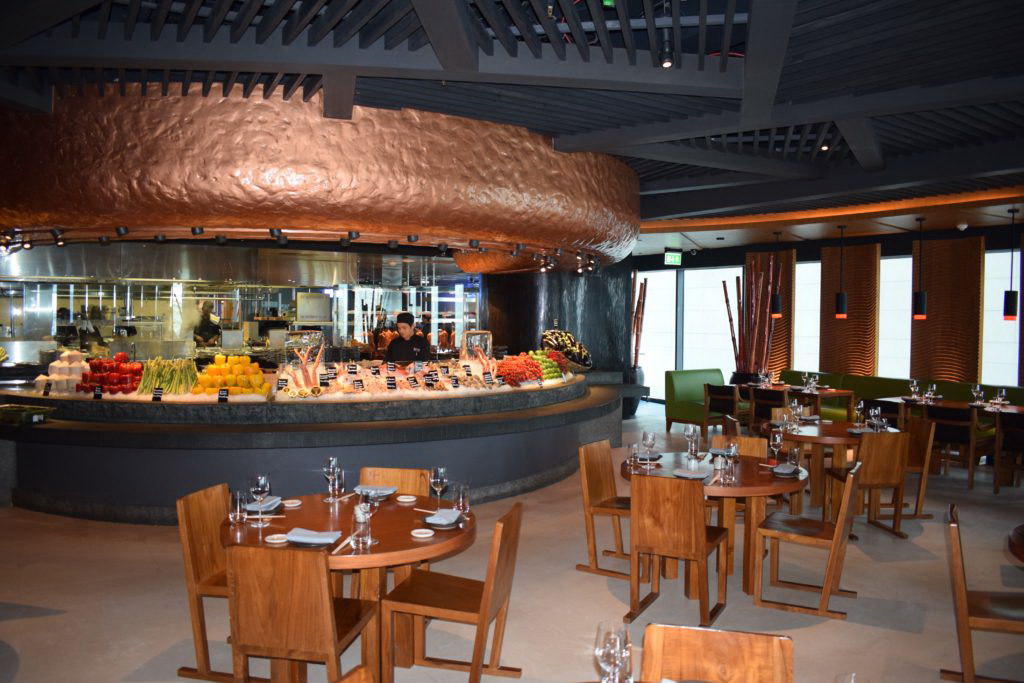 Every Friday from 12 Noon to 4pm
To book call +971 4 388 8744 AED 370 (Inclusive of Soft Beverages) - Pei Mei AED 490 (Inclusive of Alcoholic Beverages) - Gugo Yubara AED 545 (Inclusive of Bubbly) - O-ren ishii AED 195 (For Kids up to 12 Years) AED 180 Kids Bento Box
Book Now with Eat App