Nomad Family Brunch, Jumeirah Creekside
Brunch Reviews
| In
Unspecified
on April 16th, 2016
200-300 AED
%>
Unspecified
%>
The term "Nomad" referring to people that wander from place to place, finding fresh pasture for their animals and with no permanent home, was an unusual choice of name for a restaurant, we thought. So with zero prior knowledge of this brunch other than knowing that it had won the prestigious Best Family Brunch at the Time Out Kids Awards in 2015, we let our imaginations run wild with us on the journey and hatched the impression of numerous tribes (families) leading their children around the large outdoor expanse from station to station in an attempt to feed/tire them out before retiring to the safety of their table for a well-earned beverage! A Brunch-come-scavenger hunt if you will.
Back to realms of fact for now then, and there is sense of tranquility that automatically falls upon you as you cross the creek and enter the park-like surroundings of the garden, complete with turtle-laden pond and the iconic backdrop of the Irish Village.
The Food
As we were led through a seemingly never ending entry corridor, we noticed that the large ornate Roman pots we thought were merely decorative also doubled as food serving vessels, and so the hunt had already begun. Craning our necks to spot the goodies whilst trying to keep pace with our server en route to our table we noted a selection of Olives (including Hot Piri Piri Garlic &amp Sicilian Nocellara), Breads &amp Cheeses, Pork Belly with a deliciously golden looking crackling, Bratwurst and a second kind of Sausage oven baked with onion, sage and gravy, and we still hadn't even reached the main restaurant!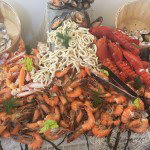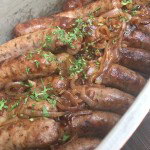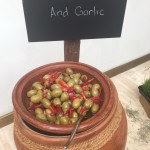 The main indoor seating area was relatively quiet, but as it was a it was a beautifully cool and sunny day we could see why the majority of guests had chosen to sit outside. Before we joined them, we spied a few Deli meats such as Beef Salami, Smoked Chicken, Smoked Duck and Chicken Terrine, a Vegetable and Salad market with both make your own and ready-made varieties and a Cold Seafood section boasting a bounty from the ocean including butter poached Boston Lobster, Fin de Claire Oysters, Poached Prawns and Alaskan King Crabs legs.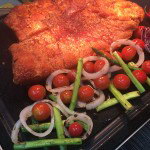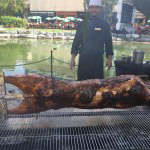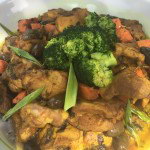 Finally, we caught up with our waitress who was now waiting for us at our wonderfully situated table, right on the waters edge and in front of a giant silver wok serving 4 different Asian dishes. To our left was a selection of Middle Eastern dishes and at its heart, a perfectly charred baby Lamb on a spit which when picked apart by the chef was then doused in its own juices and spices before being served. To the right of us were the "Butcher &amp Burger Shops" where you could select from Blackened Salmon skewers, Rump Steak, Lamp Chops or Burgers to be cooked a la minute and brought to your table and a curry corner with its own chef preparing fresh Naan (Cheese, Butter, Garlic, Sesame) &amp Paratha (Aloo, mint coriander, lacha). The Curries were a real triumph of flavours and could go back for third helpings of the Seafood Red Curry and Goan Beef Roast, but unfortunately our Lamb, Beef and Salmon were all woefully undercooked.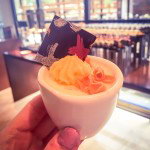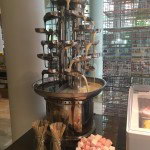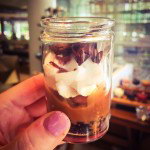 Before moving onto dessert, our intrigue took us on a mini adventure around to the furthest corner of the outdoor space, where the majority of children had been gravitating to all afternoon. When we arrived we soon realised that hidden away was a separate kids buffet, with a selection of kid friendly Cold, Hot and Sweet dishes to keep any kid satisfied such as finger sandwiches, funky fries, chicken tenders, pizzas, hot dogs and ofcourse a pop corn maker…all within spitting distance (forgive the pun) of the bouncy castle and face painting in a mini kid-utopia.
Tearing ourselves away before the urge to leap onto the bouncy castle became too strong, we retreated inside toward the desserts section we had spotted on our hurried walk through from entry, and a Vanilla themed selection of Cremeux with Basil and Strawberry, Crème Brulee, Vanilla Chibouste, White Forest Cake, Vanilla Fruit Cake, Spanish Vanilla and a Coconut financier.
Fear not chocolate fans, you are also very well catered for with numerous mini tarts, crumbles, cakes, mousses, a White &amp Milk chocolate fountain and Ice Cream shop, ensuring that they had catered to the big kids as well as they did the little ones!
The Drinks
We started proceedings with a welcome glass of sparkling on arrival where you could choose between Cook's brut or Jacobs Creek Sparkling Rose. We then reverted to type with our usual glass of Jacobs Creek Sauvignon Blanc (Chardonnay/Shiraz also available) while our guest started off with a Bottle of Fosters (Stella also available) from one of the two outdoor bars, one sporting a tongue-in-cheek "Free Beer" sign. In addition to the outdoor bars, there was also a Jameson's Whiskey Wagon made from the remains of a converted classic truck and promising "Trucking Good Times" to go along with the large glass dispensers full of Jameson &amp Ginger, Mojito and a Tropical Mojito. We were also treated to a round of alcoholic Jelly shots made within the skins of oranges as the brunch entered its closing stages.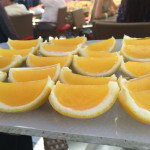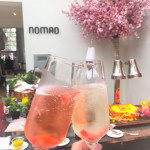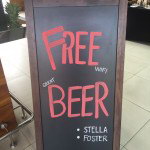 The Other Stuff
Nomad feels like a very chilled out afternoon at the park, where children can roam free around the large grounds, spot the wildlife in the lake or section themselves off completely in the bouncy castle/face painting area.
The festival theme continues with the music which is doled out by an old fashioned guitar/percussion duo and when brunch finishes, the volume turns up a notch across the river at the Irish Village and you are in the perfect spot to continue the after party. All in all a great day out for the entire tribe!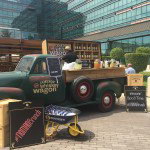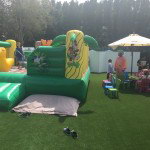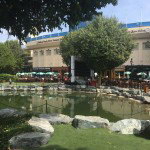 Every Friday from 12.30pm - 4pm
• AED 220 including soft beverages, AED 295 including house beverages
• Children below three years can dine on a complimentary basis.
• Children of 4-11 years pay AED 95.
To Book: Telephone: +971 4 230 8458 or Email: JCHnomadrestaurant@jumeirah.com or
click here to book with EAT APP