Mint Leaf of London, DIFC - Thursday Brunch
Brunch Reviews
| In
Unspecified
on July 4th, 2017
200-300 AED
%>
Unspecified
%>
The "pre-kend" has landed, and with it the introduction of a glamourous evening Brunch at Mint Leaf of London. Set in either the luxurious lounge, or the bar area as busy mixologists work in front of the floor to ceiling windows, revealing idyllic views of the evening sky and the Burj in the background. The new social sharing concept (designed for a minimum of 2) includes Mint Leaf's signature contemporary Indian cuisine and world-class house beverages, and gives you the flexibility to start a rolling 3-hour package anytime between 7-10pm.
&nbsp
THE FOOD
&nbsp
Faced with a daunting list of appetisers on the menu, we were soon relieved to discover that our first choice of the evening was only a choice between 2 platters, either non-veg or vegetarian. Seeing as this was a night for discovering new things, we decided on one of each. Both platters have 3 common dishes that exist on both menus: The onion Ring Pakora, Tandoori Gobi Ajwanini (cauliflower) and the Paneer Chilli Kebab flavoured with garlic and sweet chilly, with a soy punch.
&nbsp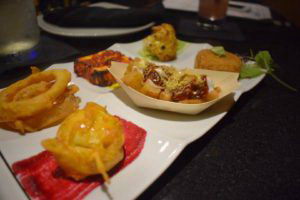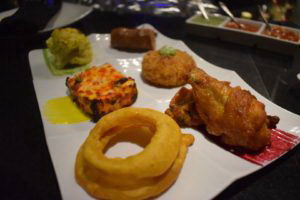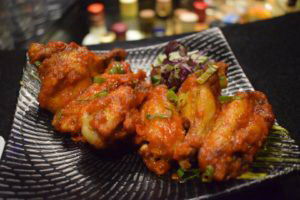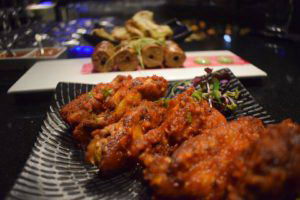 &nbsp
The non-veg platter also includes Crispy Wasabi and Mustard Seed Fish Cakes, Dynamite Chicken Wings with Thai Chilli, which we must have had at least 3 re-orders of, and Lamb Seekh Skewers roasted in the tandoori oven and laced with crushed spices. The Veg platter varies by including a similar Crispy Wasabi and Mustard Seeded Cake, but using buttery Sweetcorn as a filler instead of fish. The Achari Mushroom Pakora and Crispy Potato Chana Chaat complete the platter.
&nbsp
The pre-plated mains were small, yet definitely substantial enough to satisfy any appetite after eating a few plates of appetisers. Especially the 3 re-orders of Dynamite Chicken Wings we got through which were a real favourite and the perfect bar snack! Being sat at the bar eating finger food lent itself to the casual vibe, yet the option also exists to switch to the slightly more formal setting of the lounge, enabling you to sit down at a table whilst still not as formal as the dining room. Back to the mains, of which you can chose one from a selection of either Chicken Kofta Korma, a sweet, vibrant coastal curry of Konkani Fish, or Kashmir Lamb Rogan Josh on the non-veg side. Vegetarian options included Palak Tarka Dal, Paneer Makhani or Subz Khali Mirch. If you are still feeling peckish after the mountain of food, desserts include the unique Ras Malai Cheesecake and Gulab Jamun.
&nbsp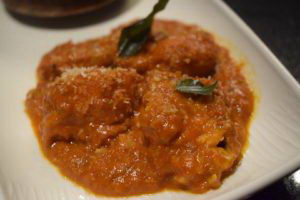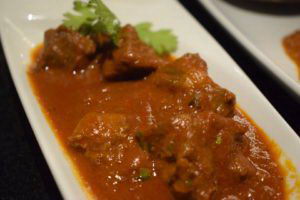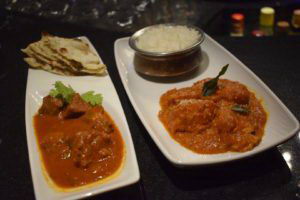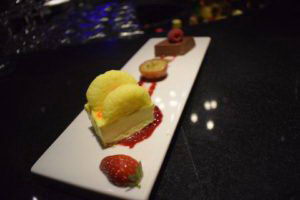 &nbsp
THE DRINKS
&nbsp
The intriguing thing about the brunch is the variety and quality of beverages on offer, and the fact that you can spend the start, end, or entirety of your evening in front of the bar if you so choose. Beer (Stella), Red &amp White Wines (Antares) and Spirits of Stolichnaya Premium, Tanqueray, Matuesalem or Red Label are the more standard selections, however it is the cocktail and mocktails that steal the show. It is not so much the names: Stoli Lemonade, Caribbean Cooler, Blighty (a twist on G&ampT with cucumber), Bloody Mary and Watermelon Rosemary Punch have all been seen before, however it is the care and craftsmanship that goes into each preparation that is truly worth a seat at the bar alone. There are no pre-made mixes here. With all of the shaking, sipping and cup flipping, you could be forgiven for thinking you were in a swanky cocktail bar rather than an Indian restaurant. The service is sharp, glasses are refreshed quickly and there is even an option to extend your drinks package by an hour by purchasing a golden wristband. Something we named the "power hour."
&nbsp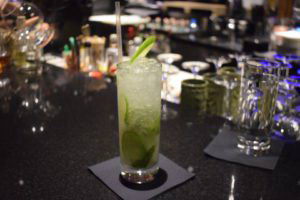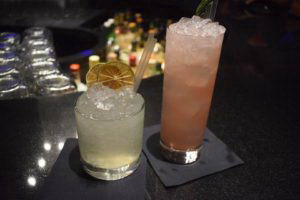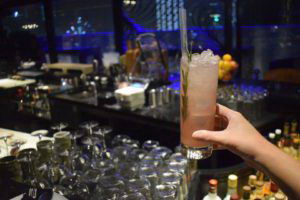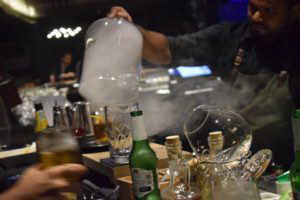 &nbsp
OVERALL
&nbsp
Panoramic views of the Burj Khalifa and the downtown Dubai skyline, a relaxed attitude to start times and an upmarket clientele make this a great way to start your weekend, whether as a first stop of the night, or the last. The soundtrack of chilled house tunes is provided by resident DJ ExOn and is enough to set a lively atmosphere that is not loud enough to dominate conversations or the neighbouring dining room, which is still busy with a largely local clientele.
&nbsp
The ability to create a bespoke evening brunch experience by choosing an hourly seating between 7pm-10pm is a real bonus in that it caters to the different types of pre-weekend reveller that naturally exist across such a diverse city. Those who are coming directly from work can chose the 7pm sitting, or those who need to go home and change or simply wait for friends at the bar can chose a later seating. Each sitting is differentiated by coloured wristbands so bar staff know when your time is up.
&nbsp
In terms of food, drinks, service and overall ambiance, there is no comparison with the "other" Indian Thursday night brunch out there. And you can quote us on that!
&nbsp
Every Thursday
&nbsp
AED 295 pp including house beverages (min of 2 people)
Start anytime between 7pm-10pm (3-hour rolling brunch)
15th Floor South Tower, Emirates Financial Towers, DIFC
To Book Call +9714 706 0900 or email
reservations@mintleafdubai.com
&nbsp