Le Petit Belge, European Brunch (Fri & Sat)
Brunch Reviews
| In
Unspecified
on October 10th, 2017
200-300 AED
%>
Unspecified
%>
Belgian culture, especially it's food is reflective of the cuisines of neighbouring France, Germany and the Netherlands. For this reason, if you are a fan of Cheeses, Charcuterie and Croque Madammes, you are in for a Gallic treat with the new breakfast-cum-brunch offering at Le Petite Belgique. (LPB) A haven where everyone can enjoy the taste of Belgian culture in the broadest sense, with a restaurant that has billed itself as "the informal embassy of Belgian food and hop culture."
THE FOOD
The Menu for the Brunch is fresh breakfast fayre. A continental breakfast in truest sense. The concept allows you to begin with a serve yourself open buffet at their "communal table." It includes everything from cold cuts, cereal, granola, fresh juices, fresh fruits, yogurts, and viennoiseries (French pastries) to a selection of French cheeses.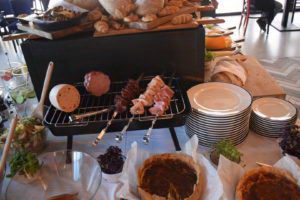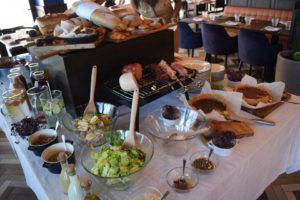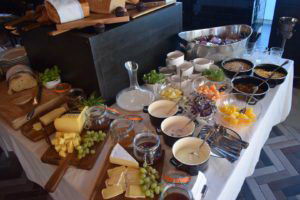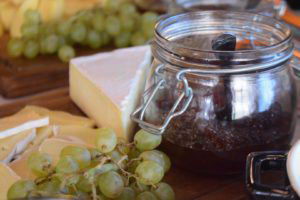 Only after gorging ourselves on a mountain of quiche, pickles, breads, brie and a create your own Caesar salad bowl that saw me return at least 3 times to re-make my version for the rest of the table, did we remember that we now had the opportunity to select a main dish to be cooked a la carte from the "cuisine." The ease and speed of being able to grab what you liked from the buffet was only counteracted by the lack of regular replenishments an consequent lack of freshness of some of the dishes, perhaps a consequence of the lack of diners on our visit. Perhaps we are just unnaturally early risers on a Saturday, but we would have thought the JLT locals would be jumping all over this place as a classic "day after" hangover cure. Hopefully the word will start to spread as the deal does represent great value for money. Le Petite Belge has a decent selection of "main" menu items (if you like your brunch with eggs). We scanned the list including Eggs Benedict, Eggs Florentine, Croque Monsieur or Croque Madamme if you fancy the addition of…you guessed it, a fried egg. Eggs cooked any style on Sourdough bread, a Farmers Omelette or Pain Perdu (French toast) which is served with a caramel sauce and caramelised banana complete the lineup.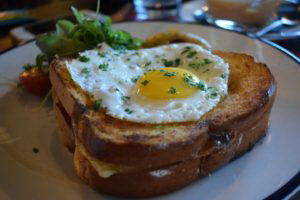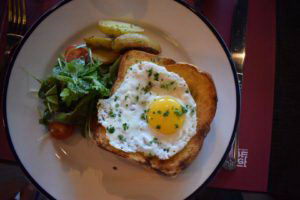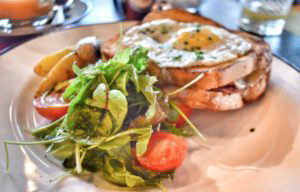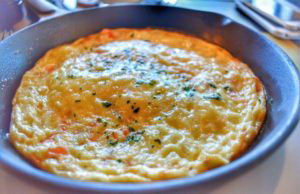 Eventually, I opted for the Croque Madamme; a delightful meld of baked ham, cheese, béchamel and thick bread topped off with a gloriously gooey fried egg while Mrs Brunch went for the Farmers Omellete. This was served in a piping hot skillet that stayed hot throughout, with mountains of fresh potato, onions, green peppers and cheese. Both dishes were well executed, well seasoned and a great representation of the region.
THE DRINKS
We selected a Tea and Coffee to accompany our first few forage to the communal table, and were keen o explore the different beverage options on offer. The commnual table offers a selection of Juices, a blueberry smoothie and few different varieties of infused water. For an additional 100 AED, you can either select three beverages or a bottle of house grape. We opted for few glasses of Leffe Blonde to accompany our breakfast! When in Brussels...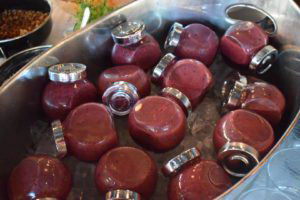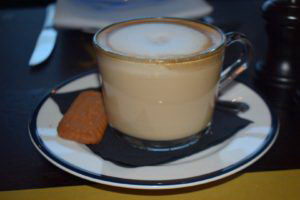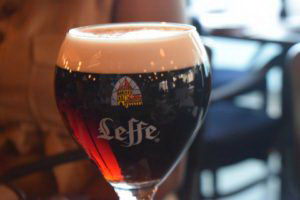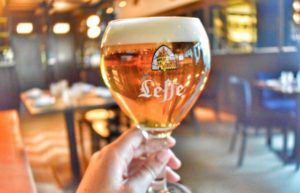 THE OTHER STUFF
In terms of JLT 's growing number of eateries and licensed venues, LPB is competing against a number of other, more established venues as well as a more traditional Saturday brunch upstairs in the same hotel (Pullman Hotel JLT). With the tables as sparse as they were on our visit, the atmosphere felt a little eerie at times so they could do with an increase in the music volume, or perhaps an option of an unlimited beverage package to attract a number of Dubai's more traditional brunchers? With the location and catchment area of the restaurant, we cant help but feel LPB should be doing better than they are. Certainly on the Friday/Saturday brunch. (We have visited during the week and found it to be comfortably heaving). Le Petit Belge stands for all the small things that make Belgium great, so with a few minor tweaks to the communal table, and with the rest of JLT waking from their slumber, climbing out of bed at the weekend, and rolling into LPB, this concept could well add up to make Belgium great. But for now, a fair first attempt.
10am - 2pm Every Friday & Saturday
99 AED (Without Alcohol) Add 100 AED for 3 beers or a bottle of grape. To book - Call 04 2427794 or info@lepetitbelge.com
Book Now with Eat App