Le Grand Brunch, Sofitel Jumeirah Beach Dubai
Brunch Reviews
| In
Jumeriah
on December 18th, 2018

4.5 Overall
300-400 AED
%>
European
%>
Located in the Sofitel JBR's signature eatery, AOC French Brasserie, which is named after France's food and beverage certification label (Appellation d'Origine Contrôlée) - Le Grand Brunch is not the all-out protestation of gallic pomp, flair and ceremony that we were actually expecting. Instead, the warm, yet heartfelt reception served as a hint of what would turn out to be a much more subtle homage to French culture and cuisine. They have skillfully managed to carry this off without thrusting it into your face like a cheesy bastille day meme, no swathes of tricolor, no waiters in stripey shirts, no fake moustaches, berets or "La Marseillaise" playing on repeat in the background.
THE FOOD
Foodies who are actively seeking the delicacies of France, you will not be disappointed, with home-made foie gras, over 20KG of moules marinières, a waffle/crepe station, a live shucking oyster bar, duck galantines, beef tartare, duck and seafood terrines,
pâtés
plus crepes made to order accompanied by that
wonderful smell of freshly baked bread that epitomizes a patisserie.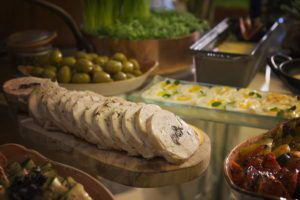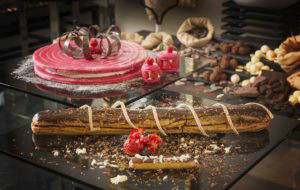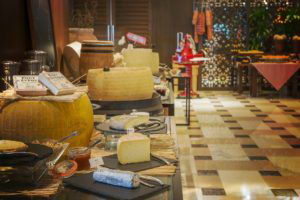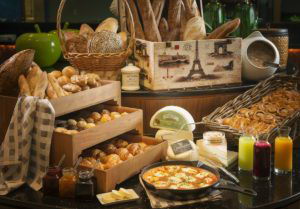 We aren't quite sure of how the mandatory selection of sushi fits in, but exists along with an ample selection of salads abundance of marinated, pickled veggies to demonstrate the restaurant's international all day dining dexterity, rather than to comply to any particular theme. This is not to take away form the quality of the other dishes such as the c
urries, creamy mashed potatoes, roasted vegetables, the confit duck with apple and Salt Baked Salmon at the hot mains section, although these are dishes that you would find at any other buffet. So not much in that way to set them apart.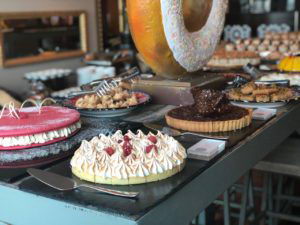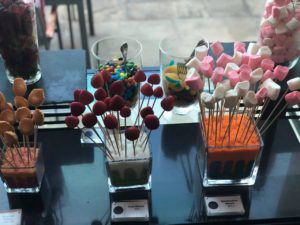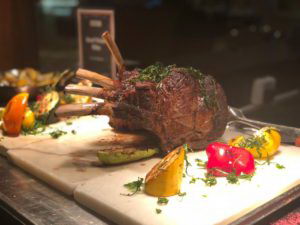 The large stockpile of different cheeses from across the regions, chutneys,
spiced fruits
and a wall of charcuterie bring us swiftly back on track before we move onto the undoubted starlet of the show. The desserts here are très magnifique, both in selection and in quality. From the Dubai's longest dessert eclairs, to supersized macarons and perfectly crafted crepes, Louis' XV cake, Mascerpone dome, Tirimisu, Red fruit Fraicheur, Baked Cheese cake, Raspberry-pistachio Mille Fueille, Cherry Morello and countless over spilling bags of white, milk and dark chocolate truffles to satisfy the most fanatical of dessert devotees.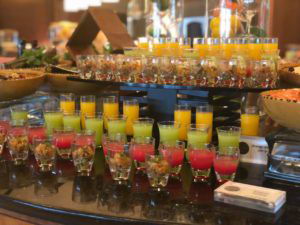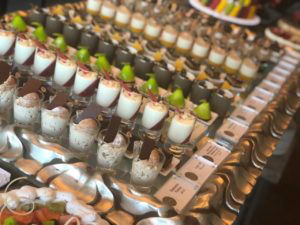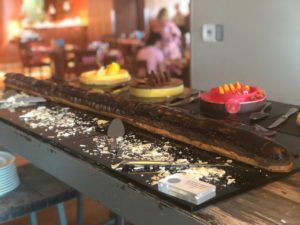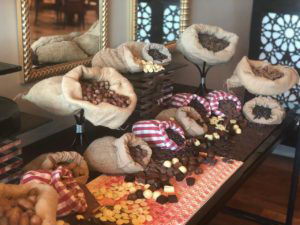 THE DRINK
The staff continuously buzzed around our table and topped up our drinks so we were never left searching for a waiter. Classic cocktails as well as regular house beverages are on offer dependent on your package. Veuve Clicqot champagne is available on the top package.
OVERALL
In cooler months, the terrace offers great sea views across JBR, and the female DJ was playing some classic party tunes that kept those in attendance nodding their heads, whilst never pumping past the decibel levels which make conversation difficult. As the hours rolled on, the convivial conversations and music levels increased in tandem and created a more spirited atmosphere, although it is still suited more to f
oodies who are out for a leisurely afternoon, rather than hedonistic excess. There is a dedicated childrens play area and it was
nice to see families with young children enjoying themselves mainly outside.
The selection of food at the Sofitel has always erred on the side of quality over quantity, however with over 200 dishes on offer, Le Grand Brunch seems to have catered to both.
Tres Bien!
Every

Friday from 1pm-4pm.
259 AED - Soft Package
359 AED - House Package
625 AED - Bubbly Package
for bookings please call +971 4 448 4733 or email us at dining.JBRdubai@sofitel.com