KOI @ The Collection Saadiyat Island, Free Flow Brunch
Brunch Reviews
| In
Unspecified
on March 19th, 2016
300-400 AED
%>
Unspecified
%>
KOI as a brand Boasts locations in some of the swankiest cities on the planet, including LA, Las Vegas, 2 in New York, Bangkok, and ofcourse now Abu Dhabi. Add to that a Timeout Award for best Japanese Restaurant and the association by sheer proximity with the St Regis Saadiyat, which we personally awarded our "Brunch of the year for 2015" and it is safe to say that expectations of this Brunch were set at an almighty high.
The Food
Think of the "Free Flow Brunch" as a sophisticated long lunch, rather than a typical Brunch, with no buffet to be seen across the dark wood panes. The A la carte menu of no less than 26 items affords diners the rarest of opportunities to simply sit back, relax and allow yourself to be fed. Dishes arrived promptly and in groups of 3's and 4's like a conveyor belt of deliciousness. Think
Yo Sushi
, only more aesthetically appealing and in sizes perfect for sharing. We began with Edamame Beans and Spicy Miso Soup, assorted Sushi and Sashimi on ice and a delicate organic Salmon Tartare with Yam Chips before moving on to a Seared Tuna Salad with Broccoli and Lime dressing and a Steamed Chicken Salad with crisp Spinach and Sesame Dressing.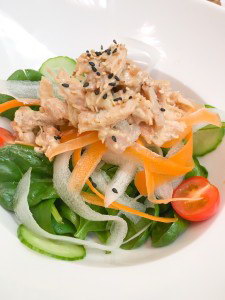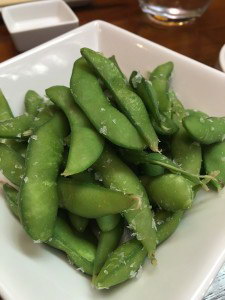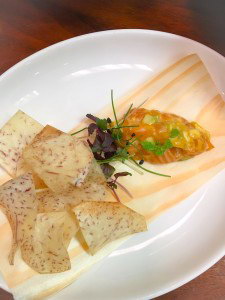 The next foray included a Seafood Croquette & Shiso cheese which we have been told are a popular street food in Japan named Korokke, Crispy Chicken Katsu skewers, Creamy Rock Shrimp Tempura and Softshell Crab Tempura which of the 4 breaded dishes was the only one which failed to hit the mark due to the excessive oil in the tempura.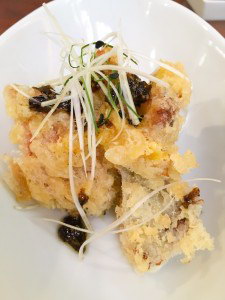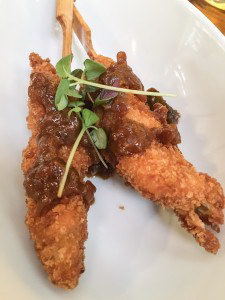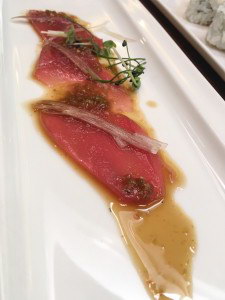 The next 3 dishes, traditional entrée's in their true sense came late in the day, but like the heavy hitters that they are still delivered the most prevalent punch. Grilled Lamb Chops with Spicy Miso, Slow Cooked Beef with Honey Mustard Soy Sauce which was seared perfectly and just the right shade of pink in the centre and the Miso Marinated Black Cod, a dish synonymous with the
Nobu
chain combined the perfect balance of sharp miso, sweet mirin and fleshy meat. Following that was a Spicy Beef Tantan Noodle in a deep, rich broth which we took a courteous sip of to enjoy the flavours, but by this stage could not take anymore and threw in the white towel. Curiously there was a Japanese Curry with steamed rice presumably on its way after the noodles but whether the chefs could read our already food-bedraggled faces, or it was a simple omission on their part…either way, we were relieved that we could have a short break before we moved on to tackle dessert.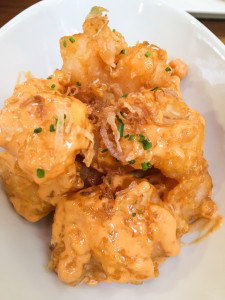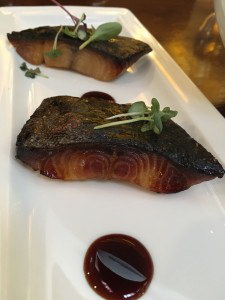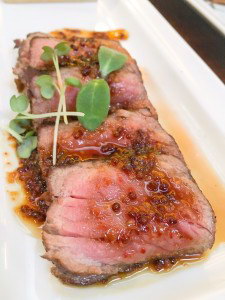 Getting up from our table for the first time all afternoon seemed an impossible task at first, however, tandem toilet trip successfully accomplished we were now able to attack the trio of desserts coming our way with full gusto. Starting with a pink and green multi-layered Raspberry & Pistachio Cake with Green Tea Ice Cream that scored highly in both the taste and aesthetics departments. A dual serving of Chocolate and Vanilla Crème Brulee (we preferred the original all the way), Gianduja Chocolate Mousse and a selection of Ice creams to complete a rather satisfying exploration of Japan's culinary framework.
The Drink
Beverages are a satisfyingly up-market affair here and as you would expect from the dinner service there is no need to leave your seat. We were welcomed with the KOI Saketini, a mixture of elderflower juice, lychee syrup, sparkling sake and complete with adorning lychee which was pleasant for the first few sips before becoming overly sickly. We then started with a glass of Prosecco (Fresco) before exploring the options for both white and red wine and it was refreshing to see 2 choices for each as opposed to the standard. On the white side you could either choose Sauvignon Blanc or Chardonnay (False Bay) and for reds, either Shiraz (False Bay) or Merlot (Aresti). Beers come in the form of either Becks or Heineken, Premium Spirits are fully loaded including Bombay Sapphire and Captain Morgan, and ofcourse if you fancy your bubbles, there is the option of Tattinger Brut to add real sparkle to your day.
The Other Stuff
The dark brown minimalist décor, low-slung tables, booths and high ceilings gave the small space the feeling of being a much larger venue. Immaculate presentation of food, busy chefs in the background and a cultured soundtrack of unobtrusive house accompany a chilled out afternoon of Japanese inspired cuisine with a distinctly Californian accent. Every Friday 12.30-4.00pm To Book: reservations@koirestaurant.ae or call +971 2 6783334 AED295 with soft drinks AED395 with house beverages AED495 with champagne