Fork n Cork Friday Brunch, Anantara the Palm
Brunch Reviews
| In
Unspecified
on October 20th, 2016
400-500 AED
%>
Unspecified
%>
Anantara's Fork n' Cork Brunch is fine-tuned to tantalise the tastebuds, and whether you are a fan of Thai cuisine or not, there is a openness that epitomizes the Thai Culture which drifts over the entire space and even the fussiest of eaters will undoubtedly find something to suite their palette at this ever expansive and eclectic brunch.
THE FOOD
The first thing we noticed after walking down the stairs and emerging into the extensive grounds of Crescendo restaurant was that "the devil is certainly in the detail." No less so than with the first extravagantly-simple, or simply extravagant dish of Devils on Horseback with a twist. This version included Foie Gras and Prunes wrapped in Turkey Bacon. Sweet, Savoury…Delicious.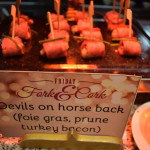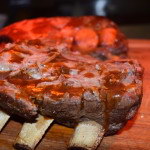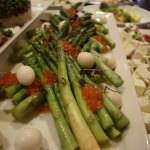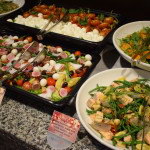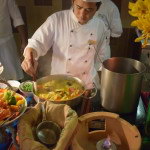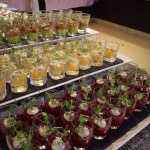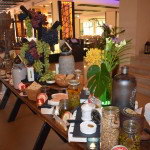 The quality of combinations and freshness of ingredients within the salads also impressed, including a deconstructed seared Tuna Nicoise, a baked Scottish Salmon with green beans, confit shallots and preserved lemon and some fresh Peruvian Asparagus served with decadent quail eggs and salmon caviar. All of the above bore the hallmark of meticulous preparation and the high standards set throughout.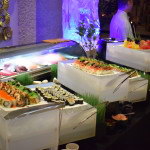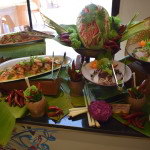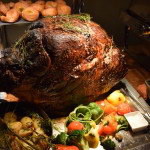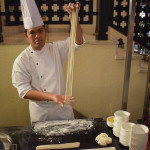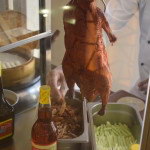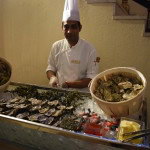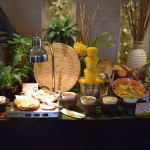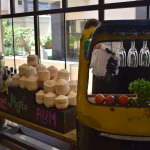 The sheer number and variety of live cooking stations dotted around also left us aghast. The first corner alone boasted 3 chefs in street food stalls hosting freshly shucked Oysters, Tom Yam Soup and freshly spun noodles, including its own impressively theatrical display. The smoked short ribs, freshly rolled duck pancakes and spicy shrimp, beef and papaya salads were offset beautifully by the intricate decorations adorning royal decorations such as Thai melons.
THE DRINK
The stations are well thought out and compliment the food well, as well as introducing that element of depth to an area which is often an afterthought at many brunches. These included a coconut Malibu and mojito station which saw various cocktails served inside of a coconut and served from the back of a tuk tuk. A Bloody Mary station, and one of the only Espresso Martini stations we have seen at a brunch anywhere. For those less adventurous, or who simply prefer to be served at your table, Jacobs The Riddle (Cabernet-Merlot) Argento (Sauvignon Blanc) or Zonin Prosecco await the grape drinkers as well as a full stock of regular house spirits and hops.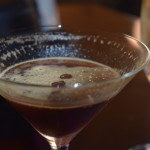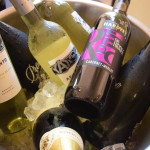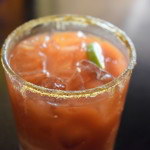 OVERALL
It is fair to say that the music was a mixed bag, with Duo Tonica kicking off from 1-3pm. Perhaps it is just our particular tastes, but for such a classy Thai inspired brunch, we didn't feel that the sound quite fit the environment. It was more cruise ship and less land of the serene Buddha's. On their break, the music they left on in their place also failed to hit the mark in what can only be described as cheesy elevator music. (Think when Marimba rhythms start to play) but luckily the food was virtuous enough not to let it put a dampner on anyones mood and the crowd swayed on regardless. Fortunately, Ash Minor (of X factor Australia Fame) came on at 3pm to save the day with equal measures of swagger, swanky guitar skills, and a soulful set including the likes of crowd favourite Stevie Wonder's "Superstitious." Overall, Anantara's brunch has options to suit every palette at, and the resplendent Crescendo sits at the heart of the resort, playing its part as the effervescent staff bring together a delicious array of mouth-watering dishes from around the world. The vibe is relaxed, unpretentious yet fun for the entire family as well as groups of well-heeled party goers and foodies. The restaurant even features a mini kids area to take care of the restless ones while you sip on an espresso martinis, and we can highly recommend an after brunch sundowner at the Lotus Lounge.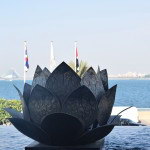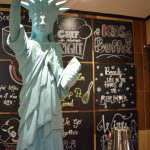 1 PM to 4 PM EVERY FRIDAY AED 345 (Including Soft Drinks) AED 499 (Including House Beverages) AED 599 (Including Prosecco) AED 699 (Including Marquis de Joncry Bubbly) For reservations, please contact +971 4 5678304 or restaurants.dubai@anantara.com