Family Brunch at the Fairmont on the Palm
Brunch Reviews
| In
Unspecified
on April 17th, 2017
200-300 AED
%>
Unspecified
%>
The Fairmont on the Palm is a venue we have visited only once before, on a visit to Frevo, the Brazilian Churrascuria. This time, we were to sample the Fairmont's Family Brunch, which is the latest incarnation of what was previously "Break-Slow" Brunch. We knew we had arrived at a genuine family friendly, or family 'first' brunch judging by the que of families with children mingling around the entrance as we had arrived a little early when the doors were still closed. Once the doors opened, they revealed 2 dressed up characters, a giant Disney princess and a Spiderman. The children's mouths lay agape, as if walking into a theme park for the very first time while parents clamoured for selfies.
THE FOOD
With such a wide assortment of dishes on offer, we thought a well-ordered and systematic approach would serve us best. Starting with the first meal of the day: the breakfast station which featured everything your staple buffet should consist of, including Eggs Benedict, both Pork and Beef Bacon, Beans, Hash Browns and different kinds of Sausages. There were individually sliced Chicken Shawarma's, freshly baked Pizza's and a carvery of Beef, Turkey and oven baked Salmon, all competently accompanied by a range of inventive and tasty salad bowls such as the Asian Chicken, Thai Beef and a tasty Green Bean with Chorizo salad. The strangest sounding dish of the day award had to go to the Chocolate Dust Chicken liver with Mango Jelly!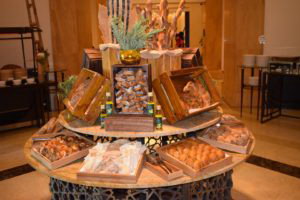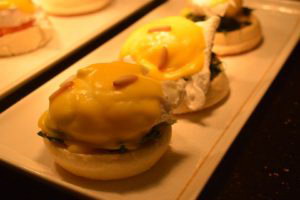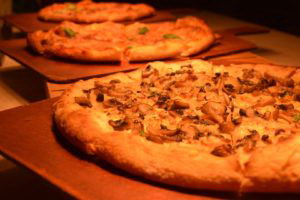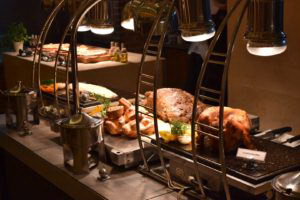 On a smaller scale, but no less important, the mini fresh produce market with whole, fresh vegetables and salad that you would select and hand to the waiting chef. 5 minutes later, having peeled, chopped and prepared your individual salad with your own choice of micro herbs and dressings, you are then able to further augment your creation with individually flavoured Rock Salts. Our favourites being the Saffron Salt, the Charcoal Salt, and the Vanilla Salt which elevated our dishes in such a unique way that we had to return on numerous occasions to sample the others with our meats and fishes.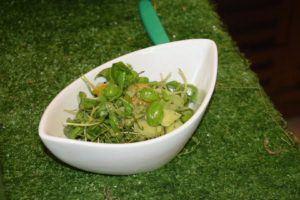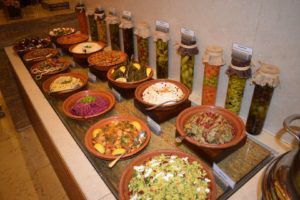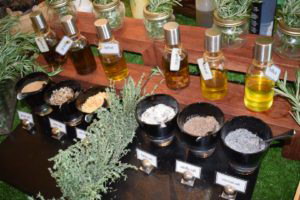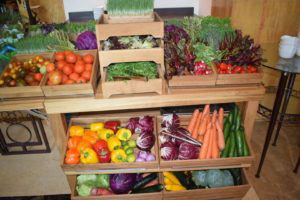 The desserts section was a vibrant fusion of colours, shapes, swirls and sticky goodness that resembled a section of Willy Wonka's chocolate factory on one large wooden table. Both large family sized and individual cakes are meticulously displayed in diagonal rows. Rainbow cake, Carrot cake, Chocolate, Red Velvet, countless jars of sweeties, a white & milk chocolate fountain and a liquid nitrogen infused passion fruit Calippo that took us back to our childhood. There was something for everyone, even us with our notorious lack of a sweet tooth.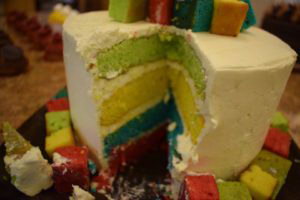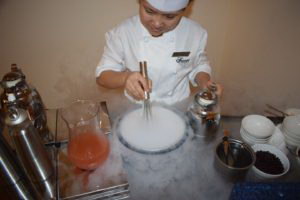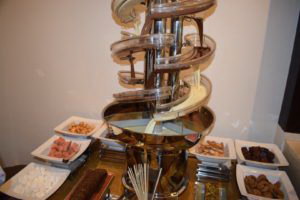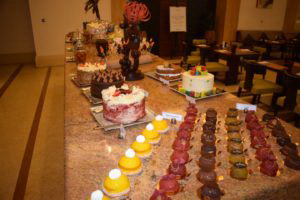 THE DRINK
Two beverage packages are on offer, either AED 255 which includes soft beverages, tea & coffee, or AED 355 which is inclusive of house beverages, selected cocktails & soft beverages. Our waiter had trouble explaining the difference between the two packages to start off with, and was confused as to whether sparkling was included or not.
THE OTHER STUFF
The real appeal or selling point of many family brunches, however, is there being enough food and entertainment to keep the little ones busy and (preferably) out of sight long enough for parents to enjoy themselves and have some "me-time." Flow Kitchen has 2 hours of edu-tainment including various activities set out on multiple colourful tables in the right hand dining area; in view of their parents; including face-painting, balloon twisting, arts and crafts and even a magic show which drew a huge crowd of amazed and fully engaged children! Brunch also includes free access to the Fairmont's Falcon Kids Club next door (usually from 60 AED per hour) and includes fun and educational activities including a toddlers playhouse, splash park, climbing wall, arts and crafts sessions, a dress up corner, a variety of books, toys and jigsaw puzzles, and another separate buffet. For older children, there is a choice of Xbox, Wii and PlayStation games in the specially designed chill out zone.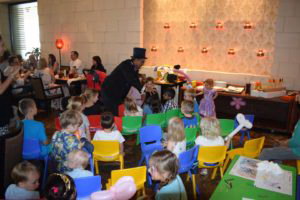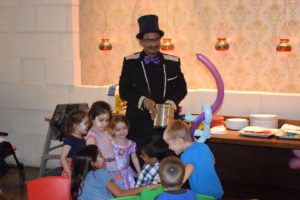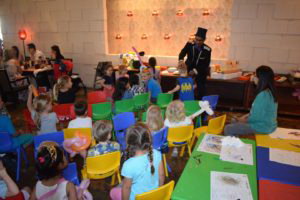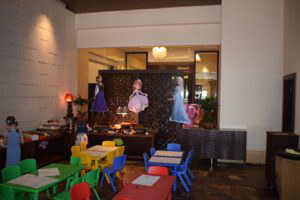 Brunchers are also offered a 50% discount on the Fairmont's beach access, so there is an option to make a full family day of it if you chose, although we wish we had known this before we arrived as we would have brought our swimmers! For those with little ones (or not so little ones), there is enough to keep them entertained and very well fed. Or for those without children, there is enough space either in the other dining room, or out on the sun kissed terrace by the pool to avoid them altogether.
Every Friday from 12.30pm - 4.00pm
AED 255 - inclusive of soft beverages, tea & coffee AED 355 - inclusive of house beverages, selected cocktails & soft beverages AED 100 - kids between 6 years to 12 years inclusive of soft beverages and kids' activities Reservations: email: palm.dining@fairmont.com or call: +971 4 457 3457
Book now on Eat App