Dai Pai Dong - Yum Cha Brunch
Brunch Reviews
| In
Unspecified
on July 3rd, 2017
100-200 AED
%>
Unspecified
%>
Dai Pai Dong, the latest addition to the Rosewood Abu Dhabi's fine portfolio of F&ampB offerings was inspired by the oldest and grandest of traditions in Chinese street food, and in particular, Yum Cha. The brunch, which they tag as "decidedly different" involves the staples of drinking Chinese tea and eating delectable dim sum, dumplings, roasted meats and desserts and to us sounded like the perfect Saturday afternoon indulgence.
&nbsp
THE FOOD
The menu showcases modern interpretations of 28 classic Chinese dishes. Some of our favourites included the chilled spinach in sesame sauce, soya chicken and the salt &amp pepper prawns which Mrs B enjoyed so much that she ordered three times!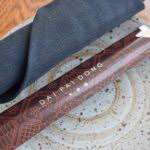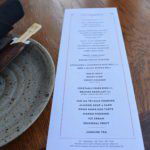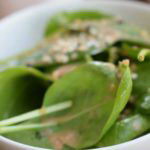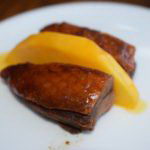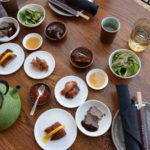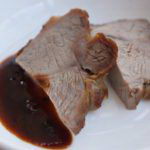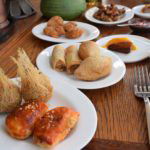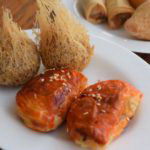 The great thing about this brunch is that the portions are small, and presented individually as tasty little morsels that you can single out by dish and by flavour and then repeat your order of that dish until your heart is content. We both fell in love with the shrimp dumpling har gow and the crispy ginger chicken which were delicate and moreish.
Moving through to the main selection of dishes, including the steamed beef ribs and the char cho pao (BBQ chicken). The only thing that we were not too keen on were the various 'Puffs' that were on offer. The beef &amp seafood taro - both of which had a slightly strange, whilst not entirely unpleasant tastes. Needless to say we didn't re-order, but moved swiftly on. A slight change of pace and texture came next with the traditional sweet corn soup &amp accompanying boiled shrimp wonton before the delectable roast meats made their way to the table. These included duck, lamb and crispy chicken, all served with a sweet plum sauce and despite their descriptions, were also served in miniature portions in keeping with the theme throughout the brunch. Accompanying these "mains" were small bowls of vegetable fried rice, grilled eggplant in ginger and preserved chili sauce which gave the meal a more substantial feel to it.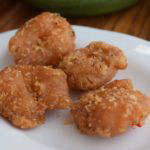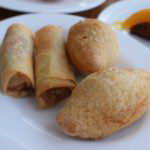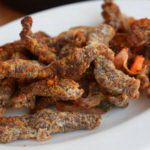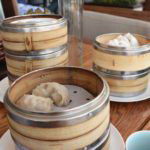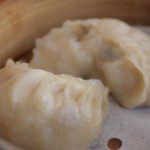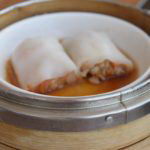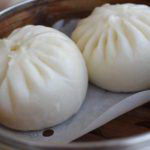 Despite their miniature stature, the number of repeated portions made a lasting impression and left just enough room for dessert on the fast-approaching trolley. Included were an authentic yao ma tei milk pudding, a mango pudding, various ice creams and seasonal fruits. However, our favourite desserts of the day were the almond soup &amp saga and the Hong Kong egg tarts. Both of which we had never tried before, but absolutely loved!
THE DRINKS
The Drinks on offer were a healthy selection of white, red &amp rose wines. If you are a fan of prosecco you are in luck as it is also included in the package which is great for a lazy Saturday afternoon in the sun. (We chose to sit out on the terrace by the water.) Most of the other diners had opted for this option so it was a popular choice, along with ofcourse, endless jugs of traditional Jasmine tea.
THE OTHER STUFF
Nestled where the hotel meets The Galleria, Dai Pai Dong is dramatically represented by a smoky Dragon and a Phoenix outside of it's doors. We absolutely loved the stunning interior design and the Chinese artworks and artifacts on display, although as it was a pleasant day, we chose to sit on the picturesque waterfront terrace.
Inside the restaurant, there is a live show kitchen and a secret speakeasy bar with yet another stunningly designed interior. So hidden in fact, that we didn't even realize it was there until we were leaving, so will definitely have to return to sample it's cosy ambience during an evening service. This Saturday brunch offers diners the perfect location for a wonderfully relaxing 'food filled' afternoon with friends and family.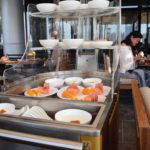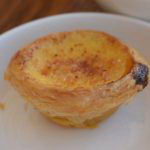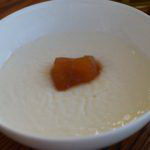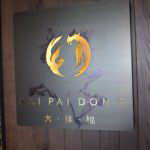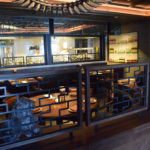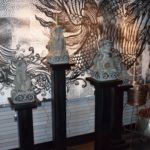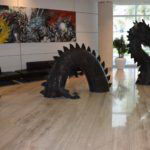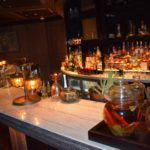 Saturdays from 12:00 noon to 4:00pm.
AED 149 per guest
To book call Tel: +971 2 813 5550 or Email: abudhabi@rosewoodhotels.com
Book Now with Eat App