Comme ça Friday Brunch at Bleu Blanc by David Myers, The Renaissance Downtown Hotel
Brunch Reviews
| In
Business Bay
on June 21st, 2018

4 Overall
300-400 AED
%>
French
%>
Known as the "gypsy chef" due to his insatiable wanderlust and his restaurants all over the world, David Myers is the latest in the string of internationally well-known, if not quite celebrity chefs (think Sean Connolly, rather than Gordon Ramsey) aiming to make his mark on the region with not just one, but two restaurants in the same hotel (The Renaissance, Downtown).
Today's venue, Bleu Blanc, is a Franco-Mediterranean restaurant inspired by the farmhouse, with large blue wooden doors at the entrance (reminding us of the entrance to Roberto Segura's Waka in The Oberoi Hotel ).
Staff were welcoming and attentive to our group from the outset, which today included a mini-bruncher (our niece) and so the warm greeting and explanation of where our seats and the rest rooms etc were did a lot to ease her into the unfamiliar setting.
THE FOOD
Rather than a buffet, food arrives directly to the table and is a substantial journey from traditional "breakfast-brunch" dishes to sweet desserts.
We were given a bread basket and the 'Rise and Shine' options began to roll out. Normally, we wouldn't start a brunch with carbs, but we were famished and so tucked into the mini croissants and bread before the Avocado Egg Tartine and an oxtail version which was something we had not seen on a menu before. It was delicious with its generous helping of rich meat and a spicy pickle for contrast.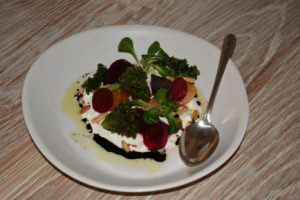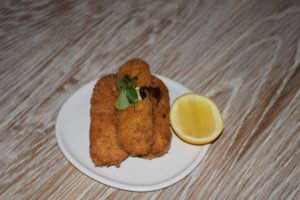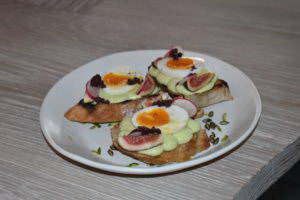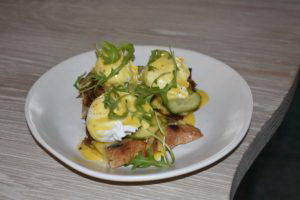 The next set of "starter" plates were small portions but
VERY
filling and flavoursome! The Basil Pesto Ravioli is a recipe of Chef Alex's late grandmother and we were glad not to have to smear her memory by not liking it as much as we did. It was light, cheesy and followed with a zingy hint of pesto that was just enough to let you know it was there, without overpowering the dish. Other dishes included Salt Baked Beets drizzled with a sweet, sticky balsamic, Polenta Croquettes and a healthy Kale Salad tossed in Walnut Oil.
For mains, the Seabass was tender and herby, which we didn't mind, although it could have been cooked so that it was slightly firmer and less translucent. The cut of skirt steak on the other hand, was nicely seasoned and very well cooked! As were the charred king prawns that were cooked to our preference, with one without chilli oil for our mini bruncher. The mac 'n' cheese with black truffle was a perfect blend of cheesiness, with a firm crust and a gloopy centre.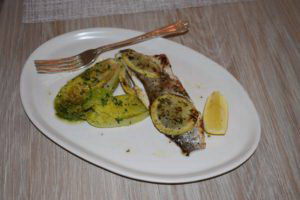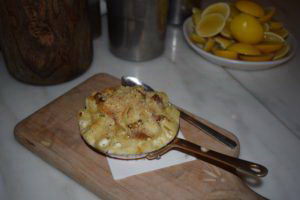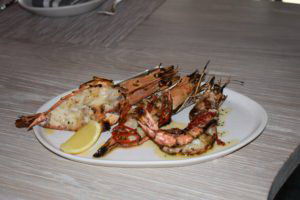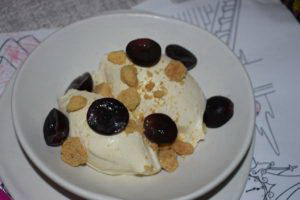 We simply could not stomach desserts, such was our intake of food throughout the courses and dishes such as the ravioli being ordered twice by our table…however for those who prefer sweet rather than savoury, they include a dark chocolate trifle, roasted pineapple, and a simple petit pot de crème (small vanilla ice cream)
THE DRINK
Upon entry, we were swiftly given welcome drinks of Rose, with our junior bruncher given a tall glass of iced watermelon juice and later a strawberry milkshake. Mohammed came over and made us his famous Bloody Mary, one gin based and one with vodka with signature drinks designed by internationally acclaimed bar guru Sam Ross available to order including the Bon Scott (pineapple, sweet vermouth, bitters, lime) and The Penicillin (homemade ginger syrup, honey, lemon, scotch whisky, islay whisky). Tattinger Champagne is available for those splashing out on the top package.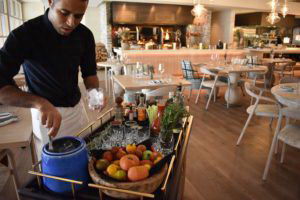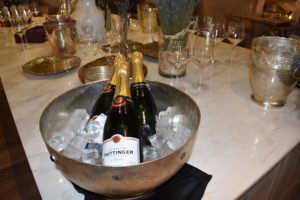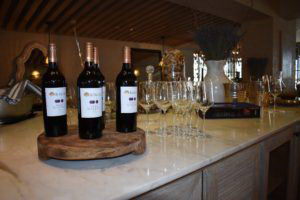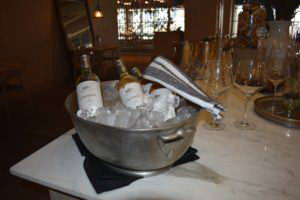 OVERALL
The surroundings and decor were warm and vibrant with orange and golden hues set against whitewash walls and wooden floors the bright natural light shining through from our viewpoint next to the window overlooking the water. Throughout the day the chef's and staff engaged us with anecdotes about food and continuously checked on our little guest to see if she was OK, bringing over pots of pens and drawings to colour in.
The brunch itself was not overly busy with perhaps 5 or 6 tables to wait on, so staff were extra attentive with special requests. On the way out, for example, we started to feel slightly sniffly, so Mahmood whipped up some fresh ginger, mint and lemon to give us an energy boost. Aside from the food, the open kitchen allowed us to watch the chefs at work for entertainment.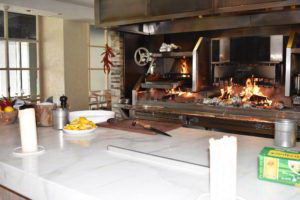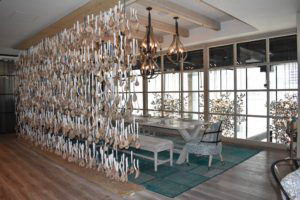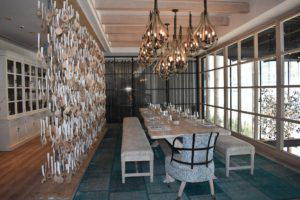 If we were to return, we would skip the bread at the start and leave more room for a simple dessert, but overall, the Comme ça Friday brunch was a pleasant afternoon journeying to the south of France with excellent food and excellent service.
#BlueDoorDXB!
Every Friday from 12.30pm - 3.30pm
PACKAGES:
The Innocent - Free flowing food &amp soft drinks (299 AED)
The not so innocent - Free flowing food, select house beverages and soft drinks (399 AED)
Make it champagne - Free flowing food, Tattinger champagne, select house beverages &amp soft drinks (599 AED)