Casa De Tapas, Dubai Creek Golf Club
Brunch Reviews
| In
Unspecified
on February 9th, 2016
100-200 AED
%>
Unspecified
%>
We must admit that we had not heard too much about Case de Tapas before we arrived to try the brunch, and had rather stumbled upon it by accident. We were actually heading up to the Ibiza Styled Cielo Sky Lounge for sundowners on one of our (embarrassingly to admit) all-to-infrequent jaunts north of the Creek from "New Dubai". One of those "oooh…look they do a brunch, we'll have to try it one day" but never get round to it for at least 6 months kind of discoveries. But "Ay Caramba" are we glad that we finally did…
Upon entry to this Spanish bodega styled restaurant, you are simply astonished by just how much is going on. From the open kitchen set behind glass panels with chefs scurrying furiously and waiters tapping flamenco beats jovially atop the dark wooden bar awaiting their fresh rounds of tapas, to the traditional hand painted plates on the ceiling and upside down lemon tree dangling over the enormous selection of cold dishes on the blue and white mosaic tiles. All with the beautifully calming water of the Creek shimmering serenely in the background.
The Food
The aim of Casa de Tapas is to take each diner on a culinary tour of Spain, from the rocky sun baked mountains of Andalucía to the Balearics, the Canary Islands, up through central Madrid and all the way to the rough coastal landscapes of Basque Country.
We began with a few teasers from the cold Tapas selection. The Boiled eggs with Tuna, Mayonaise and Spring Onion (Huevos Rellenos), Potato Salad with Garlic Oil (Potatas con Alioli) ) and Chilled Andalusian Tomato soup (Gazpacho Andaluz) along with a visit to the separate Pork Counter which played host to a healthy (Surtido de Iberico) Cold cut platter of Chorizo, Loin, Serrano Ham and Sobrasada with accompanying Chillis and Cornichons.
Also available were various Green Salads, Rice, Cous Cous and Vegetables, a Sardine Salad, an Octopus Salad, a crushed Egg and Potato Salad (Salpicon de Pulpo), various Bruchetta and a large Spanish Cheese Selection with individual boards available to take back to your table.
With the selection of Tapas so vast, it is hard to know what to eat next. Luckily for us, the waiters intermittently bring around a selection of Hot Tapas directly from the kitchen to complement those you have chosen yourselves from around the buffet. Our favorites were the succulent Prawns cooked in Garlic, Smoked Paprika and Chili (Gambas al Ajilo), the Marinated Kingfish which was packed with a zesty punch (King Fish en Adobo Marinero) and the Crispy Chicken Wings (Alitas de Pollo Crujientes) which were hot and perfectly crispy on the outside and juicy in the middle. There is also a live carving station featuring a 9 hour slow-roasted, milk fed baby Lamb Shoulder from Spain (Paletilla de Cordero de Avila al Horno).
We also enjoyed the Fried Potatoes with Spicy "brava" sauce (Patatas Bravas), Tuna Empanadas, Lamb Croquettes, Fried Cauliflower and ofcourse the classic Spanish Omelet (Tortilla Espanola) and two types of Paella (Seafood and Vegetarian) served in the traditional large paellera in which they were cooked.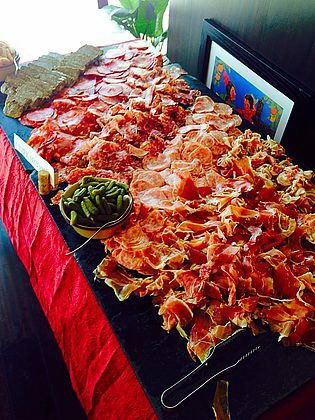 It was difficult to know when to turn to the dessert selection, such was the ease and recurring tempatation to revisit the tasty tapas dishes and graze on the small bites throughout the day, but in the end, we relented and salsa danced over to the immaculately laid out Martini glasses which contained the desserts. These included a classic from the northern part of Spain consisting of deep fried, creamy milk with strawberry jam and almond ice cream (Leche Frita con Jalea de Fresa y Helado de Almendra), a Rich custard burned with caramelized sugar (Tradicional Crema Cataluna), Seasonal Fresh Fruit (Suritdo de Fruitas) and a Chocolate Sponge Cake and Gateaux thrown in for good measure, rather than to add any particular compliments to the Spanish theme.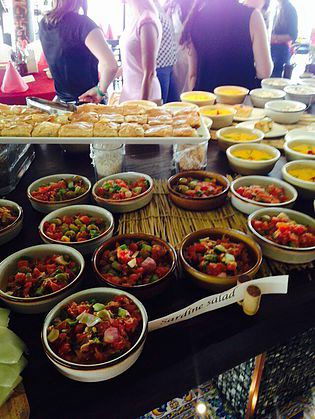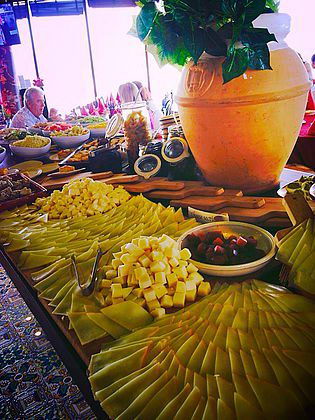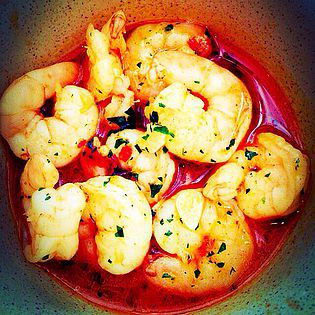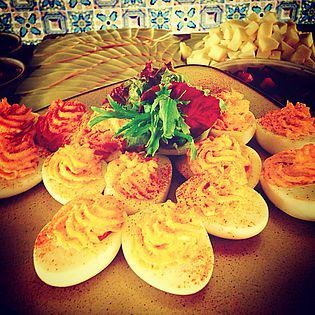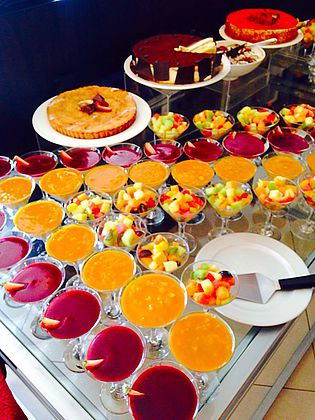 The Drink
We opted for the Sparkling package (naturally), which at 249 AED represents one of the best in terms of value that we have seen around town. Starting any brunch with a "SALUD!" and a clink of the glass with sparkling Freixenet Cava from Catalunia always signals the start of a great day. We then moved on to the Sangria Tinto for me (Red wine infused with brandy, cinnamon, oranges, peaches, apples, lemons and raspberries, garnished with fresh fruit and charged with soda) and the Sangria Blanco for Mrs B (White wine infused with apple liqueur, raspberry vodka, oranges, peaches, apples, lemons and limes, garnished with fresh fruit and topped up with lemonade.) These are available by the glass, or in keeping with the theme of sharing, by the Jug which are brought to your table. The waiters (Manuelle in particular) was on hand to provide a speedy Gonzalez type of service, and was more than happy to spice things up with a few shots of Tequila, which were also included at no additional cost.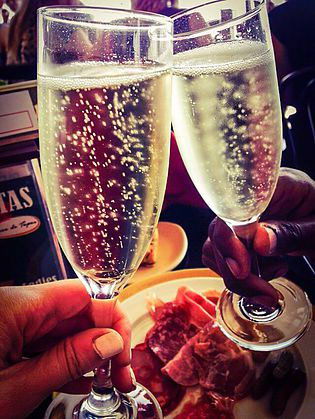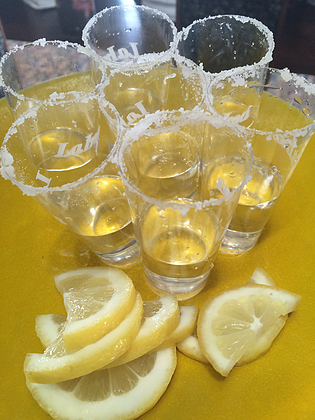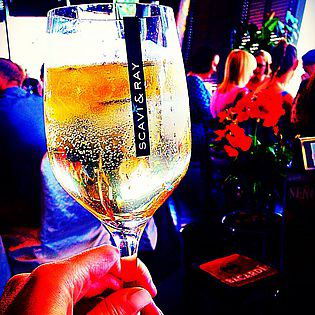 The Atmosphere
This little Spanish Bodega has a truly electric atmosphere, stemming from the eclectic mix of groups enjoying the Latin carnival atmosphere. On our particular visit there were couples, large groups celebrating birthdays, mobs of females putting the world to rights and solo gastronomists simply there to people watch and enjoy the feeling and flavours of Espana.
The band, made up of 2 flamenco musicians whose broken English and rapid-tongued Spanish cemented their authenticity mesmerized the audience with the hypnotic and exhilarating rhythms that are woven around each song by the snapping palmas (handclapping) and the machine gun rattle of their feet. The guitarist held the performance together with the melody and the percussive element as the lead singer mimicked Enrique Inglesias Jr on stage with his Charisma, Swagger and a hint of seduction in his voice (or so I am told by the Mrs…)
At one point, the singers gathered everyone celebrating a birthday on stage and serenaded them in a giant Spanish singalong, to which the entire restaurant participates in whether you know someone up on stage or not. Contrary to the "ohh not again" cringe-inducing birthday celebrations often seen in other establishments, the convivial atmosphere seemed to bring every table together in their mutual celebrations and create one giant Mardi Gras.
It is loud, unpretentious, authentic, and full of life. It gets you swaying your hips and rolling your shoulders between courses. There is a freedom to roam, to mingle at the bar with strangers and dance like nobody's watching.
Overall
Tapas dining is all about sharing. And you feel that even if you came to this brunch alone, by the end of it you would leave having made at least one new acquaintance. (Don't forget to head upstairs for spectacular views and post-brunch sun-downers at Ibiza themed Cielo Skylounge).
George Henry Borrow once said, "In nothing can the character of a people be read with greater certainty and exactness than in its songs." The quality of the food, the drink and the overall fiesta atmosphere which is instigated by the band, passed down through the waiters and lapped up by the reveling diners come together effortlessly to produce an authentic depiction of Spanish culture at a bargain price.
For anyone familiar with the Flamenco clubs and Bodegas of Andalucia or Madrid, Casa de Tapas will feel like a home away from home.
Mi Casa Es Su Casa!
AED 149 (Soft drinks and Food)
AED 199 (House Spirits and Food).
AED 249 (Sparkling Cava, House Spirits and Food)
Timings: 12.30pm-4pm
To Book: Contact: +971 4 4161 800 or email reservations@casadetapas.ae