Candypants Pool Par-TEA, The Wet Deck @ W Dubai
Brunch Reviews
| In
Unspecified
on February 15th, 2017
200-300 AED
%>
Unspecified
%>
When we first visited the Candypants Brunch back in 2015, we knew it was going to be something special. Something to shake up the "same same" party brunch scene dominated by the likes of Saffron, Yalumba and DD's since time immemorial. With the Time Out award for "Best Party Brunch" a year later, and a string of successful MEGA Brunch spin offs, we were again intrigued to see what the naughty innovators could concoct when we heard that they were now taking on the Saturday brunch scene. The pool par-tea fuses the ever popular yet usually disparate concepts of a refined afternoon tea in London, with the glitz and poolside antics of a pool party in Ibiza.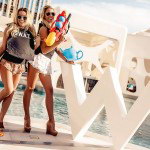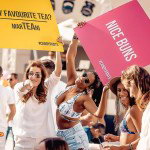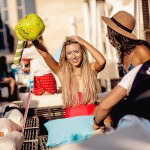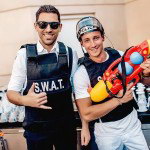 (pictures courtesy of Candypants and the W Hotel)
Think giant Mad hatter fashioned teapots, blow up donuts in the pool, swat teams toting water guns infused with vodka, and of course, the trademark Candypants signs with their tongue in cheek slogans such as "Cocktails are my cup of tea" and "Nice Buns" - forcing even the most demure of guests to jump up and strike a pose.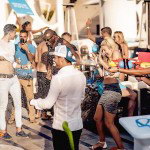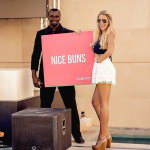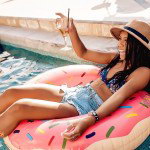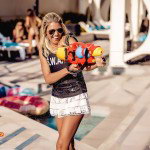 Something that we absolutely loved was being Presented with a Candypants survival pack, complete with a box full of sweets & mints, an official Candypants sick note for Sunday morning, and a novel disclaimer that reads "Candypants events takes no responsibility for drunken texts to your ex or your embarrassing dance moves." It is this amazing attention to detail that sets them apart and definitely put us into the right frame of mind to begin our day, especially when many others may still be realing from the previous days' exploits.
THE FOOD & THE DRINKS
The afternoon par-tea bites are served in quintessential afternoon tea style, atop quirky, multi- layered cake stands. Instead of muffins and scones, we are served presented with coloured mini slider sandwiches with various fillings and then a course of small cakes which if we are honest were there to flatter the eye more than fill the stomach. The presentation certainly brought out your inner Disney child…that is until the buzzer sounds, the swat team assembles, and it is time to roll away your pinkeys and and unleash your inner wild child. Something we needed very little persuasion to do! The drinks include 2 special W cocktails, a frozen Daiquiri and the Caipiroska. Prosecco, Red, Rose and white wines are all served by the bottle to your table in true high eed beach club fashion and the usual complement of house spirits (vodka, gin, rum, whisky) & beers complete a comprehensicve lineup.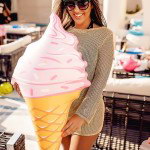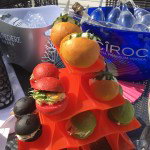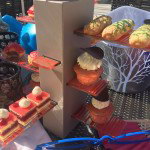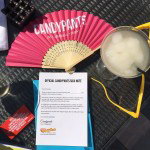 OVERALL
We were very impressed with the plentiful selection of drinks on offer, and the tunes are kept pumping all day by Candypants stalwarts Tango Williams and Andy Swift. If you are expecting a full on Saturday roast dinner then look elsewhere…you want to look your best and bloated is not the order of the day here with the dress code: get WET in style. The bar bites are more than adequate enough for the job and the drink selection ensures you are never left wanting throughout the day/evening. The Saturday pool party concept is something that has been tried many times in various formats and locations across the city and beyond, and we think the non-pretentious, no non-sense, mad hatters Tea Par-Teay they have adopted is a winner. With there only being 3 left to grace the WET Deck on the 7th floor until Ramadan, there is also no danger of the concept becoming stale. We can't wait for the next one!
Saturday 4th March
Sat 1st April
Sat 6th May
From 1-4pm - Afterparty is free from 4-9pm 375 AED for the full Afternoon Tea experience with poolside seating. 275 AED for a drinks only package - Includes W cocktails + house spirits. To book - call 050 220 4638 or email nick@candypants-events.co.uk