BOCA Weekend Brunch, Gate 6 DIFC
Restaurant Dining
| In
Unspecified
on January 4th, 2017
200-300 AED
%>
Unspecified
%>
In the midst of the concrete (and glass) jungle that constitutes DIFC, lies the epi-curious BOCA. The name BOCA means "mouth" in Spanish is home to the foods of the three gastronomic giants of Europe, and arguably the world: France, Italy and Spain.
Not for the dainty or dieting, this brunch sees plate after plate appear at your table, containing irresistible classics and seductive blends of fresh ingredients that will induce "greed-while-stuffed" levels of consumption…. unrecognisable even to us.
THE FOOD
Broken down into cold tapas, hot tapas, mains and desert, the detailed menu choice which often presents that dreaded feeling of FOMO was allayed instantly by our effervescent waiter Francis with those ever-enchanting words "don't worry, it will all come" putting us at a momentary ease.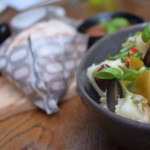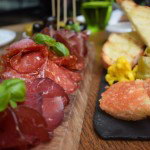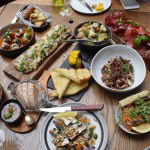 Plumptious, citrus herby Olives, assorted Italian and Spanish Beef cold cuts, homemade Pickles, and a tasty Silicilan Tuna and Potato Salad arrived quickly with an assortment of homemade Breads. The "Pan Con Tomate", a simple tomato and olive oil vinaigrette transported us back to the bay of Marseille. Authentic, impeccably seasoned, and a perfect reminder that simplicity can be sublime when done well.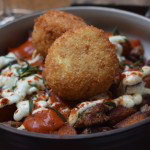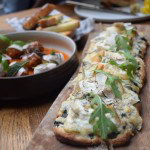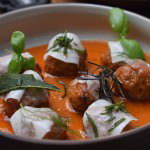 The hot tapas included Wagyu Meatballs in a tomato sauce, Grilled Squid with Dried Piquillo Peppers &amp Sautéed Greens, and Grilled Tiger Prawns with Garlic and Chilli Oil. The "Los Huevos Rotos Del Chef", which was Chips, Beef, Chorizo, Aioli and Bravas topped with a crispy Poached Egg went down a treat and to a chorus of approval around the table.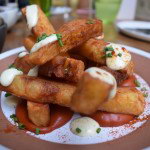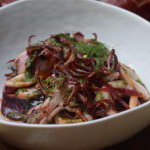 The main dishes, after a long break between courses to make room (we would have been satisfied with the Tapas on their own) arrived with 2 versions of the Wagyu Beef Tagliatta. One served medium rare and one medium-well as per our tables liking. This came with Roast New Potatoes, Mixed Baby Vegetables and a garnish of Rocket. Next was one of the unexpected favourites of the day, and the combination of unctuous Black Rice with Seared Scallops served with Aromatic Clams. Finally, The Gnocchi, which are handmade and rolled in the kitchens below were served beneath a Braised Beef Short Rib that, once topped with shaved Parmesan and Fried Sage simply melted away under the pressure of our forks.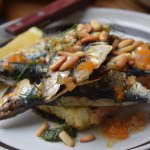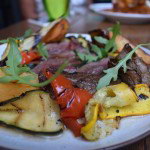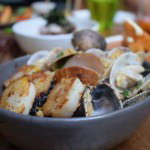 Being offered dessert by the enthusiastic waiter while stuffed to the brim, was rather worrisome. But when a tray of fresh, colourful, local and tropical fruit, adorned with miniature mille feuilles, crème brulees, fruit sorbets and hand rolled sugared almonds took centre stage, somehow our worry was replaced with rehabilitated appetites.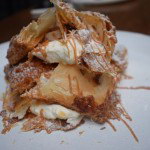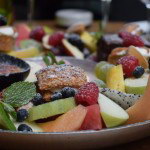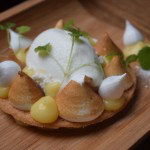 THE DRINKS
There are 3 packages to choose from (detailed below): The Sangria de Toro &amp Hops package also includes house Whites, Reds &amp Rose, while the Moet package had its own set of surprises in store for us. Firstly, the Moet itself was substituted for Ruinart Brut on the day - which was a pleasant surprise, seeing as it is one of the oldest and most respected champagne houses, as well as one of our personal favourites with it's light and ethereal bubbles the perfect accompaniment to any dish, setting or occasion. Next, was the unfettered access to any wines in the restaurant. With such freedom, our waiter/sommelier was free to recommended a nice fullbodied red (Passori) to go with our meat, A crisp Sauvignon Blanc (Friuli Aquileia) to accompany the fish dishes and something a little sweeter to go along with our desert (Muscato)…all in all it's a place for both foodies and winos alike!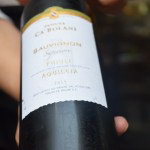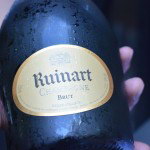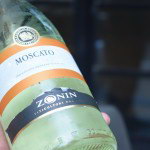 NON ALCOHOLIC
- Soft Drinks, Water, Juices, Non Alcoholic Sangria, Coffee, Tea
SANGRIA DE TORO &amp BEER
- Sangria de Toro Pitchers, Beer, Soft Drinks, Water, Juices, Non Alcoholic Sangria, Coffee, Tea
HOUSE DRINKS
- Aperol Spritz Pitchers, Sangria de Toro Pitchers, Beer, Bacardi Superior, William Lawson, Bombay Sapphire, Russian Standard, Soft Drinks, Water, Juices, Non Alcoholic Sangria, Coffee, Tea (Does not include shots)
MOËT
- Moët Imperial Brut, Aperol Spritz Pitchers, Sangria de Toro Pitchers, Beer, Belvedere, Bacardi Superior, William Lawson, Bombay Sapphire, Soft Drinks, Water, Juices, Non Alcoholic Sangria, Coffee, Tea
&nbsp
THE OTHER STUFF
On our visit, whether it was due to it being smack bang in the middle of the festive season (the day before New Years Eve to be exact) or because they have kept relatively tight lipped on the promotion of their brunch concept, there weren't many other diners in the restaurant to create much of an atmosphere on the terrace where we were sat. We were however more than happy to treat the soulful beats, the cool winter breeze and the delights of the kitchen as entertainment enough.
The ethos of Boca is simple: "take whatever's good and fresh and delicious, do as little to it as possible, and share it with people who think like us." In truth, doing as little to the ingredients is a huge under-emphasis of the classic culinary skills on show by Chef Carlo and his team, but the basic principle of home hospitality does apply. If you like it, you have more of it, which makes for an exciting Mediterranean expedition.
Just as the Dr's job fundamentally is to heal, Chef Carlo believes the same duty exists of a chef…but to feed. From his daily trips to the markets in Shindaga to source ingredients, his staunch loyalty to the same kitchen team of 6 years or the fact that he has only used the same 3 suppliers since opening. From his head, to his heart, to his hands…and finally your plate. Rather than seek awards and public recognition, which is always wonderful of course (they were recently voted Best European Restaurant in Dubai by Timeout). The highest levels of gratification for the staff seem to come from serving their repeat customers who lined the bar even on the sparsest of days, or the fact that the entire staff of La Petite Maison, (which is widely acclaimed by many to be Dubai's Best restaurant) would be joining them for the 3rd consecutive year for lunch. High praise indeed, although the highest praise we can reap on them, is that on the penultimate day of the year, BOCA managed to produce our best foodie experience of 2016.
Bravo Boca…Bravo!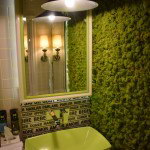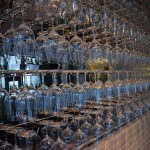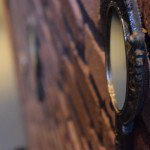 Every Friday &amp Saturday from 1pm til 4pm
NON ALCOHOLIC - AED 245
SANGRIA DE TORO &amp BEER - AED 295
HOUSE DRINKS - AED 345
MOËT - AED 545
To Book call +971 4 323 1833 or email info@boca.ae, click here to book direct with EAT app