Benjarong Friday Brunch, The Dusit Thani Hotel
Brunch Reviews
| In
Unspecified
on September 25th, 2016
The Dusit Thani hotel captures the very essence of Thailand, offering stunning views of cosmopolitan Dubai whilst perplexing the senses with an explosion of flavours and spices from the cultural heart of South East Asia.
Upon arrival, we were greeted with the traditional 'wai' greeting before choosing our welcome drinks from the choice of non-alcoholic apple fizz (which we chose) or an alcoholic "Gimlet" lemon fizz to awaken our palettes. We were then taken through the restaurant's majestic interior, designed to resemble the royal dining halls of King Rama IV, while the gentle sounds of classically trained Thai musicians add to the authenticity of the experience, leading through to our table which provided a stunning view of the Burj Khalifa.
THE FOOD
Served buffet style, we were spoilt for choice with the abundance of signature Thai dishes on display. Staff were on hand and helpful in explaining each dish and recommending their favourites and it was both refreshing and reassuring to hear these come from authentic Thai dialects. We started with the Yam Talay, a spicy seafood salad which was a popular choice alongside the Thai glass noodles, a perfectly light dish to start our culinary journey! Moving onto the Larb Gai, a spicy minced chicken salad packed with herbs and fresh red chilli, and the Khao Soy Gai, a yellow curried chicken flavoured with turmeric and crispy egg noodles. Moving between the more hearty "main dishes" and the dishes we would class as "street food bites" was effortless, and we found ourselves wanting to try a little bit of everything…classic examples were the Goong Takrai - Fried and marinated prawns and lemon grass with plum sauce which seemed to find themselves on each of our plates after each trip to the buffet.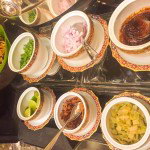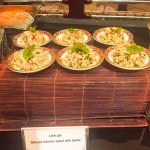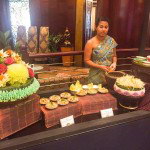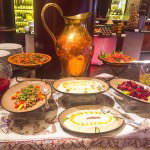 There were also a huge selection of "non-classic Thai" dishes available, including a huge range of sushi and duck pancakes which were coming thick and fast from the chef at the station! There was also a range of other foods available for those whose taste buds need some respite from the 100 MPH sweet, spicy, sour, salty and bitter elements of Thai cuisine. There was a roast station, and an Italian station which we couldn't quite bring ourselves to try at a Thai brunch, although we did stretch to the Aloo Chaat, a sweeter Indian option which consisted of a tangy sweet potato salad. There is also a small selection of mini desserts available - from English trifles to Traditional Asian Baklava, however these were merely perfunctory and there was nothing here to particularly crow about.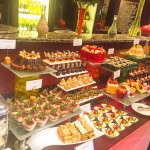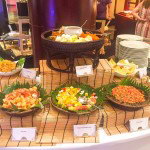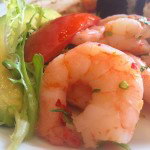 &nbsp
THE DRINK
Our waiter David came to introduce himself and welcomed us to the brunch by bringing over a bottle of Valdo Millesimato Prosecco and left it to chill next to us - the perfect way to get straight into the good graces of Mrs B! He was never too far away and made a concerted effort to ensure that our glasses were always well refreshed and never under halfway full.
Moving on to the White wine, the Lindemans Cawarra Chardonnay gave Mrs B the taste of tropical fruit whilst enjoying the calming views outside. Mr B then moved onto JW Red Label whisky to bring us both back to the days spent lazing on the beaches of Koh Toa sipping Sangsom buckets through a straw, but these were probably a little harsher than we remember so it would have been nice to have cocktails available, perhaps even just a classic Mai Thai. Beers on offer included a choice of either Stella or Becks, as well as the big 4 sprits and we were a little disappointed not to see a Chang or Singha on the menu.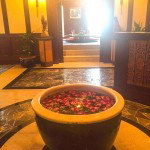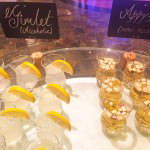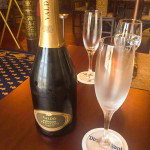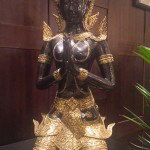 &nbsp
OVERALL
The staff were dressed in traditional Thai clothing (chut Thai) and they added to the authenticity of the experience. A calm and sophisticated atmosphere which suited the majority of guest who were mostly groups of families and couples.
Every Friday from 12.30 - 4.00pm
AED 225 - With Soft drinks and chilled juices
AED 285 - With House Wine &amp Draft Beer
AED 350 - With Sparkling Wine &amp House spirits
AED 495 - Marquis de Joncry Champagne
Book Now with Eat App
&nbsp