Backyard BBQ @ Perry & Blackwelders, Souk Madinat Jumeirah
Brunch Reviews
| In
Unspecified
on January 12th, 2017
200-300 AED
%>
Unspecified
%>
Those of you who know us well, or have followed our foodie journey in Dubai over the years will know of our love/borderline obsession for Deep South BBQ, and in particular Chicken wings. The mere sniff of a new restaurant offering wings as one of its chief accoutrements and we are there quicker than a chicken can cross Sheikh Zayed Road (I would suggest it would want to be pretty fast). For this reason, Perry and Blackwelders has long been haunt of ours (yes we do go to restaurants other than at brunch time.) Becoming fans of classic dishes such as slow-smoked Mesquite brisket & Smoked turkey breast with cornbread, although we did frequent their "all you can eat wings Wednesday" on more than a few occasions. Once we discovered the recently launched Friday concept called the 'Backyard BBQ Brunch,' we could not wait to head on down to the Madinat and revisit one of our ol' favourites…
THE FOOD
The first part of the Brunch is served at your table (or beanbag if you prefer) which suits vibe and pace of the afternoon. There is no rush or fuss here. You could easily be in your own back yard celebrating a long weekend, and that is exactly the feeling that they are going fore. There aren't an abundance of dishes to choose from, due to the fact that the main event is smoking away silently in the corner of our eye line, emitting the kind of sweet and smoky aromas which turn millions of us into drooling fools each year…the smell of a BBQ is truly a thing of wonder.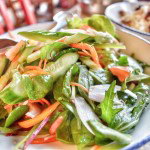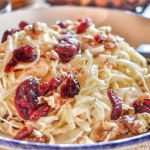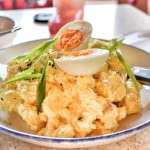 But for now, it was back to the appetizers which could be described as "fixins" or side dishes, and included a wonderfully fresh green salad with a tangy yet tasty vinaigrette, a perfectly seasoned 'home-style' potato salad and some corn bread that Mrs B described as "oh so naughty, but oh so nice!" The coleslaw was topped with cranberries and walnuts, something which we would not usually have thought of pairing together and was the only one of the dishes we would have preferred to be left more "plain." Ofcourse, there were also the familiar added trappings of grated cheese, salsa, and the irresistibly sharp pickled gherkins which brought colour and flavour to this very satisfying prelude to the main event.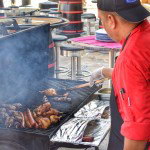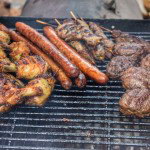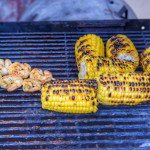 There is no rush at this brunch and you never feel as though you are being rushed through your courses, although once we had let the salads digest, we jumped up excitedly and ran, empty plated like Oliver Twist toward the huge BBQ Smoker whose scent had been teasing us since we had arrived. Laid out in front of us on the grill face were a selection of grilled Chicken, Sausages, Steaks, Burgers, BBQ Corn on the Cobb and Skewered Prawns. Needless to say we loaded our plates with one of everything (for the good of the review of course! ;) and also asked the chef for some of his hottest sauce, for which he disappeared into the kitchen and reappeared 5 minutes later with a wry grin on his face. You can't exactly go wrong with a BBQ unless you undercook or cremate the meats, which we are happy to report they did not. Although once meats are cooked, unless they are eaten straight from the grill they did tend to sit on the grill top for a while and would need reheating.
THE DRINK
Available on the house beverage package there are two choices of bottled hops to choose from, Stella & Fosters, served from handy wheelbarrows located in front of the outdoor bar. House Red & White grapes from South Africa (Waka Waka) and a good selection of house spirit brands including Johnnie Walker, Smirnoff, Matusalem, Sailor Jerrys, Tanqueray and Jose Cuervo... definitely something for everyone! Our favourite and one of the most novel (and picture worthy) addition to the drinks on this brunch was the frozen blended cocktails which were delicious, if not a tad sickly after the first couple. It was their aesthetics which gave them the real wow factor, coming to our table served in two giant glass cowboy boots! Kudos to the bar tender for making us a 1 pink & 1 blue margarita for good measure.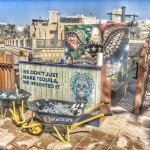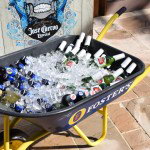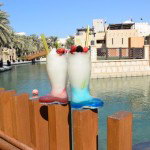 THE OTHER STUFF
This is the anecdote to the typical Dubai brunch. It is not your typical lavish offering where mass choice and lengthy make up sessions are required to fit the dress code. This BBQ by the water is set in between Al Qasr, Mina Salaam & Mcgettigans which all offer Brunch in the more traditional sense, all with well-established offerings and loyal clientele. P&B realised astutely that there would be no point in going brunch-to-brunch with these guys in a race to wrestle their audiencs away from them, so have decided to go for a slightly different approach in the hope of snagging a different market altogether, and so the Back yard BBQ was born. Keeping it as simple and unpretentious as possible. The concept of eat and drink all you like to the accompaniment of a really chilled out acoustic guitarist, allowing yourself to lounge away your afternoon as you sit at either at one of the picnic tables on the terrace or beanbags by the waterfront.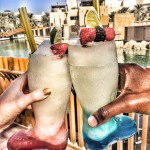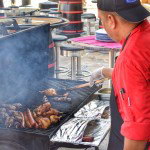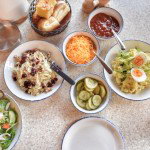 Sit down, unwind, Chill & Grill!
Every Friday from 12.00pm - 4.00pm
To Book call +971 4 432 3232 or email Restaurants@jumeirah.com Kids AED 65 BBQ with soft drinks AED 195 BBQ House Beverages AED 295 #PerryAndBlackwelder #BBQ #BBQWithPB #MadinatJumeirah #BetterWithJumeirah