Aqua's Slow Food Brunch at The Rosewood Abu Dhabi
Brunch Reviews
| In
Unspecified
on April 15th, 2018
400-500 AED
%>
Unspecified
%>
We didn't know too much about this brunch before visiting other than the fact that it had won the award for Favourite Brunch - 2015 (What's On Awards) and also featured in the Ahlan! Hot 100 Restaurant's in the same year so we knew they must be doing something right, at least in terms of industry recognition. Claiming to bring together an intimate culinary affair with traditional artisan recipes, (we are never quite sure what statements like this really mean) but made our way down to the brunch excitedly in any case. Located on the third floor of the hotel, Aqua is an elegant and sophisticated all-day dining restaurant which starts in the chandelier-laden dining room that is based around a horse-shoe shaped show kitchen and spills out onto the terrace overlooking turquoise waters and into the city.
THE FOOD
The restaurant is considerately and artistically stocked with healthy treats as well as a naughty 'Frito' corner where chicken wings, panko prawns, calamari rings, fish & chips and beef chorizo all feature and were first to draw our attentions. Diners are spoilt for choice without every feeling overwhelmed and you can easily circumnavigate all of the dishes in a few short minutes before deciding what to partake of next. Tapas, eggs benedict; a pork section featuring three different types of sausage, a make your own salad bar and raclette (which unfortunately the chef took his eye away from for a moment too long and burnt to a crisp.)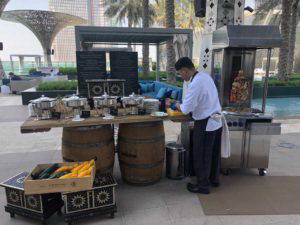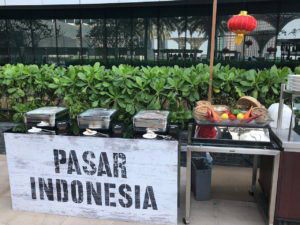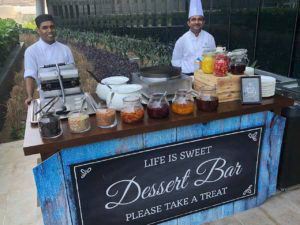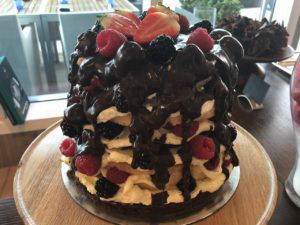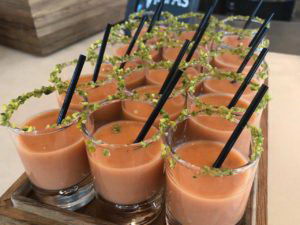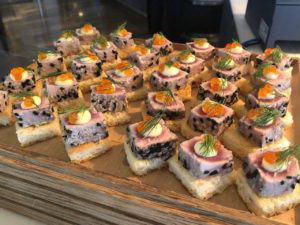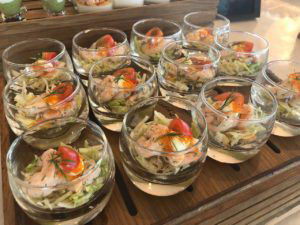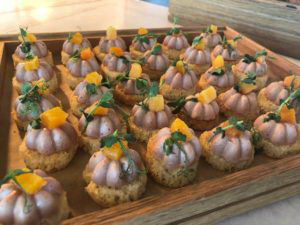 An eye catching outdoor BBQ with fresh short ribs, steaks and lobster tails holds a prominent position on the terrace which also features an Arabic station, Indian Valley, and a Pasar Indonesian and Chinese produce Asian market with Singapore chilli crab as the notable dish. Sharp razor clams, a fresh pasta station that produced a deliciously spiced penne and a dessert section with made-to-order crepes and waffles were all indicators of the strength in diversity of this bijou brunch.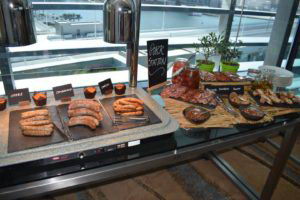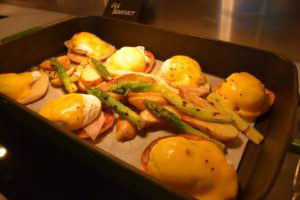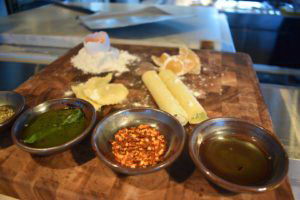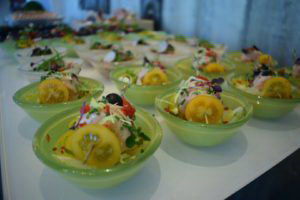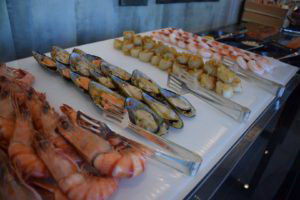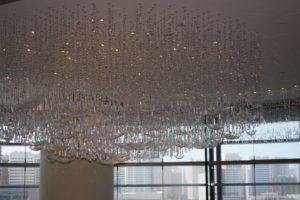 THE DRINKS
This brunch offers something for everyone when it comes to "hydration." White, red, rose wines and everything it seems in between. We particularly enjoyed the 35 degrees south sauvignon blanc, although the prosecco by Villa sandi was a little bitter for our pallettes. If you really want to spoil yourself there is Veuve Cliquot yellow label champagne on the gastronome package. All of the packages include cocktails made by the in-house mixologist, on hand to ply you with many of his marvellous concoctions as humanly possible, as well as a great choice of ready made jars such as sangria or the unidentifiable coloured shots served in a syringes (yuck!). If the house spirits or playful concoctions don't tempt you, hops fans will be pleased to see a premium Erdinger Weißbiers (wheat beer) on the menu.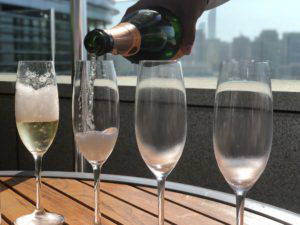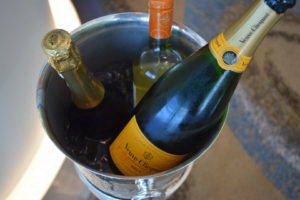 OVERALL
The brunch is unassuming from the outside, yet bright, airy and sophisticated on the inside with panoramic views over gemstone waters into the city beyond. Elegant chandeliers, floor-to-ceiling windows and a unique u-shaped buffet which does not overflow with 'filler' items, this brunch focusses on quality as opposed to quantity, and as such is clean cut and classy. Although there isn't anything at the brunch in terms if stand alone entertainment, a special mention must go to the separate 'Rose Buds Brunch' located down the hall. A perfectly self-contained and staffed brunch room including a buffet, arts and crafts, a library and a giant computer games screen for the little ones. Drop your kids off at the start and enjoy some well-earned me time where the children decorate donuts & muffins and watch their favourite movies.. Aqua delivers flair, creativity and excellence. A perfect spot to spend a Friday as a couple or with friends and family.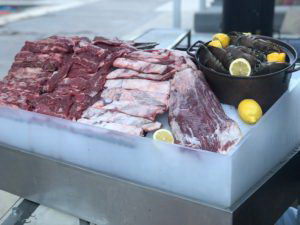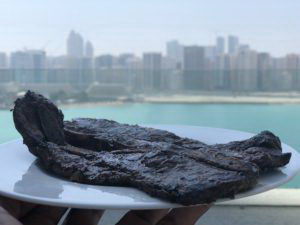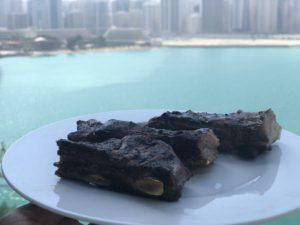 Every Friday from 1:00 to 4:30 p.m. at AQUA.
Gourmet Food & Soft Drinks | AED300 Connoisseur Food, Grapes, Hops & Mixology | AED410 Gastronome Food, Grapes, Hops, Mixology & Bubbly | AED475 Rose Buds Brunch | Children 6 to 12 years Old | AED135 Rose Buds Brunch | Children 1 to 5 years Old | Free Glo Lounge After Brunch Offer | 4:00 to 6:00 p.m. | AED120 To book, call ; +971 2 8135552 or
click here to book directly