Ají - Machu Pisco Saturdays, Vista Mare Palm Jumeirah
Brunch Reviews
| In
Unspecified
on January 26th, 2017
200-300 AED
%>
Unspecified
%>
The newly opened Ají restaurant is one of the 7 restaurants that form "Vista Mare" on the Palm Jumeirah and Machu Pisco is their version of a laid back (almost horizontal) ‪‪Saturday afternoon Brunch‪. Meaning 'chili' in Spanish and 'flavour' in Japanese, Ají was a logical choice of name for a restaurant embracing the ambivalence of it's culinary culture.
THE FOOD
Nikkei cuisine takes its influence from the Japanese natives who settled in Peru over a hundred years ago. They created their own food culture, inspired by their new locality and the incas arond them, and yet remained true to their strong sense of belonging to the mother-land. Let us start by saying that fusion foods generally don't excite us! They seem confused, gimmicky and show a sense of trying to be all things to all people…which you simply cannot be! That being said, Nikkei cuisine takes more of a multi-layered approach to its food. Cross-pollinating the best elements of each to create its own unique identity. Peruvian ingredients (which happen to be my latest food-fead) paired with the slick and ultra clean techniques of Japanese cuisine, served on this beautiful beach front vista just might work? The menu, although on first appearance appears extensive offers just 12 dishes, served in 3 courses and as traditional bite sized morsels. The first "courses" appear in theatrical fashion, with an impressive looking ice-bowl, containing one each of the following: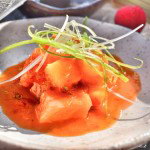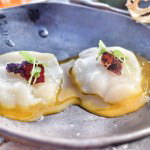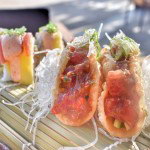 • Maguro Taco (Tuna, truffle oil, sesame seeds and kyuri) • Cebiche de Salmon (Salmon, lemongrass, mango, garlic, spring onion and coriander) • Ají Especial Tiradito (Red Snapper, radish, red quinoa, coriander, Ají amarillo) • Spicy Tuna Maki (cucumber, spicy mayo, spring onions, mango) • Vegetarian Maki (avocado, cucumber, sesame seeds, carrot, snow peas, radish, Ají Amarillo sauce) • Miso Salad (baby spinach, sweet miso, white quinoa, and garlic)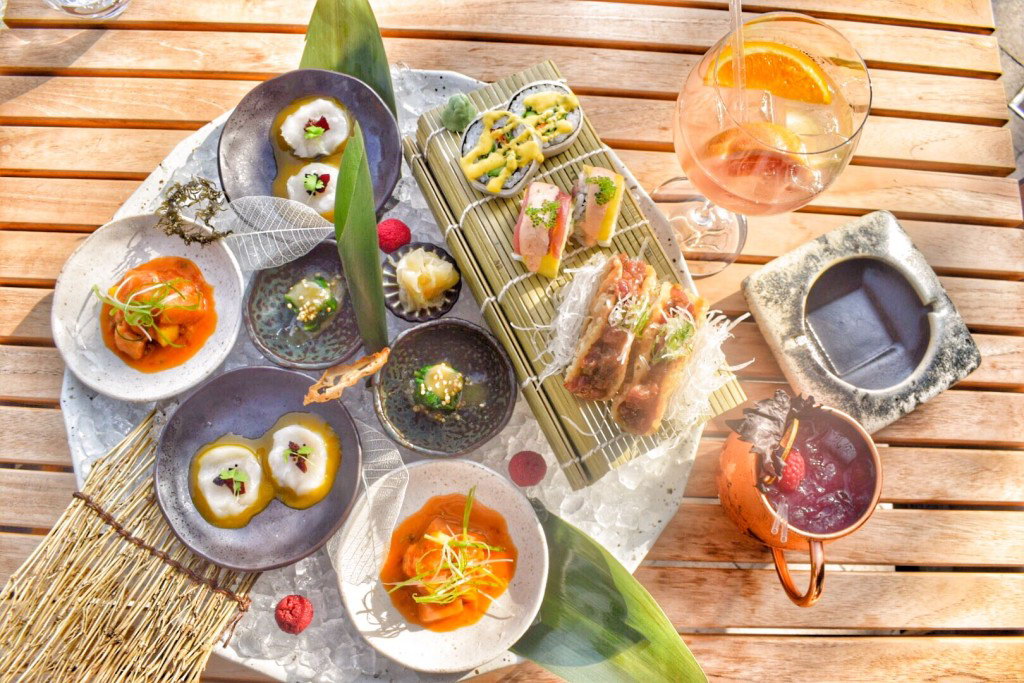 The next course was delivered less dramatically (i.e no ice bowl) and akin to a traditional tapas restaurant with each of the 5 morsels delivered on their own separate mini plate. • Sirloin Gyoza (Ají Amarillo, onion and tomato) • Tori Anticuchos (Chicken, teriyaki and chipotle mayonaise) • Vegetable Anticuchos (Artichoke, portabello mushroom, Ají panca, bell pepper, Huacatay chimichurri, Anticuchera sauce) • Vegetable Tempura (Sweet Potato, asparagus, shiso leaf, yuzu ponzu) • Ebi Teppan (Prawns, Japanese butter, cucumber, chilli, red onion, coriander)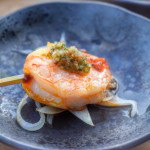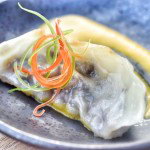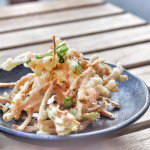 Finally, the Yuzu Cheesecake with Mandarin, Meringueand Berries was a textbook little morsel to end a delightfully light little lunch. So light in fact, that we could have eaten it all over again.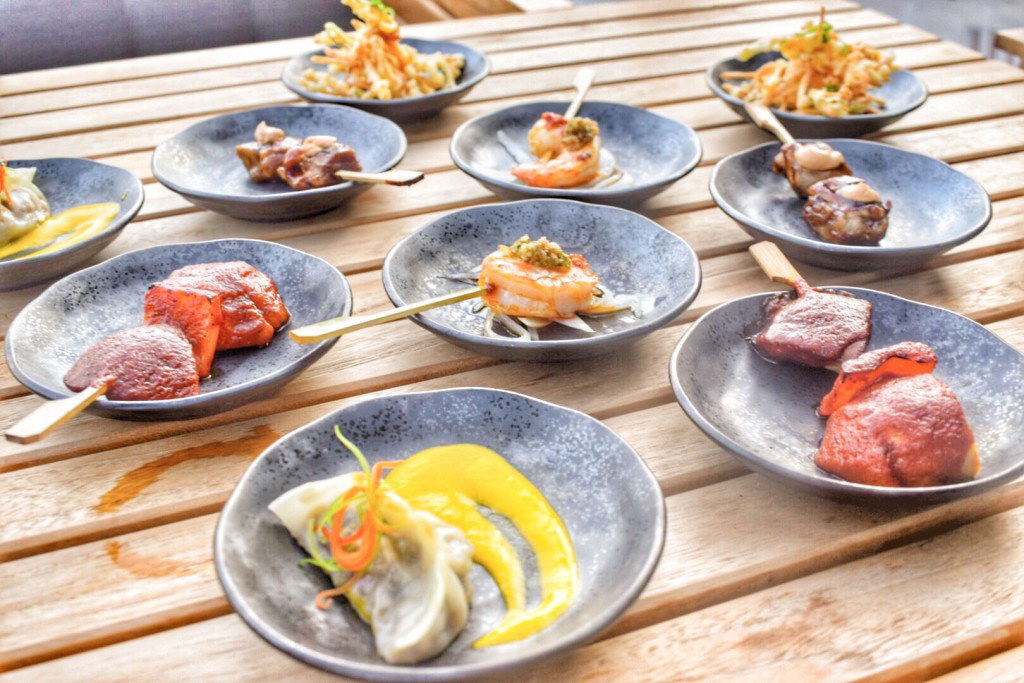 THE DRINK
The Pisco Flight allows you to sample a number of Ají's signature cocktails and sours made specially at their pisco bar. The brandy based drinks are South American classics, and are to Peru and Chile what the Caipirinha is to Brazil. Drinks are served as theatrically as the first course in oversized clear and copper glasses, adorned with dried and fresh fruit. The classic Pisco Punch includes Pisco, marinated pineapple, lime and celery bitters, while the Nikkei sour infuses Pisco with umeshu, apricot brandy and yuzu. Not that we knew what half of the ingredents were, but they were refreshing and looked great in pictures!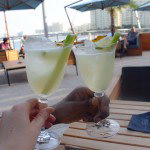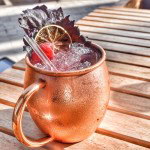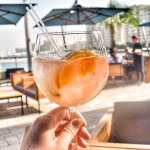 THE OTHER STUFF
From our ultra-critical standpoint on fusion cuisine, the graceful and delicate cuisine of Japan will always lose out to the freshness and spicy punch of Peru, and the smokey heat of the Yellow chilli peppers in the Ají Amarillo sauce. The second course is instantly more memorable than the first, but the overall feeling of both is that we just wish that there was more of it. We caught sight of the lavishly adorned interior on our trips to the bathroom, and were impressed by the Peruvian prints clashing stylishly with oriental-style bird cages and bright flashes of green leather, but it is the great outdoors, however, that give this lazy ‪Saturday brunch its raison d'être. Ají's ample terrace leading down to the sand is pure weekend bliss and hours could be spent watching the slow setting sun, the Palm's stunning shoreline and ofcourse a bit of people watching whilst listening to the Balearic beats of the DJ. A solid entry to the casual, chilled out Saturda brunchclub scene. It didn't wow us enough to become fusion-converts, but a great advert for the area nontheless. Interested to see what the other venues have to offer.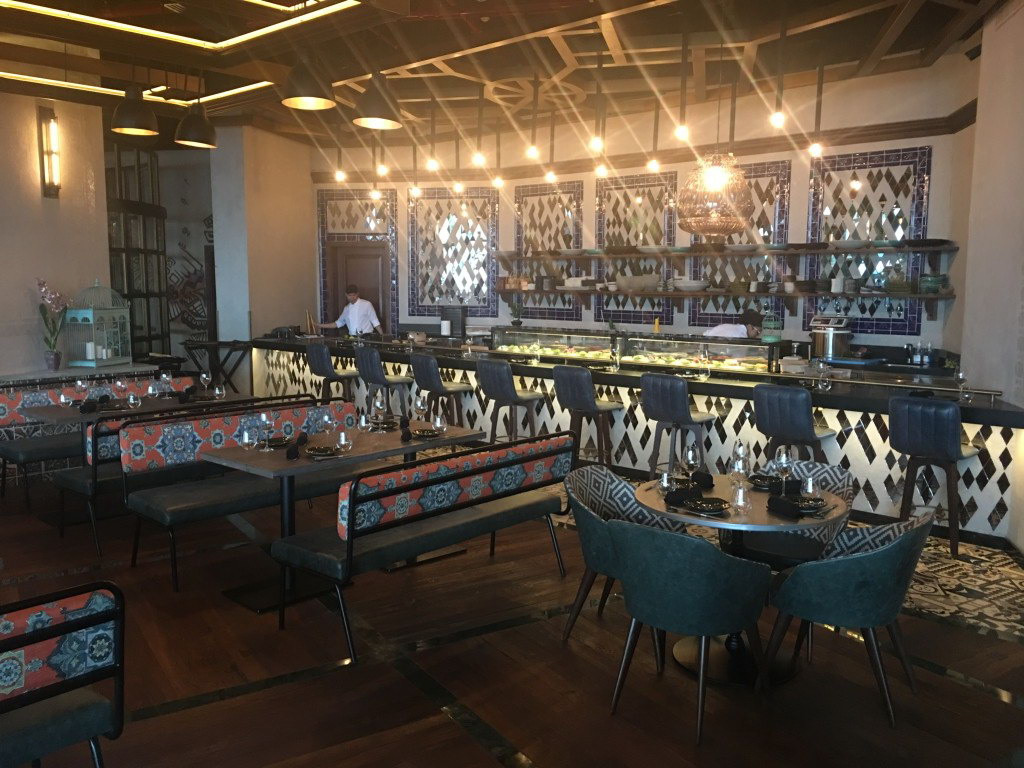 Saturdays between ‪‪12.00pm - 7.00pm
AED 150 - Food Only AED 250 - Food & 1 Pisco Flight For more information and bookings, call ‪+971 4 552 0244 or www.Ají.ae