180° @ 360, Jumeirah Beach Hotel
Brunch Reviews
| In
Jumeriah
on October 6th, 2017
TURN AROUND THE WEEKEND WITH 180° at 360°'
&nbsp
THURSDAY EVENING BRUNCH - 7PM - 10PM
&nbsp
Located at the end of Jumeirah Beach Hotel's Marina walkway, 360 has long been one of Dubai's most impressive locations and a perfect selfie spot to catch those idyllic moments as day turns to night with panoramic views out to sea and across Dubai's skyline.
The venue now gives us all the chance to end the working week on a high, isolated in the middle of the ocean under the stars every Thursday with free-flowing house beverages and bar snacks as 360 joins the ever increasing swathe of venues joining this city's love affair with our favourite pastime…
&nbsp
THE FOOD
&nbsp
If you come to the 180 @ 360 on a Thursday expecting a full on family feast, perform a swift 180 at the door and find yourself another restaurant. Luckily we came expecting bar bites and bar bites are exactly what we got. (Tasty ones at that!)
&nbsp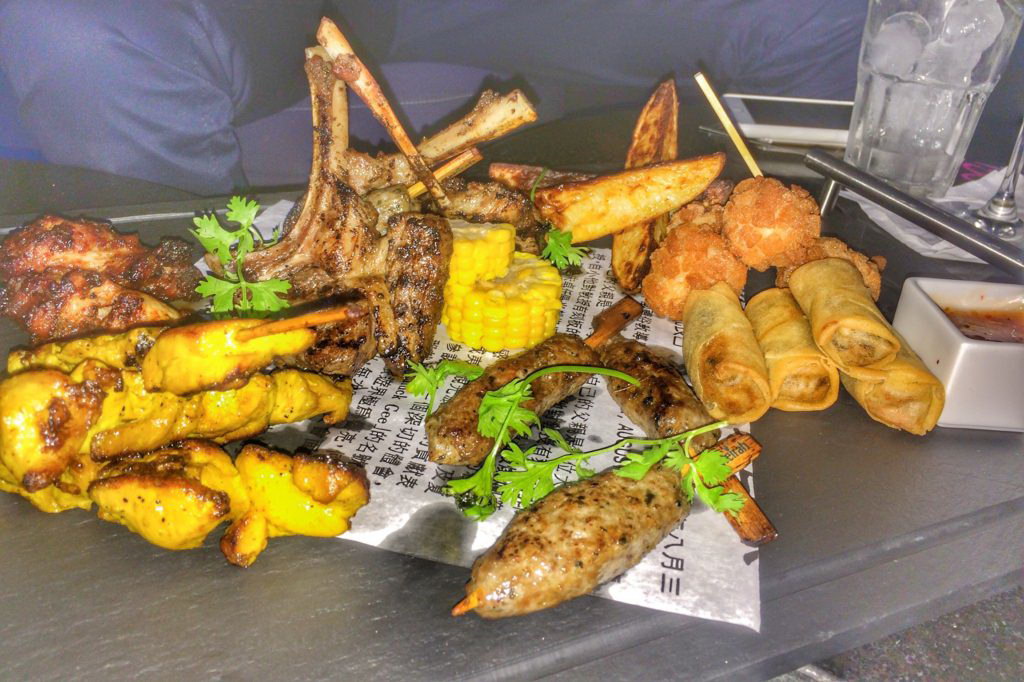 &nbsp
1ST ROUND
&nbsp
We began with a few bamboo steamer baskets filled with delicious Dim Sum, ranging from Har gau (translucent steamed shrimp dumplings) and Siu mai (open-topped steamed dumplings) to Gyoza filled with either Shrimp, Vegetables or Chicken. The shrimp were particular flavorsome and the ratio of juicy filling to pastry was healthy to the point of overspill.
&nbsp
With neither of us feeling particularly in the mood for sushi that late in the evening, the elaborately plated Nigiri, Maki rolls (Salmon, Tuna, Califonia, Vegetable) and Sashimi remained largely untouched.
&nbsp
2ND ROUND
&nbsp
The next platter to arrive was a smorgasbord of party pickers. Including Chicken Wings, Grilled Lamb Rack, Lamb Kofta's, Chicken Skewers, Crispy Shrimp Balls, Veggie Spring Rolls and thinly sliced Corn on the Cobb. A substantial upgrade on the previous incarnation of the platter, with the Asian twist on the Lamb Chops and Chicken Wings especially starring.
&nbsp
We ended with a sweet platter of Chocolate Brownee, Watemelon and Marshmellows.
&nbsp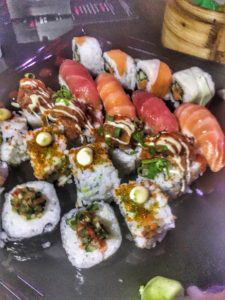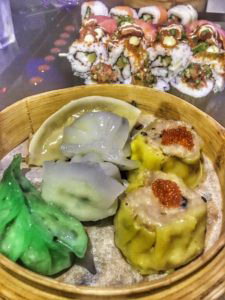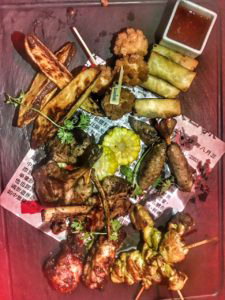 &nbsp
THE DRINK
&nbsp
SIGNATURE COCKTAILS - Rosemopolitan &amp Moscow Mule
WINE - Waka Waka Sauvignon Blanc &amp Cabernet Sauvignon (SA)
BEER - Corona
SPIRITS - Vodka (Russian Standard), Rum, (Bacardi) Gin (Bombay Sapphire), Whiskey (JW Red Labell)
&nbsp
We began with a glass each of house wine, and being sat close to the busy ordering station we never found it a problem signaling our servers when it came to ordering refills. A benefit of being in a cirlcular venue is that a member of staff will have to walk past you at some point whether they are either coming from or going to the bar!
&nbsp
Other than the regular house beverages on offer, there are 2 fancy, fruity cocktails to choose from. The names of which were not made obvious to us but the Berry Cocktail was to die for and slipped down with the ease of a baby's fruit drink (not recommended for babies under the age of 21!) The 2nd resembled a classic Cosmopolitan and although served with an accompanying flower petal, this indication of sweetness was fleeting as the slightly bitter taste took over. We certainly can't knock the alcohol content though and you certainly felt it kick!
&nbsp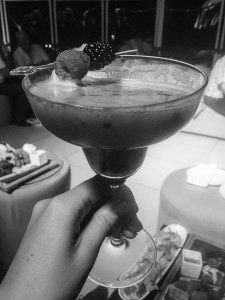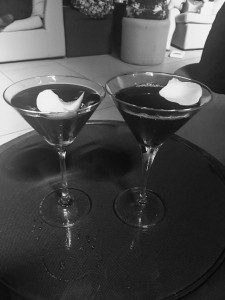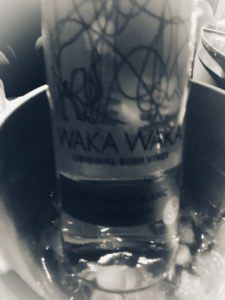 &nbsp
OVERALL
&nbsp
With 360 typically a "bring the visitors for sundowners" type of venue, this more inclusive, casual concept is certainly likely to widen the appeal of Jumeirah's jewel in the crown. There is something quite cool about the modesty of being sat on a couch and stools, tucking into nibbles under the stars and not having to worry about a "tourist trap bar bill" appearing at the end of your night.
&nbsp
The party did not finish once Brunch did at 10pm. In fact, the volume cranked up a notch and the dancefloor boomed with the sounds on the night provided by the rather excellent Mr V, ably accompanied by Jack Woodcock, CN Williams and Miss Foster: allowing guests to release their inhibitions, leave their tables and dance the night away in the middle of the ocean until the wee hours. Aside from the blustery wind at the start, 360 continues to be a stunning venue. Ambient and picturesque...just make sure you time your exit correctly as the que for the buggy back can be brutal.
&nbsp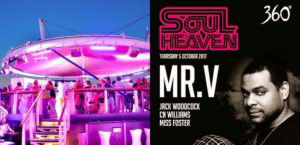 &nbsp
#ThisIsClubLandBaby
&nbsp
Every Thursday - 7-10pm
For reservations call +971 555008518 or email: 360@jumeirah.com.
AED 295 - Including unlimited platters and house beverages
&nbsp
&nbsp