12 Hour Dine Around Brunch (Saturday) - JW Marriott Hotel Dubai
Brunch Reviews
| In
Unspecified
on August 10th, 2017
400-500 AED
%>
Unspecified
%>
We honestly do not know where to begin. Should it be at the thought that we were running into an elaborate hoax which would unravel on arrival with a chorus of laughter and derision that we could be so foolish to believe that a 12 hour Brunch could really exist? Or was it the incredulity of arriving to find that not only did it exist, but the dawning of realisation that first we were somehow going to have to survive this marathon, and then, we were going to have to make it out of the other side with enough brain tissue intact to be able to remember and document it…and to top it all off the next day is a Sunday! Let the 12 hour brunch commence.
THE FOOD
Luckily for us, we do not suffer from the dreaded Hangover, and even better is the fact that you can take your time, stay for the whole day or come and go as you please throughout the duration of the 12 hours. Initially, the thought of buffet items being sat for upto 12 hours filled our hearts, heads and stomachs with a twinge of dread, although we needn't have worried, as dishes are changed throughout the day at 12pm, 4pm and 7pm to keep things fresh for those camping out for the long haul like us.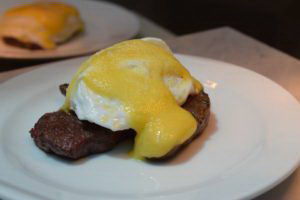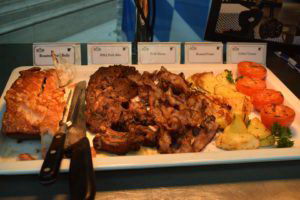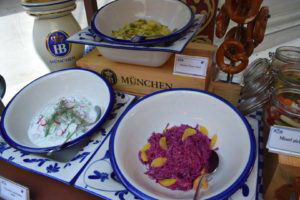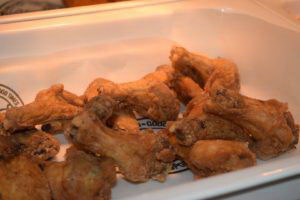 Aside from the advertised Bamboo Lagoon and Town Square (which was not open on our visit) the central seating area, resembling a circus tarpaulin in the middle of the hotel was home to a playground-full of tasting huts and toys (which we will come onto later) that give you a small incite into some of the Hotel's other outlets. Chicken Wings from Champions Sports Bar ,BBQ Ribs, Pork Belly, Sauerkraut and other Bavarian specialities from Hofbrauhaus, and a little piece of Italy with Cucina's Varita di Ravioli, Pizza and Bruschetta with a very Italian chef guiding you through the fresh selection which he then prepares a lá minute.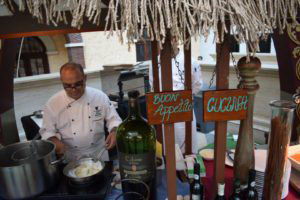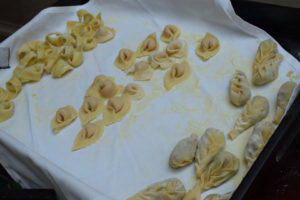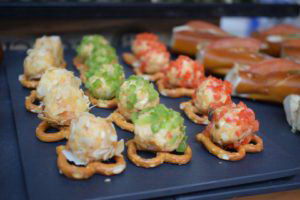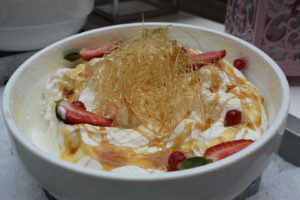 Finally, JW's Steakhouse showcases a few of (award winning) Chef Iqbal's signature dishes, and he was even nice enough to pose for a photo with us and his awards. We did note however, that the Steak and Poached Egg dish we tried first was a victim of being sat for too long under the heat lamp and was cold when we tried it. With soo much time to spare on this brunch, we would not have minded waiting a little extra time to have the steak finished on the pan in front of us and a fresh egg poached or kept in a sous-vide until ready. The Texas Style BBQ short Ribs fared much better as we grabbed them as soon as they were placed.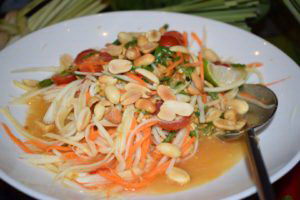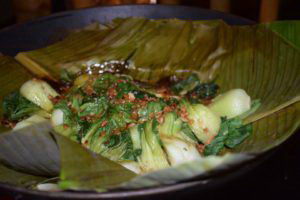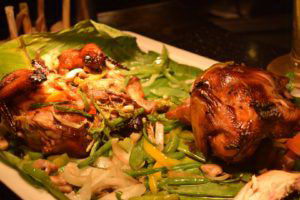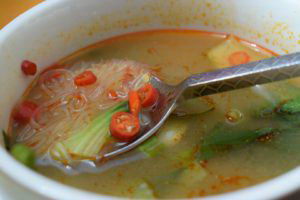 Bamboo Lagoon is a veritable feast of Asian delicacies including a Teppanyaki Grill, Sushi station, a Peking Duck Station and our favourite Thai Noodle Station. The Thai chef was impressed with the authentic "Sawatdee Khrap" we regaled her with, and decided to believe us when we asked for our Tom Yam Soup "Ped Mak Mak!" (Extremely Thai Spicy. )She took us at our word and after we had selected our own vegetables and prawns, delivered a lip smacking, tear-inducing, chilli-laden bowl of fire broth that any Thai would be proud of. Glass of milk anyone?
THE DRINK
Along with two stationary branded bars (Jack Daniels and Budweiser), the roving trolley was often on the move in between the tables serving up either Mojito's, Aperol Spritz and two varieties of Margarita. Regular Spirits and House wines are also freely available at the bars or from the trolley to order, but pace yourselves.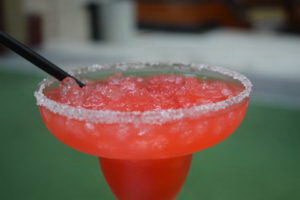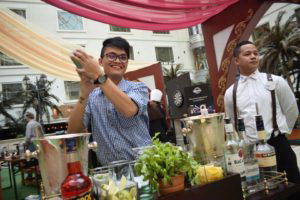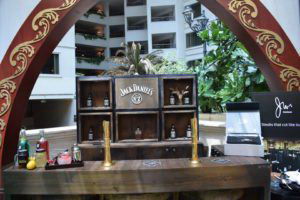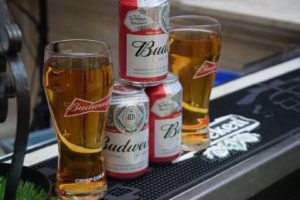 THE OTHER STUFF
The lively atmosphere in the centre of the circus-like pavilion is reminiscent of the Irish Village on a cool winters afternoon. There is a casual beer garden vibe created by the wooden sharing tables, and DJ Yoryi bubbling away behind the deck, cigarette in hand, unafraid to blast out the tunes even though you are technically in the centre of the entire hotel and open to passers-by and beneath the view of various hotel rooms. If we were staying here, the hotel room is the last place we would be hiding out on a Saturday! There was an acrobatic latin dance performance every half hour or so, before a pop duo come on at 6pm to serenade you with various Bruno Mars classics and requests. The Te Mana" Polynesian Band finish the night off in Bamboo Lagoon if you are still standing after the days activities. This is even without mentioning the other fun and games including Giant Jenga, Table Fooseball, Darts and Chess that are dotted around the pub garden-pavilion to stave off any bored brunchers (if there is such a thing).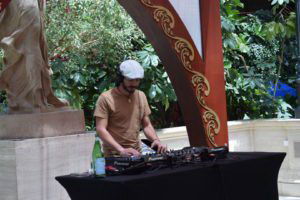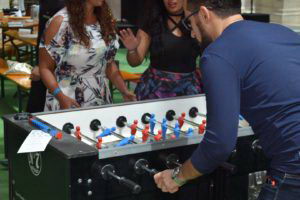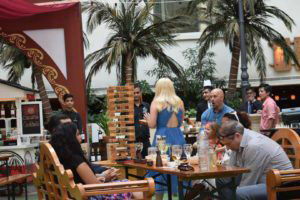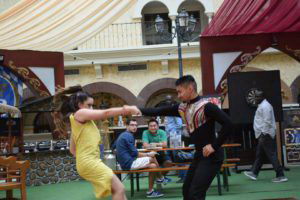 A 12-hour brunch will naturally suffer from peaks and troughs throughout the day and at some points it did feel a little lonely as different groups dip in and out, with sprinters and marathon runners pitting their brunch-wits against each other, and themselves. Although this is still in it's infancy and in the middle of summer…we will have to return in a few months once word has spread among the returning brunch armies. Our favourite thing may just be to sit back, find a comfortable corner and watch the whole thing unfold.
Every Saturday from 12 pm - 12 am (Yes 12 whole hours!)
AED 399 per person, inclusive of non-alcoholic beverages AED 499 per person, inclusive of house beverages (Save 50% with Lets Brunch) To Book Call :+971 (0) 4 607 7977 or Email:
jwdubai.dining@marriotthotels.com
www.jwmarriottdubai.com